Charles Z. Smith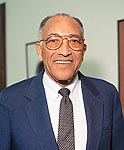 ---

Charles Z. Smith. Photo by Jon Marmor.

---
Charles Z. Smith never intended to go to law school. Or take the bar exam. Or work as an attorney. Or serve as a judge. But if you visit the Temple of Justice on the grounds of the State Capitol in Olympia, you will find the amiable 72-year-old Smith, now in his 11th year serving as a justice on the Washington Supreme Court. And he has loved every minute of it.
"I actually wanted to be a psychiatrist," says Smith, '55. "But when I had to observe a surgery, I couldn't stand the sight of blood. So I changed fields."
Smith, who was born in Lakeland, Fla., to a Cuban father and African-American mother, went on to have a landmark career in law in Washington. He was the first person of color in Washington to serve as a municipal judge (appointed in 1965 by then Gov. Dan Evans, '48, '49), superior court judge and justice on the state Supreme Court.
Smith had a long, winding road to Olympia. His parents divorced when he was 12, so he moved in with another family. When they moved to Philadelphia, Smith attended Temple University, earning a bachelor's degree in science. After dismissing medical school, he thought about social work. But the father of the family he was staying with convinced Smith to consider law school. So he moved to Seattle, where his mother lived, and was accepted by the UW law school in 1952.
Out of a class of 120, he was one of four students of color, and the only one to graduate. "It was a wonderful experience, one of the most fulfilling of my life," Smith says. "All the professors were wonderful, and we became very close as a class." He met his wife, Eleanor Jane Martinez, during his final year of law school. They have been together nearly 44 years.
He fell in love with the law at his first job after graduation, serving as law clerk for Supreme Court Justice Matthew W. Hill, '16, for a year. "To see these brilliant lawyers and justices in action, and read their work was so exciting," Smith says. "I knew this was the field for me."
He later worked as a prosecutor, a judge, in private practice, and as a news commentator for KOMO radio and TV. He also spent from 1973-1983 on the UW law school faculty. In 1988, Gov. Booth Gardner, '58, appointed him to an unexpired term on the Supreme Court. Smith has run for re-election three times—all unopposed.
Smith—who received the 1990 Distinguished Alumnus Award from the UW law school—is also busy working on another area of personal interest: religious freedom. In June, he was appointed by President Clinton to serve on the U.S. Commission on International Religious Freedom, which advises the president and Congress on strengthening religious freedom and combating religious persecution worldwide. It was actually a return to his roots. He previously served as president of the American Baptist Churches, USA, and spent many years working on behalf of immigrants' rights.
"I come from an immigrant background," Smith says, "and I always recognize my status of being the descendant of an immigrant. That will be always with me in the work I do for the 4 1/2 million people in Washington. I am a flag-waving patriot. I cry when I hear the "Star Spangled Banner" played. We have to make sure we are doing all we can to preserve people's rights." —Jon Marmor