When I was an undergraduate student, I remember going to a Sly and the Family Stone concert, where his signature song included the line, "I'm going to take you higher." Well, I am happy to report that your association has been going higher and higher, too.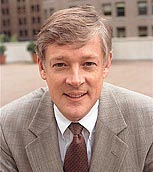 ---

1998-99 UWAA President Cory Carlson. Photo by Jon Marmor.

---
As your president for the past year, I had the opportunity to participate in an unreasonable number of events put on by this organization, and I only scratched the surface. Our academic clubs continue to grow in attendance and events. It seems that their best events center on food, with power lunches and celebration dinners especially popular. Virtually every weekend in the fall and spring, a geographic club is sponsoring a salmon barbecue, football reception or lecture series. Speaking of lecture series, the Bridgman lectures sold out again this year. How often do you remember students, let alone alumni, standing outside of Kane Hall, hoping a seat will become available for a lecture?

Almost any day of the year, you can bet a group of UW alumni is traveling to some foreign country, enjoying another culture, and sharing stories with fellow alumni. UW Travels Director Pauline Ranieri and her staff continue to grow the program by leaps every year.

I traveled the sporting circuit this year and saw purple and gold in a lot of places. Our Washington Warm Ups are so popular, it's getting hard to find venues large enough. My ears are still ringing from standing five feet away from the entire Husky marching band doing the fight song. I loved the thrill of last season's Arizona State game. I don't want to talk about USC.

We alumni are also a generous group. It was warming to see how many of our clubs sponsored career-advising and mentoring programs. Meanwhile, we are raising more and more money for student scholarships. The Alumnae Board continues to have a very successful Holiday Fair, while the School of Business alumni fill the bank with their annual golf tournament. Many other alumni groups have created fund-raising events to help students pay for their education. Even our general support for the University is significant. Alumni support for the University's Annual Fund increased by 8 percent over last year. You've got some big hearts out there.

We alumni are also an influential group. UW President Richard McCormick has repeatedly asked for advice and counsel from the leadership and membership of the alumni association. We have been very involved in supporting the University with the state Legislature, and with the local community. He encourages our support and he listens to our concerns. Our relationship is a true partnership, which is what it should be.

So many things happened this year, and I can't possibly list them all. Let me mention a few highlights.

At commencement, I announced that graduating students would have the opportunity to register for a free UW alumni e-mail address, which would forward their e-mail messages for a lifetime. Students love their University e-mail address, and now have an easy way of forever staying in touch with their friends. As we perfect the service, we hope to extend it to all alumni.

We pulled a past president, Sheila Vortman, '69, '84, out of early retirement to lead our strategic planning process, and I am pleased at how successful it was. I know, you are probably yawning and saying, "Boring." But I promise you: things are going to happen. I know, because President-Elect Trish Bostrom, '72, is like a bulldog on getting an action plan in place.

Geoff Vernon, '65, your new president, continued leading our proposed Alumni House committee. Imagine a new alumni facility with meeting rooms, a coffee shop, memorabilia store, an orientation theater for students and families, offices, reception halls, and a warm welcoming entrance. It's in the plan. Watch for more news in the year ahead.

David Fagerlie, '81, our executive director, continues to provide insightful and creative leadership to the organization. But now he can relax and reduce his 12-hour days to 10. During the year, he made some excellent new staff hires. Our staff is one group of mighty fine people.

Speaking of fine people, my colleague during the year as president-elect, Geoff Vernon, is a wonderful guy. He has been the head of just about every volunteer organization in Seattle, he bleeds purple, he knows how to get things done, and he's likable. I know he is going to take this organization higher and higher.

Thanks for giving me a great year.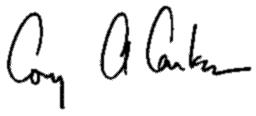 Cory Carlson, '81
UWAA President, 1998-99