Making ends meet for college was always a challenge for Travis Doty. The 22-year-old University of Washington senior worked 20 hours a week during the school year, and full time during summer and school breaks, to cover tuition and housing and help him start paying back thousands of dollars in school loans.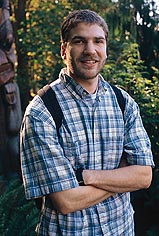 ---

Travis Doty. Photo by Jon Marmor.

---
Though he was able to manage his schedule, it didn't allow him to focus on his schooling as much he wanted. He had come to the UW after spending a year and a half at another Seattle-area institution, then taking time off to work full time to save money. He then attended a community college for two quarters before enrolling at the UW.

While he loved the UW and all the opportunities it presented, his financial burdens remained. Then he heard about the scholarships offered by the Alumnae Board, the second-largest scholarship provider on campus after the athletic department.

"I knew it was a very competitive scholarship application process," Doty says. "But I thought it would be worth applying."

Much to his delight, Doty was one of 20 students awarded a full-tuition scholarship last year. "I was ecstatic to receive it," he says. "It is a great honor, and a real big boost of confidence. My first attempt at college was not as successful as it could have been. This is a chance to make up for it."

The grant means Doty doesn't have to work part time during the school year, and can save his summer and school-break earnings to pay off his college loans.

The Asian studies major is one of hundreds of deserving students to have benefited from the Alumnae Board since it began its scholarship program in 1946. In the last four years alone, the all-volunteer board funded scholarships valued at $290,000. The group won the UWAA Distinguished Service Award in 1998 for its efforts.

But this year, the Alumnae Board had a challenge-the Holiday Fair, which is staged in the fall to raise money for scholarships, faced an obstacle. Renovation at Hec Edmundson Pavilion, where the fair is normally held, meant moving to the HUB. Fair organizers feared the event would not raise enough money to support 20 full-tuition scholarships.

That's where Alumnae Board member Kathy Acheson Connors and her husband, John, came in. They committed at least $500,000 over the next 10 years to create the Kathy Acheson Connors Scholarships. This gift will make sure that financial assistance is available to UW students who show outstanding promise yet need help.

"Gifts like yours help us to serve our students and the citizens of this state better than would otherwise be possible," UW President Richard L. McCormick told the Connors. For more information on the Alumnae Board scholarship program, contact Libby Miller at (425) 649-0730.