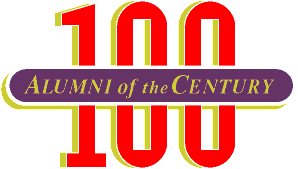 ALUMNI OF THE CENTURY FROM A THROUGH D
Adkison, Peter, '97

Co-founder and CEO of Wizards of the Coast, his company publishes Magic cards and holds the U.S. rights to the latest card fad among kids-Pokémon cards. He sold his company to Hasbro in 1999 for $325 million.
Beals, Walter B., '01

A founder of the American Legion and Washington Supreme Court justice from 1928 to 1952, he presided over a war crimes tribunal in Nuremberg, Germany, hearing the case of 23 Nazi doctors accused of torturing POWs.
Bolcom, William, '58

Composer and pianist, his "New Etudes for Piano" won the Pulitzer Prize in 1988. His recordings helped revive ragtime and his George Gershwin LP was Record of the Year in 1973. His operas include McTeague (1992) and View from the Bridge (1999).
Bowmer, Angus Livingston, '30, '34

Founder of the Oregon Shakespeare Festival in Ashland, Ore., Bowmer got his inspiration while acting in two summer Shakespeare productions in Meany Hall. Today his festival pulls the largest attendance of any non-profit theater in the U.S.
Boyington, Gregory (Pappy), '34

Fighter pilot who downed 28 planes in World War II, setting a record for the Marines and winning him the Medal of Honor. His memoir as a pilot and Japanese POW, Ba Ba, Black Sheep, was a best seller and the basis for a TV series starring Robert Conrad.
Bren, Donald, '56

Chairman of the Irvine Company, the world's biggest developer of master-planned communities, which owns nearly one sixth of the land in Orange County, Calif. Newsweek called him "the Donald Trump of the West Coast," and in 1998 Forbes set his net worth at $2.5 billion.
Brimmer, Andrew, '50, '51

First African American on Federal Reserve Board of Governors, he served the "Fed" from 1966 to 1974. He told President Gerald Ford to consider a 10 percent personal income tax rebate in 1974-and the President and Congress took his advice, resulting in an $8.1 billion tax break.
Brothers Four

Fraternity brothers at Phi Gamma Delta, Bob Flick, '60; Dick Foley, '61; John Paine, '59; and Mike Kirkland, '61; rode the folk music craze to fame and fortune. Their big hits included "Greenfields," "The Green Leaves of Summer," and the theme song for the TV show "Hootenanny."
Brotman, Jeffrey, '64, '67

Brotman is best known as a founder and president of Costco, the wholesale warehouse chain that sells everything from cauliflower to computers at a discount. He also led the 1997 United Way of King County drive and is currently a UW Regent
Cammermeyer, Margarethe, '76, '91

Awarded a Bronze Star in Vietnam and was the VA's Nurse of the Year, military nurse Cammermeyer was discharged in 1992 after she admitted she was a lesbian. Her story became the TV movie, Serving in Silence, starring Glenn Close. She was reinstated in 1994 and unsuccessfully ran for Congress in 1998.
Cannon, Dyan*

Nominated for best supporting actress Oscar for Bob & Carol &Ted & Alice and Heaven Can Wait, her films also include Revenge of the Pink Panther and Deathtrap. Was Judge Whipper Cone on TV's Ally McBeal. Director and writer of the short subject film Number One, nominated for an Oscar in 1976. Married to Cary Grant 1965-68.
Carlson, Edward E.*

Made local Westin Hotels into an international giant and rescued an ailing United Airlines, which prompted Fortune to place him into its Business Hall of Fame. He was a driving force in the 1962 Seattle World's Fair-and a UW regent for seven years.
Carlson, John, '81

Co-founder of the Washington Institute, a newspaper columnist and radio/TV commentator, Carlson led three statewide initiative campaigns, including the "Three Strikes, You're Out" and I-200 anti-affirmative action initiatives.
Cherberg, John, '33

For 32 years, he served as Washington's lieutenant governor-longer than any other lieutenant governor in U.S. history. First elected in 1956, he never lost a statewide election. Prior to his time in Olympia, Cherberg was the Huskies' head football coach.
Chihuly, Dale, '65

The foremost glass artist of his generation, a founder of the Pilchuck Glass School, Chihuly is one of three American artists ever to mount a solo exhibit at the Louvre.
Cleary, Beverly, '39

A beloved author of children's books, Cleary's work has appeared in more than 20 countries and 14 languages. Her many awards include a 1984 Newberry Medal for Dear Mr. Henshaw, and her Ramona books became a popular PBS TV series.
Close, Chuck, '62

World-renowned artist who pioneered the photorealist portrait movement. Despite becoming a quadriplegic in 1988 due to a spinal blood clot, he has continued to paint. Considered one of the 50 most influential people in the art world by ArtNews.
Corbally, John E. Jr.,'47, '50

Former president of Syracuse University and the University of Illinois, he is now president of the MacArthur Foundation, one of the richest foundations in the nation. Corbally also led efforts to reform Chicago's public school system.
Crew 1936

After dominating the Olympic Trials, this Al Ulbrickson-coached crew of Roger Morris, Charles Day, Gordon B. Adam, John G. White, James B. McMillin, George Hunt, Joseph Rantz, Don Hume and Robert Moch came from behind for an unprecedented victory for a gold medal in the 1936 Berlin Olympic Games.
Cunningham, Imogen, '07

A pioneer of modern photography, she contributed significantly to the acceptance of the medium as an art form. Her portraits, still lifes, industrial landscapes earned her acclaim as "best-known woman photographer in America" by Life magazine in 1976.
Doig, Ivan, '69

His memoir on growing up in Montana, This House of Sky, was nominated for a National Book Award. His other works include Winter Brothers, The Sea Runners, English Creek, Dancing at the Rascal Fair and his 1999 novel, Mountain Time.
Donaldson, Lauren R., '31

Fisheries biologist remembered for revolutionary study of salmon and his hatchery-raised fish, including the "Donaldson trout." He also did landmark research on the effects of radiation on aquatic organisms at post-war atomic bomb sites in the Pacific.
Duffy, Patrick, '71

One of TV's most successful actors and producers, he starred for 12 years as Bobby Ewing on the long-running series Dallas, then was actor, producer and director of the sitcom Step by Step. In 22 years in show business, he's been out of work three weeks.
Dunbar, Bonnie, '71, '75

One of a handful of astronauts to have made five space flights, Dunbar's missions included the 1995 docking of the space shuttle Atlantis to the Russian space station Mir, the first U.S.-Russian meeting in space in 20 years.
Dwyer, William, '51

This federal judge's 1991 decision to halt logging on Forest Service land to save the spotted owl changed forever the landscape of the Pacific Northwest, and the economies of timber towns. "He told the truth that few in this region want to hear," said a Seattle Times editorial.
*Attended but did not graduate
Columns regrets that we do not have the rights to post certain images of alumni to the Web.
---
Home / Current Issue / Archives / Talk Back / Advertising / Columns FAQ / Alumni Website / Search