December 1997 Columns
Latest update: March 13, 1998.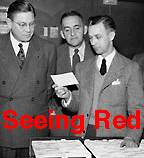 Seeing Red: Fifty Years Ago, a Hearing on "Un-American" Activities Tore the UW Campus Apart, Setting a Precedent for Faculty Firings across Academe.
(This site includes a long, comprehensive file of reader response to this controversial article: Is it "trash" or "superb" reporting? We have been receiving even more letters lately after publishing our March issue. You may want to revisit this page for the latest accolades and invectives. Updated March 26, 1998)
UPDATE: "Seeing Red" and its author Nancy Wick won a Gold Medal for Periodical Team Writing and a Silver Medal for Feature Writing in a 1998 competition sponsored by the Council for Advancement and Support of Education, CASE, Dist. 8, representing colleges and universities in five states and four Canadian provinces. It also won an award from the Washington Press Association for feature writing in magazines.

Cool Car: The UW's Revolutionary, Liquid Nitrogen Automobile Could Put Electric Cars Out in the Cold.

Passing Grades: The Public Wants Higher Education Across the Nation to Be More Accountable--and the UW Is No Exception.
Writers' Bloc: With Its Top Ten Ranking and Its Core of Prize-Winning Faculty, the UW Creative Writing Program Is a Rising Star of Literary America.
---
Departments
Letters to the Editor About the September Issue of Column:

Our Back Pages: Radical Cheek Streaking Was Campus Fad in 1974.

Prelude: Editor's Column on the Witch Hunts of 1948 NOW ON-LINE
---
Briefings: News About the UW
Campaign for Student Athlete Hopes to Raise $36 Million
Research Briefs on Children Inheriting Their Fat, Real Estate on the Move
Appointments, Honors, Resignations
---
Alumni News
Alumnotes: News from the Classes 1931-1996
In Memory: Obituaries of Alumni and Faculty from the Class Years 1919-1990