Aluminaries: Eleanor Valentin, '75
Breaking the Military Glass Ceiling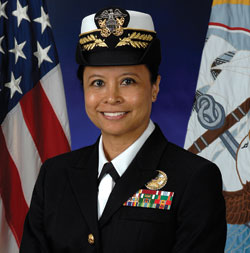 Photo courtesy of the U.S. Navy
Eleanor Valentin is not your typical Navy admiral. A master of the rigorous physical and mental discipline required for a military career, she spent her days as an undergrad donning a University of Washington cheerleading uniform while completing degrees in zoology and psychology before going on to earn two master's degrees in public health at the University of Hawaii.
Even after four degrees, Valentin craved a new challenge. She found it in the military. The Navy provided her with the opportunity to marry her passion for public health with her dedication to public service, so she joined her husband, Capt. Dennis Larsen, '74, in the service following her graduate studies and moved quickly up the ranks. She made lieutenant junior grade in 1982, then went on to serve in various department head and administrator positions such as at the Naval Hospital in San Diego, as executive officer for the Naval Hospital Corpus Christi, and most recently as chief of staff for Navy Medicine National Capital Area.
For the cheerleader-turned-admiral, destroying stereotypes seems to be an M.O. While women only won the right to serve on ships 31 years ago and still aren't allowed to serve in ground combat roles, on submarines, or in most special operations forces such as the Navy SEALs, Valentin is putting women in the Navy full speed ahead. This year she was nominated to the rank of rear admiral, and in October she became the 16th director of the Medical Service Corps, making her the first female Medical Service Corps officer to obtain the rank of flag officer as well as the first female to serve as Navy Medical Service Corps director.