December 2004 -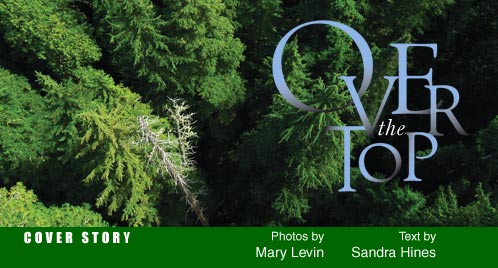 Many 400- to 500-year-old Douglas fir and western hemlock trees dominate the research forest, with the tallest trees reaching 220 feet. The crane is 285 feet high. It can survey 300 different trees and uses a polar-style coordinate system to maneuver the gondola in three dimensions throughout the forest canopy.
In a somewhat ironic twist, some canopy crane scientists are as focused on what's below ground as on what happens in the canopy. All the carbon being taken up by the forest can't be accounted for in trunks and branches, says Oregon State University's Barbara Bond, so she and others speculate that the carbon is fueling root and fungi growth below ground. Some scientists estimate that 70 percent of the carbon may be found below ground.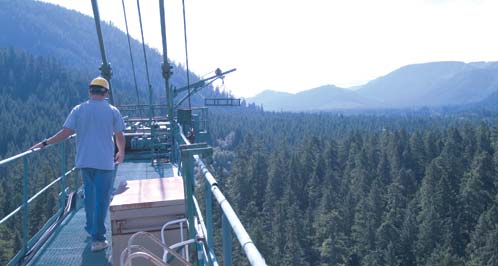 ---

Above a worker inspects the crane's counterweight jib as haze rises from the forest.

---
Located near Stevenson and the Columbia River Gorge, the research station began 102 years ago when a tree nursery was established on the Wind River. In 1932 it became an experimental forest.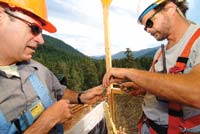 ---

Rick Meinzer, '75, '81, (left) and David Shaw (right).

---
A key factor in forest growth, and subsequent carbon storage, is the way trees use water. Pictured below is Rick Meinzer, '75, '81, of the Forest Service's Pacific Northwest Research Station (right) and UW Research Scientist David Shaw. They are using the crane to investigate how trees pull water to their tops when they are 22 or 23 stories tall.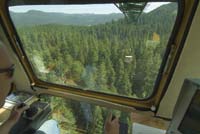 One surprising finding has been the importance of deep roots moving water into the upper two feet of soil at night. "It doesn't appear to be a lot of water, but it is critical to slowing soil drying," Meinzer says. The process benefits not only the tree itself, but can provide water in the surface soils for seedlings, even those far away from the tree.
Go To: Page 1 | Page 2