December 2004 -
EXTRAS
Ingrith Deyrup-Olsen: 1919-2004
Ingrith Deyrup-Olsen, a University of Washington zoologist who was known far and wide for her expertise on slugs, died July 25. She was 85.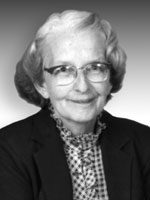 ---

Ingrith Deyrup-Olsen. Photo by Davis Freeman.

---
Popularly known as the "slug lady," Deyrup-Olsen focused on how slugs use mucus in transportation. She showed that slugs produce a highly organized polymer that goes through sophisticated molecular changes in response to environmental stimuli.
Deyrup-Olsen—whose renown earned her an appearance on "The David Letterman Show"—received many scientific awards such as Guggenheim and Fulbright fellowships for her work, which had implications well beyond slug motion. The basic biochemistry she described provided insights into many other arenas, including better understanding of the chemistry behind mucus buildup in the lungs of people with cystic fibrosis.
She was not only known for her work with slugs. She created the UW's Master of Science for Biology Teachers program to improve the teaching of science in secondary schools. She also worked with the National Science Foundation to improve science teaching.
Deyrup-Olsen, who received the UW's Distinguished Teaching Award in 1988, may have been the first woman to become a full professor at the UW, according to Thomas Daniel, chair of the UW's zoology department. She helped expand educational and research opportunities for women in academia, and was a founder of the UW's women studies program. "Her work behind the scenes to support women and ethnic minorities in this university was equally exemplar," says Angela Ginorio, a UW professor of women studies. Born in Englewood, N.J., Deyrup-Olsen earned a bachelor's degree in zoology from Barnard College, a doctorate in physiology from Columbia, and joined the UW faculty in 1964. She retired in 1990.
She was married to Sigurd Olsen, a UW fisheries biologist who died in 1980. Deyrup-Olsen created the Sigurd Olsen Endowed Scholarship for undergraduate science students at the UW. They had no children. She is survived by two sisters—Natalie Venneman of Washington, D.C., and Astrith Deyrup of Upper Nyack, N.Y.—a niece and four nephews. For donations in honor of Deyrup-Olsen's memory or for more information, contact the biology department at 206-543-1620 or by mail at UW Department of Biology, Box 351800, Seattle, WA, 98195-1800.
—Jon Marmor