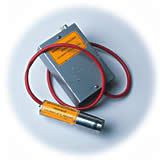 Doppler Ultrasound Prototype
Photo by Kathy Sauber
Doppler Ultrasound
Don Baker, '60, an electrical engineer, devised the idea of using pulsed Doppler ultrasound in the early days of cardiovascular research. His creation turned ultrasound into the most vital, cost-effective diagnostic tool in the world today.
Long-term Dialysis
Belding Scribner, a UW medicine professor, came up with the idea of implanting a Teflon shunt in patients with kidney failure. This allowed repeated, long-term use of dialysis machines that clean the blood, extending the lives of kidney patients significantly. Engineering Professor Albert Babb then helped invent a home dialysis machine. (For more on Dr. Scribner, see "Insomnia, Teflon and Life Savers", September 1996.)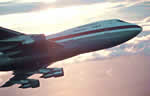 Boeing 747
Photo courtesy Boeing

Boeing Jet Airliner
If you have ever traveled on a Boeing commercial airliner, then you are familiar with the work of Maynard Pennell, '31; Jack Steiner, '40; Joe Sutter, '43; John Roundhill, '67; and others - they were all graduates of the UW's aeronautical engineering department who were chief designers of jet planes that revolutionized air travel.

Hepatitis B Vaccine
Considered one of biotechnology's greatest triumphs, the vaccine for Hepatitis B was the result of basic research. By working with DNA and yeast cells, Genetics Professor Ben Hall and his team was able to genetically engineer protein production. This technique is used to manufacture to Hepatitis B vaccine. The technology Hall developed was licensed on the UW's behalf to 16 biotechnical and pharmaceutical firms.
| | |
| --- | --- |
| | ... that the first interstate medical education program in the nation was founded at the UW in 1971. Called the WWAMI program, it serves Washington, Wyoming, Alaska, Montana and Idaho. |
Synthetic Rubber
UW chemical engineering alumnus Waldo Semon, '20, '24, played a vital role in World War II, when he developed Ameripol, a form of synthetic rubber.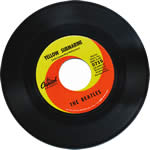 He also helped create Government Rubber-Styrene, a synthetic blend of rubber that was essential to the Allied war effort in World War II.
Vinyl
A chemical engineer at B.F. Goodrich, Waldo Semon, '20, '24, converted polyvinyl chloride from a hard, unworkable substance into a pliable one-vinyl-that is used in hundreds of products (credit cards, wall coverings, food wrap, plastic bottles, records, garden hoses, etc.) and accounts for a $20 billion industry.