During your morning routine, you might turn on your color TV to catch the latest news, start up your personal computer's operating system to check e-mail, spend 20 minutes jogging on your electronic treadmill and brush your teeth with a sonic toothbrush. In the first hour of your day, you've already used four inventions created by UW alumni and faculty. Here's our list of significant UW inventions and discoveries that have had an impact on our lives.

Medic One ambulance
Photo courtesy Harborview

Medic One Emergency Services
UW Cardiology Professor Leonard Cobb and other researchers believed lives could be saved with major intervention outside of the hospital and that non-physicians could provide high-quality care under the remote guidance of physicians. The result was the model for emergency care services throughout the world and CPR training for millions.

Rotablator
Professor David Auth invented this device, which uses a tiny catheter for inserting into an artery to clean out a blockage. It has a football-shaped burr at the end, rotating at speeds up to 190,000 rpm. Like a tiny sander, it removes the brittle plaque material while leaving healthy tissue intact.
| | |
| --- | --- |
| | ... that the first building in the world constructed for an arena stage—commonly known as theater in the round—was the UW's Penthouse Theatre. Built by the Depression-era Works Progress Administration in 1940, the UW moved it to its current location in 1991. |
Shareware
PC-WRITE, written by Bob Wallace, '78, was the first software program distributed for free with a proviso asking for a contribution. If the user sent back the fee, he or she would receive added features. Wallace dubbed the idea "shareware," a concept that has spread worldwide with the birth of the Internet.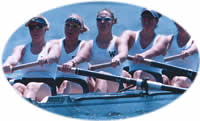 Husky women's crew race
in a Pocock shell.
Photo courtesy Husky Media Relations
Pocock Rowing Shell
A British boat builder and crew racer, George Pocock came to the U.S. and built floatplane pontoons for Boeing. He returned to his first love, boat building, when he joined the UW and built the shell that the then-unknown UW crew team used to win a national championship.
Seattle Foot
UW orthopedic surgeon Ernest M. Burgess and his colleagues developed the Seattle Foot, a specially engineered prosthesis that allows lower limb amputees to run and engage in active movements. It is worn by more than 120,000 amputees worldwide and received a Presidential Design Achievement Award (1974) and the Washington Governor's Award for New Products (1990).
Sonicare Toothbrush
UW researchers David Engel, Joseph Miller and Roy Martin helped entrepreneur David Giuliani make the first sonic toothbrush, whose bristle tips move 100 times faster than you can brush manually. The cleaning action also directs fluids deep between teeth and below the gumline to remove plaque and prevent gum disease.
| | |
| --- | --- |
| | ... that two UW professors have won the National Book Award. Poet Theodore H. Roethke won the poetry award in 1965 for The Far Field. The UW had to wait another 25 years before its second National Book Award winner: English Professor Charles Johnson, who won the 1990 fiction award for Middle Passage. |
Talking Book
Blind alumnus Robert Irwin, 1906, was the force behind the creation of the "talking book," which allowed the visually impaired to "read" a book by playing records of spoken text.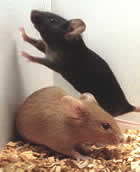 Transgenic mice
Photo by Dan LaMont

Transgenic Mice
By transferring a gene from one mouse embryo to another in such a way that the gene would be inherited in its future offspring, UW biochemist Richard Palmiter created a new tool to investigate disorders caused by errors in the genetic code.

Treadmills and the Bruce Protocol
UW cardiologist Robert A. Bruce, called the father of exercise cardiology, developed the standard treadmill test to diagnose and evaluate heart and lung disease, using the first medical treadmills, designed by UW staffer Wayne Quinton. It is used worldwide and was a huge improvement over the previous step test, which was too strenuous. Such conditions as angina pectoris, a previous heart attack or a ventricular aneurysm could be detected with the new creation.