Sidebar: To Find Life in Space, Look in the Ocean
No longer do we assume life inhabits only a thin veneer at the Earth's surface.
Today the micro-organisms inhabiting fluid-filled pores and cracks of rock throughout miles of the Earth's crust are thought to comprise a population so large it rivals or exceeds all surface life. One estimate is that depositing all those micro-organisms evenly on land across the whole globe would result in a layer nearly 5 feet thick.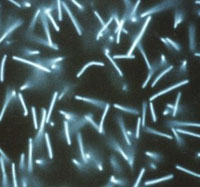 ---

These micro-organisms, representing the third domain of life, the Archean, live in deep ocean vent temperatures of up to 230 degrees F. Similar life might be found on Jupiter's moon Europa.

---
It may be this deep, hot biosphere is the next tropical jungle in terms of new drugs or industrial enzymes, says Oceanography Professor John Delaney.
Just think, for instance, of using micro-organisms that feast on toxic compounds to clean soils and sediments contaminated with PCBs, heavy metals and other pollutants.
Scientists in the mid-'90s determined that these microbes represent a third domain on the evolutionary "tree of life" along with bacteria found on the surface of the Earth on one branch and animals, plants and fungi on the other. Many believe they may have been Earth's first inhabitants and, if volcanoes and oceans produce life here, why not on other planets or moons?
Among the possibilities is Europa, one of Jupiter's 16 moons, which has a surface of cracked ice that appears to be flexing, perhaps because of an ocean below and a volcanic core like Earth's.
"If and when we do a mission to Europa and we go through the ice, then we're going to need to know how to study what's below and search for life there," says Pat Beauchamp, with NASA's Jet Propulsion Laboratory and Neptune's lead overseeing project engineering. "Neptune gives us the chance to understand the types of technology that we'll need to work there."—Sandra Hines