When Did Godzilla Topple?
In 1991, University of Washington scientists found the largest vent structure of this kind ever seen on the Endeavor Segment. At first they thought their instruments weren't working. Several times they started measured from the base of the structure before believing the structure was 135 feet tall. That's 15 stories worth of minerals precipitating from hot vent fluids and piling up. They named the thing Godzilla.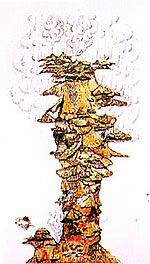 ---

John Delaney's sketch of undersea vent structure on the Endeavor Segment of the Juan de Fuca plate, nicknamed 'Godzilla.' The submersible vehicle Alvin is shown at lower left for scale. Project Neptune image.

---
It was during a visit in 1996 that scientists found Godzilla, like its movie namesake, had been toppled. It's one of the shortcomings of today's approach to deep-sea research: When did the event happen? What triggered it? What happened in the days, weeks and months after that?
Alan Chave, senior scientist at the Woods Hole Oceanographic Institution, expresses the frustration: "We've always operated in an expeditionary mode, which means we get on a ship and go out to some particular place and we stay for as long as a month. But we only get a snapshot view of what's out there, we don't get any information about how things change.
"To understand the system, you have to be there to see the change, and you can't do that from a ship." Pacific Northwest residents have only to think of the eruption of Mount St. Helens in 1980 to understand the difficulties: Just imagine what scientists would have missed if they had been unaware of changes in the mountain leading up to the explosion and eruption. What if they couldn't get to the scene for four or five months and then had to collect most of their samples blindly from a mile above, not even being sure how massive the site of destruction was?
"You have to be there and have a presence," Chave says of seafloor research. "That's the driver behind Neptune."

Engineers must invent or modify instruments such as these for Project Neptune.
Neptune organizers envision a Juan de Fuca system in place by 2006. Before that, they hope to install a cable and experimental nodes for testing in Canadian waters and in Monterey Bay, home territory of Neptune partner Monterey Bay Aquarium Research Institute.
Researchers with the Monterey institute are leading efforts by the Neptune groups to extend the durability and cut costs of seismometers, and to develop instruments that can measure how micro-organisms respond to seismic activity and changes in vent fluids. Measuring micro-organisms in fluids are routinely done in labs on land, but never for long periods on the seafloor.
The concept of seafloor observatories was endorsed by a National Academy of Sciences panel that said in a report last year that "sea-floor observatories present a promising, and in some cases essential, new approach for advancing basic research in the oceans."
The report was prepared after the National Science Foundation asked if such facilities were technically feasible and scientifically desirable. The NSF is currently funding $3.5 million of work related to communications and power for Neptune, with principal investigators on the respective work being Wood Hole's Chave and UW's Bruce Howe, an ocean engineer with the university's Applied Physics Laboratory. Neptune would be a prime candidate if NSF secures funding for an Ocean Observatories Initiative, project organizers say.
The growth in funding for ocean research in recent years is encouraging to scientists, who point out that 60 percent of the earth's surface is seafloor, the deep's residents are among the most abundant life forms on the planet, and we've much to learn about that watery realm that drives everything from our climate to those exotic biological communities that exist without the benefit of the sun.
"We are becoming more and more dependent on the ocean," Delaney says, "yet the seafloor and deep ocean remain some of the least understood parts of the planet."—Sandra Hines is a writer in the UW Office of News and Information who covers ocean and fishery sciences.