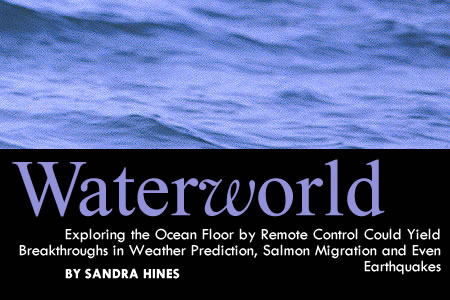 They eat foul chemicals poisonous to other creatures, thrive in the aftermath of volcanic eruptions and like nothing better than to bask in water superheated by molten rock.
Meet the extremophiles, micro-organisms that inhabit lightless realms beneath the Earth's ocean where, until the mid-'80s, we thought no life could exist.
A bold plan to wire 150,000 square miles of sea floor off the west coast of Canada and the United States could unlock secrets of this unusual life that flourishes where the seafloor twists and buckles, and which is part of a biosphere that may dwarf all life on land or in the sea.
Beyond their presence on Earth, scientists think similar deep dwellers may thrive inside other moons and planets. If we find life elsewhere in the universe, this is what it will look like, they say.
The search for otherworldly life, however, is only one impetus behind the $250 million effort called Project Neptune. Its lattice-work of instruments also could track migrating whales, assess stocks of endangered fish, lead to breakthroughs in understanding the Northwest's difficult-to-predict weather, investigate deep-sea ecology and someday help predict earthquakes and tsunamis.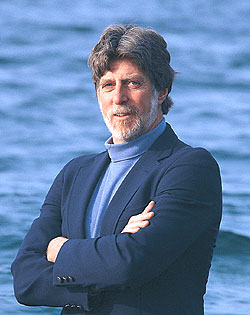 ---

Oceanograpy Professor John Delaney. Photo by Mary Levin.

---
"In 20 years we'll turn the seafloor into a 'laboratory' where we will routinely do work that isn't imaginable today even in labs on land," says John Delaney, University of Washington oceanographer and leader of U.S. and Canadian institutions participating in Neptune.
Neptune scientists want to use 2,000 miles of electro-optical cable to wire the whole Juan de Fuca Plate. At 80,000 square miles, the Juan de Fuca Plate is significantly bigger than Washington state. The entire Neptune study area, including the continental shelf, will be about double that area. Up to 3,000 instruments, including video cameras, tiny subs and probes that could be operated by scientists back on land, would be stationed at 30 experimental sites along the cable network a mile or more under the ocean surface.
Currently the only similar U.S. research observatory in operation is a Rutgers University facility six miles off the Atlantic coast, in 50 feet of water with only two experimental sites about 100 yards apart.
Beyond its value to researchers, Delaney says the project should provide an "oceanarium" and a "scientific CNN" for the public. "Oceans are the most fascinating feature of our solar system," Delaney says. "We want everyone with a home computer to have access to what we're studying and eventually involve school children in our robotic operations, allowing them to experience firsthand the mysteries of the deep.
"My ultimate goal is to have science be as exciting as the Super Bowl."
Delaney and other UW researchers, part of an oceanography program that's recognized as among the top five in the nation, are working on Neptune with the Monterey Bay Aquarium Research Institute, NASA's Jet Propulsion Laboratory, Canada's Institute for Pacific Ocean Science and Technology, and Woods Hole (Mass.) Oceanographic Institution.
Neptune will cost about $250 million; that's $200 million to develop and install the network and $50 million for five years of operating funds. For the of price baseball player Alex Rodriguez's contract, we could delve into the fundamental workings of our planet like never before, enjoying Mother Nature's own very special effects.