When Miss Alabama won the Miss America pageant in 1995, another contestant had to tap her on the shoulder to tell her. Heather Whitestone, Miss America 1995, lost her hearing after suffering a reaction to medication when she was 18 months old. The 21-year-old accounting major was the first woman with a disability to be crowned Miss America. Her first-place winning talent was a ballet dance that she performed while wearing a white chiffon dress and a hearing aid.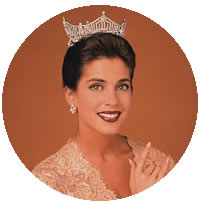 ---

Heather Whitestone. Photo copyright 1995 Miss America Organization
---
Whitestone joins a growing list of hearing-impaired celebrities including Montreal Expos outfielder Curtis Pride, musician Pete Townsend, Guiding Light soap-opera actress Amy Ecklund, and bodybuilder/"Incredible Hulk" Lou Ferrigno.
---

Montreal Expos Outfielder, Curtis Pride. Photo courtesy of Montreal Expos
---
Most prominent these days is actress Marlee Matlin, a frequent face on the prime-time television drama The West Wing. After contracting German measles as a toddler, Matlin lost her hearing completely in one ear and only retained 20 percent in the other.
---

Actress Marlee Martin. Photo copyright 2001 Warner Bros. Television
---
At age 21 Matlin's first feature film role in Children of a Lesser God won her an Academy Award for best actress. Since then she has won Emmy awards for guest roles on Seinfeld and Picket Fences. Matlin also helped successfully lobby the U.S. Congress to mandate close captioning on newly manufactured television sets.

-Pamela Wyngate