The Lullaby Was Purple and Gold
Theodore D. Zylstra
Like any doting father, Theodore D. Zylstra, '57, used to sing his daughter Debbie to sleep when she was an infant. His choice of song? "Bow Down to Washington."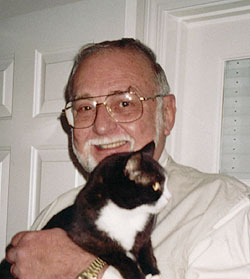 ---

Ted Zylstra

---
His love for Husky football and the University of Washington were legendary in his hometown of Oak Harbor on Whidbey Island. A 1957 graduate of the UW School of Law, the Oak Harbor born-and-raised Zylstra was a community volunteer and successful attorney before he retired last year.
He served on the Washington State Bar Association's Board of Governors from 1983-86, and was a member of the American Bar Association, the American Trial Lawyers Association and the Island County Bar Association.
But Zylstra, 67, (known locally as Ted) was even more renowned for his sense of humor and dedication to Husky football. He'd sometimes walk into a Seattle restaurant, tell the maitre d' that he was an ambassador from another country and wanted the best seat in the house. "Half the time, it worked," says his son-in-law, Christon Skinner.
Once a partner in four law practices, he opened Zylstra Beeksma and Waller in 1978, and retired last year. During his time as a UW law student, he was a member of the Order of the Coif, an academic fraternity for law students, and was on the law review.
He held season tickets to Husky football for 37 years and traveled to many road games. An only child, he also took great pride in his family. "He just wanted to be remembered as a person of strong faith who wanted to do what was right for his clients, his family and his friends," his cousin, Robert, says.
Zylstra is survived by his daughter, Debbie, of Oak Harbor, and his son, Bradley Zylstra, of Renton.