A Husky Romance
Judy and Larry Wade
For years, Judy and Larry Wade, '63, '64, used to take their 40-foot cruiser to Husky Stadium to watch football games on Saturdays in the fall. The sinking of their boat in Puget Sound in a freak storm two years ago didn't stop them.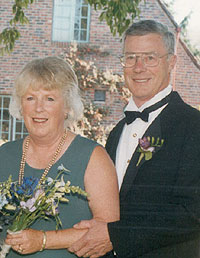 ---

Judy and Larry Wade

---
The Wades were fixtures at Husky Stadium, bringing their three daughters along with them for tailgating parties in their "woody" station wagon and then to games since the girls were in junior high school. "We grew up doing that," recalls their daughter, Melinda Wade Gardner.
Judy, 58, and Larry, 60, met while both were students at the UW in the early 1960s. Judy eventually dropped out to help put Larry through school, where he earned a bachelor's degree in civil engineering in 1963 and a master's degree the following year. Larry helped put himself through school working on the survey crew for the UW's building department, while Judy was a member of a sorority during her time as a student.
Larry was president of Hammond Collier Wade Livingstone Associates, a consulting firm specializing in civil engineering. The company has 50 employees in offices in Fremont and Wenatchee.
He was also known as a perfectionist who made sure any project he tackled turned out just so. Even their home in the Blue Ridge section of Seattle was known every year as the area's most elaborately decorated during the holidays. It had so many lights, it often required Larry to borrow power from neighbors.
Larry also was very involved with the UW civil engineering program, serving every year as a judge in the concrete canoe competition the UW entered with other major university civil engineering programs.
Judy Wade was a community volunteer who donated her time to work at First Place School, Woodland Park Zoo and the Blue Ridge Community Center. She was also an avid tennis player.
"She was just full of life," Gardner recalls. "Everyone fell in love with her."
The Wades, who loved to travel on UW Travels tours in Europe and attend out-of-state Husky games with other couples, were very excited about the cruise before the Miami game. After all, they were going to celebrate their 38th wedding anniversary the day before the game.
The Wades are survived by their three daughters—Gardner, Brenda Carlson and Stephanie Wade—and also by two young granddaughters, Hailey and Kaitlin Carlson.