Devoted to Their Family and Community
Judy and Geoff Vernon
Judy, '62, and Geoff Vernon, '65, were childhood sweethearts at Ballard High School in Seattle, went to the University of Washington together and were about to move into their dream home on Meydenbauer Bay in Clyde Hill mere weeks after they were supposed to return from their much anticipated Husky Tailgate at Sea cruise.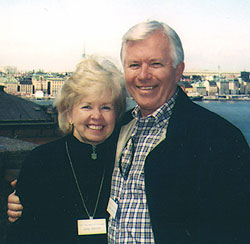 ---

Judy and Geoff Vernon

---
They spent their lives working to make their community better, getting involved in everything from the PTA when their sons, Trevor and Greg, were in school, to serving in many other capacities with a host of community organizations.
Geoff, 59, devoted untold hours to volunteer service: he was president of the UW Alumni Association in 1999-2000 and a longtime board member; he was on Seattle University's Board of Regents, chair of Seafair during its 50th anniversary, and served on the boards of Hope Heart Institute, the YMCA of Greater Seattle, the Seattle-King County Chapter of the American Red Cross and numerous other organizations. He had been president and chief operating officer of Vernon Publications until his retirement in 1998.
Judy, 59, was Geoff's partner every step of the way. She stayed at home with her youngest child until he was in high school, then worked with Geoff for about 10 years.
She helped start an investment club with friends, planned family parties and was known for her penchant to try just about anything.
They adored their family and friends, loved to travel just about anywhere—and loved the University of Washington. One of the last pictures of Geoff and Judy taken aboard the cruise ship showed Geoff wearing a tuxedo—with a purple tie.
"Of all the organizations Geoff served," recalls his friend and fellow UWAA board member Cory Carlson, '81, "he was most of all a Husky."