A Real Knack for Living
Lisa Marie Styer
Like her dad and her brother before her, Lisa Marie Styer, '87, came to the University of Washington to study civil engineering in the 1980s. While she loved her field, she also loved belonging to her sorority, Zeta Tau Alpha, where she became best friends with three fellow sorority sisters—Sue Dalton, '85; Julie Gardner, '87; and Karen Burks, '86. Styer, Burks and Dalton went on the cruise together, and Burks was on the plane with Styer when it crashed.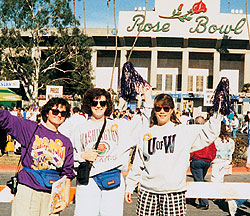 ---

Lisa Styer (right) joined sorority sisters Sue Dalton (left) and Karen Burks (center) at the 1992 Rose Bowl.

---
Styer was rituals chair for her sorority, and was renowned for her ability to attract new members. "She had a real knack for befriending people," says her brother, Joe.
She was also a huge Husky football fan, and she and her three closest sorority sisters had their own ritual before Husky football games. They would breakfast together, then walk down the Burke-Gilman Trail to the stadium, where they had season tickets ever since they were students.
During the games, Lisa would often meet with her brothers and other family members who were in their own season seats, or gather afterward at a local watering hole to celebrate.
After earning her degree in engineering in 1987, Styer, 36, went on to a fast-rising career at Boeing, where she was a customer engineer and worked with Boeing's clients on the Boeing 737.
But what meant the most to Styer, a music devotee, was her family and friends. Her Green Lake home was the ritual meeting place for the Luminaria festival each December. Everyone would gather for appetizers and then go singing. She loved kids and made sure everyone knew their kids were welcome at her home.
"She was sharp as a tack, always curious to learn more and never seemed uncomfortable with any topic," recalls her brother, Matt, '86. "Her ability to laugh and make people comfortable was so special."