Loving the 'U' for All It Can Do
Linda and Larry Schwab
Linda and Larry Schwab did not attend the University of Washington. Still, they were lifelong Husky fans—and ardent proponents of the University.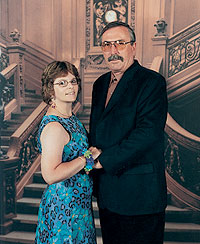 ---

Linda and Larry Schwab

---
"They truly appreciated everything the University did for a lot of people," says Roger Schwab, Larry's brother. "They thought very highly of the 'U'—and their favorite charities were helping the UW's student-athletes and donating to Children's Hospital."
The Schwabs, both 50, met as teenagers in Auburn and were married right out of high school. They signed up for the Husky Tailgate at Sea cruise to celebrate their 32nd wedding anniversary—which was 11 days after they died together in the plane crash.
Larry, who worked as head supervisor and general manager for Professional Building Contractors, a Des Moines company that does soundproofing modifications in homes near airports, and Linda, a corporate executive for Qwest, traveled extensively to UW road games, among the many trips they took together. "They shared many attributes of UW alumni—they shared in the values and the value that the University provided," Roger says.
The lifelong Auburn residents may have loved the UW, but they were absolutely crazy about each other. They dedicated their lives not only to each other, but their son, David, of Maple Valley, and their grandson, Brandon, whom they spent much time with. "Their lives were so intertwined with each other," Roger recalls. "They lived life to the fullest."