Foundation of Their Community
Lois and Dwight Mitchell
Lois and Dwight Mitchell were fixtures in Oak Harbor for four decades—as well as regular visitors to Seattle to see their beloved Huskies, Seahawks and Mariners in action.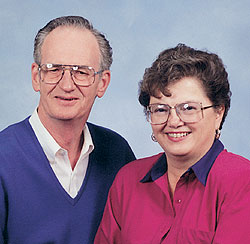 ---

Dwight and Lois Mitchell

---
A native of Puyallup, Lois, 60, was a home economics teacher at Oak Harbor School and Oak Harbor Junior High for 30 years. Dwight, 64, was a front-end and transmission mechanic at a local Ford dealership for more than 25 years. They were both retired.
Although they did not go to school at the University of Washington, they came down to Husky Stadium to attend football games on a regular basis, in addition to catching Seahawk and Mariner games. They wintered in Arizona and were avid fans of Mariner spring training games as well, says Lois' older brother, Tom Svendsen of Yakima.
Born and raised in Oak Harbor, Dwight also served on the city council and was a major supporter of the Oak Harbor Marina, which opened in 1974. He also pushed to make the city open to the outside world.
Lois was known for her outgoing personality. "She was involved in everything," her brother recalls. "At school, she was always getting involved in extra activities because they knew she could get it done. She was a real community person."
The Mitchells loved to spend time on their 39-foot Bayliner "Sounder," taking monthlong trips to the San Juans and Canada's Gulf Islands every summer with one of their best friends, fellow Oak Harbor resident Ted Zylstra. He died in the same plane crash.