Dedicated to Her Students
Barbara Ann Martin
Hard-working, diligent, caring—these are just a few of the words that describe Barbara A. Martin, '67, of Lake Forest Park. She was also a loyal Husky football fan. She and her husband, Ron, have had season tickets since 1967.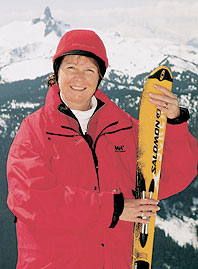 ---

Barbara Ann Martin during a ski trip to Whistler, B.C.

---
"We sometimes would ride our bikes from our home down to Husky Stadium to tailgate before games," recalls Ron, '66, '67, '79. "When we got a little older, we didn't ride our bikes, but we still tailgated."
Ron met "Barbie," a member of Kappa Alpha Theta sorority, while both were UW students in the fall of 1967. They were married the following August, and recently celebrated their 34th anniversary.
Born in Alexandria, Va., Martin, 56, grew up in Seattle. She attended Magnolia Elementary School, Catherine Blaine Junior High and Queen Anne High before enrolling at the UW.
She earned a bachelor's degree in education from the UW in 1967 and spent 31 years as a beloved social studies and English teacher at Meadowdale Middle School in Lynnwood. While she and Ron didn't have children, she considered her students as her own.
"She was a real taskmaster and made her kids work hard," recalls Ron, a Meadowdale High School swimming coach and retired teacher himself. "Even after she retired, she continued to work as a substitute because she enjoyed teaching. She rarely had a negative word for anyone."