Her Love of the Huskies Was 'Big Time'
Mary Kearney
An avid golfer and member of the Whidbey Golf and Country Club in Oak Harbor, Mary Kearney also had a passion for sports, including Husky football—even though she did not attend the UW.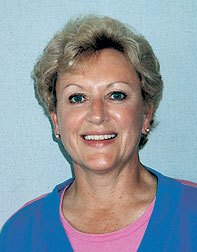 ---

Mary Kearney

---
In fact, her love for sports could be summed up very succinctly: "Big time," says her younger brother, John Hartley of Bremerton. Their mother, Betty Hartley, a UW student in the 1930s, always listened to Husky games on the radio when Mary and her brothers were growing up.
Kearney, 57, attended the Huskies' season opener with Michigan, then went to SeaTac so she would be ready to catch her flight to Florida the next morning to join the Husky Tailgate at Sea cruise. From her SeaTac hotel, she called John. "She remembered that she hadn't told [older brother] Peter there was going to be a Caribbean cruise. She wanted to make sure he knew so that he could tell his golfing buddies and rub it in," he says.
In addition to being known as a great friend and talented weaver, Kearney, a native of Portland, Ore., was renowned for her ability for organization. She always planned family gatherings and parties, and parlayed that skill into a career that saw her rise to vice president of human resources for a San Diego savings and loan company.
"Her nickname was 'the organizer,'" says her older brother, Peter. "She could really make things go."
Kearney—who earned an academic scholarship to attend Seattle University and held numerous corporate positions with Continental Trailways and Holiday Inn—retired in 1993 and moved to Whidbey Island to live with and care for her late parents through their last years.
"She was a very warm person, very smart, class valedictorian of her high school class, friendly to everyone," recalls her brother, John. "She was more than my sister. She was my best friend."