Put on Earth to Be a Mom
Karen O. Burks
During her years as a UW student in the 1980s, Karen Owsley Burks, '86, was a member of Zeta Tau Alpha, president of her sorority, president of Panhellenic and a member of Mortar Board. Oh, yes, she was also a huge football fan.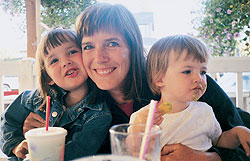 ---

Karen O. Burks, with her daughters Emily, left, and Kelsey

---
In fact, Burks, 37, and three sorority sisters (Sue Dalton, '85; Julie Gardner, '87; and Lisa Styer, '87, who died in the same plane crash) had held season tickets ever since they were students and gathered at Husky Stadium for every game, rain or shine. Burks and two of her sorority sisters signed up for the cruise before the Miami game.
"She was very excited about it," recalls her younger sister, Sidney Blank, '90.
But nothing excited Burks—who earned her bachelor's degree in accounting and went on to become a CPA—more than being a mother to her girls Kelsey and Emily. "Being a mom was her true love," Blank says. "She was put on Earth to be a mom."
Burks, a Seattle resident, was also known for her creativity. "She was very artistic in everything she did," recalls Blank. "She did floral arrangements, drawing, painting, decorating, crafts. If you ever got a gift from her, you actually got two—the gift itself and the way she decorated and presented it."
An outgoing person who was not content to be a wallflower, Burks taught vacation Bible school at her church, loved to travel, and more than anything, get together with her family, many of whom live in the greater Seattle area.
"She had no regrets at all," Blank says. "She knew she was loved."