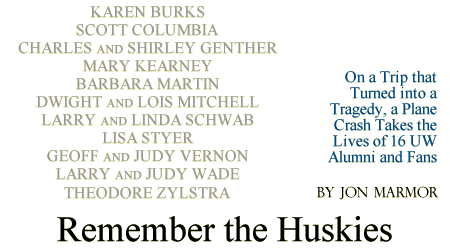 It was the ultimate nightmare—barely a day after the Sept. 11 East Coast terrorist attacks came word that 16 Husky football fans were killed in the crash of a sightseeing plane in Mexico.
The tragedy occurred during what was supposed to be the highlight of the 2001 season—a weeklong Caribbean cruise with Don James, Sonny Sixkiller and other legendary Husky coaches and players before the much-anticipated Washington-Miami game, scheduled for Sept. 15 in the Orange Bowl. Nearly 1,200 fans signed up for the private Holland America cruise, which was organized by a Seattle travel agency, Northwest Travel.
On Sept. 12, their cruise ship docked in Cozumel, Mexico. Sixteen travelers—including 10 alumni—decided to take a sightseeing flight to the Mayan ruins.
But just after takeoff late that afternoon, as their small plane was returning from the ruins in Chichen Itza to Cozumel, it crashed in a cornfield in the Yucatan Peninsula. All 19 aboard were killed. Investigators are looking at engine failure as a possible cause.
Although those who died in the crash came from many walks of life, they shared a passion for Husky football, and, in many cases, a deep bond with their alma mater.
"These 16 men and women were known for their Husky spirit, generosity and Washington pride," Gov. Gary Locke said. "I know that the University of Washington and the entire Husky family have suffered a terrible loss. They will be missed by all members of the community."
Put on Earth to Be a Mom
Karen O. Burks
Even His Cat Was a Husky
Scott Douglas Columbia
Adventure was in Their Souls
Shirley and Charles Genther
Her Love of the Huskies Was 'Big Time'
Mary Kearney
Dedicated to Her Students
Barbara Ann Martin
Foundation of Their Community
Lois and Dwight Mitchell
Loving the 'U' for All It Can Do
Linda and Larry Schwab
A Real Knack for Living
Lisa Marie Styer
Devoted to Their Family and Community
Judy and Geoff Vernon
A Husky Romance
Judy Wade and Larry Wade
The Lullaby Was Purple and Gold
Theodore D. Zylstra
Columns Associate Editor Jon Marmor, '94, interviewed dozens of family members and friends to write these memorials.
Memorials Honor Plane Crash Victims
Several memorial funds have been established in honor of the 16 Husky football fans and alumni who died in the Sept. 12 plane crash. The Tyee Memorial Fund honors all the fans who died in the crash. Donations may be sent to the UW Department of Intercollegiate Athletics, Box 354070, Seattle WA 98195-4070. The UW Alumni Association has created a memorial fund to honor former UWAA President Geoff Vernon and his wife, Judy. Donations may be sent to the UWAA, 1415 N.E. 45th Street, Seattle WA 98105. A scholarship fund in memory of Larry Wade has been established by the Seattle Section of the American Society of Civil Engineers and the Consulting Engineers Council of Washington. Donations may be made out to the Larry Wade Memorial Scholarship Fund and sent to Seattle Section ASCE, P.O. Box 24925, Seattle, WA 98124.