From the President
September 11: A University Searches for Answers
On Sept. 11, I got up early to prepare a talk. It was a beautiful morning in a beautiful place—Sleeping Lady, the "conference retreat" set in the woods near the mountain town of Leavenworth. At 8:30 a.m. I was scheduled to address about 100 high-tech leaders, researchers and state legislators who were gathered there for a conference. My subject was the UW's role in the high-tech economy. To avoid distraction as I organized my thoughts, I didn't turn on the news. When I had finished the remarks, I decided to phone a friend in Seattle before heading over to breakfast. That phone call turned on the news.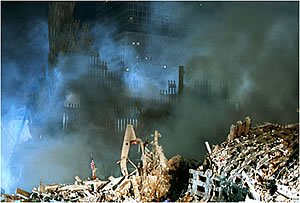 ---

A flag marks the center of Ground Zero on the night of Sept. 12. ©2001 Samantha Appleton, '97.

---
Each of you has a version of this story. Painfully and instantly, Sept. 11 joined that handful of events that freeze a moment forever in memory. Where were you? What were you doing? How did you find out? In the face of the unspeakable and the incomprehensible, such questions seemed for a while the only way to talk about what had happened. And in fact those questions were important. They helped us build up a sense of our common life even as that life seemed so sorely threatened.
At Sleeping Lady, the news spread quickly. People gathered around the big-screen TV in the meeting room. In that remote and idyllic spot, as everywhere around the country, the images were burned into our brains. Many there feared for family, friends or colleagues in New York and Washington. It was quickly obvious that the conference was over. By early afternoon, I was back on campus. Soon afterward, I issued a statement to the University community.
Two things had seemed clear to me at once. First, this country would never be the same. We would get back to normal, but normal would be different. Our history had changed, and, in ways we would only gradually come to understand, our lives would be changed as well.
Second, the attack had profound implications for our work as a university. We are still thinking through the full meaning of those implications. But the basic outlines have emerged.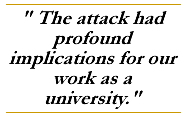 We have to do a better job of preparing our students for life in a global society. We have to look hard at the question of why some people in the world hate us so deeply. And, as creators and providers of knowledge and expertise, we have to engage global human problems. The ills of poor societies cannot possibly excuse the evil we endured on Sept. 11. But it seems indisputable that terror feeds on misery, inequity and hopelessness. Addressing those ills must begin with knowledge and understanding, and universities have a crucial role to play.
There was also a more immediate question: once faculty and students were back on campus (classes resumed Oct. 1), what should be our communal response to the attack? Students themselves provided one answer by staging a vigil in "Red Square" on the first evening of the quarter. The Henry M. Jackson School of International Studies and the Daniel J. Evans School of Public Affairs quickly put together two free public lecture series on topics related to the attack. The opening lecture on Islam, by Jere Bacharach, drew 2,000 people to Kane Hall, half of whom had to be turned away. We moved the next lecture, by Ellis Goldberg, to Hec Edmundson Pavilion, and attendance there was almost 3,000. This phenomenal response from the community was heartening: we were clearly filling a need.
I also decided to cancel classes on Oct. 11 for a three-campus Day of Reflection and Engagement. Led by George Bridges, acting dean of undergraduate education, faculty, staff and students in Seattle organized a remarkable array of lectures, panels, displays and other observances—more than 75 in all, throughout the day. Our campuses in Bothell and Tacoma had comparable programs. Again, response to these events was overwhelming, with standing-room-only crowds at many presentations.
As I write this, air strikes on Afghanistan are one week old. It would be foolish to predict the future. And when grief for our losses is still so fresh, it would be facile to talk about good emerging from the despicable acts of Sept. 11. But something good has in fact been happening here. Thousands of people from inside and outside the University have been mingling in a serious search for information, wisdom and community. That will surely serve us well in the uncertain days ahead.

Richard L. McCormick, President