Geoff and Judy Vernon: Always Working to Make Seattle a Better Place
It was not uncommon, during meetings involving the executives and volunteer leaders of the University of Washington Alumni Association, for Geoff Vernon, '65, to get up from his chair and say, "I may not know what I am talking about, but …"-and then offer an idea that was right on the money.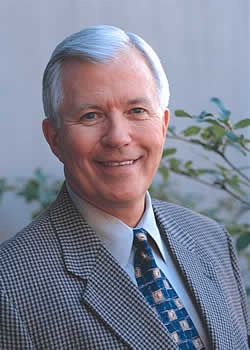 ---
Geoff Vernon, '65. Photo by Jon Marmor.
---
In his straightforward-yet-humble way, Vernon-a businessman extraordinaire who helped build and run a family publishing empire-was always working, side by side with his wife, Judy, '62, to make Seattle a better place.
He was a member and leader of just about every major Seattle community organization-Seafair, Seattle Rotary, Seattle-King County Red Cross, the Greater YMCA of Seattle, just to name a few. But the one he felt the most passion for was the University of Washington.
"It seemed like he was head of everything in Seattle," said Cory Carlson, '81, a close friend and fellow member on the UW Alumni Association's Board of Trustees. "But most of all, he was a Husky."
Vernon, who served as president of the alumni association in 1999-2000 and was a longtime UWAA board member, died in the Sept. 12 crash of a sightseeing plane in the Yucatan Peninsula. His wife, Judy, and 14 other Husky alumni and fans died in the tragedy.
His legacy at the UW Alumni Association is felt in many areas. He was one of the founders of Columns, the award-winning UW alumni magazine. During his tenure as president of the 50,000-member alumni association two years ago, Vernon took on visionary projects-creating a strategic plan for the UWAA and spearheading the effort to build Gateway Center, a facility that one day will serve as the new home of the alumni association, the UW visitors center, student tours and other University outreach efforts.
"Geoff was willing to look at any issue and look at things outside the box," says John M. Meyer, '68, the UWAA president in 1997-98. "He was not one to procrastinate, either. He was proactive and would jump into any issue and get it done."
"At building his community," adds John K. Buller, '69, '71, UWAA executive director, "Geoff was as good as Seattle has ever seen."
Vernon, who received his bachelor's degree in journalism/advertising from the UW in 1965, gave everything he could back to his alma mater. "I sincerely believe the UW is one of our region's greatest resources," he said recently. "It is a primary reason we're rated one of the best places to live in America."
He also was a strong believer in the UW Alumni Association. "We are on the threshold of accomplishing some really great things as we increase our value to our members, our prospective members and our University. I could not be more excited about our prospects," he said in a 1999 interview.
As a founding member of the Columns Advisory Committee, he was instrumental in the concept and editorial content of the UW alumni magazine, says Columns Editor Tom Griffin. "Geoff was a brilliant magazine publisher and he gave expert advice and fierce support to the magazine in its early stages-when we most needed it," Griffin said.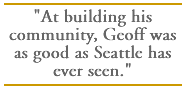 He was a trustee on the UWAA Board of Trustees from 1989-92 and chaired the Columns Advisory Committee in 1991-92. He and Judy also were members of the Tyee Club since 1977 and held season tickets to Husky football for 26 years.
Vernon grew up in Ballard, where he and Judy were childhood sweethearts. After graduating from college, he went to work for Vernon Publications Inc., a local publishing company started by his late father, Bill. He retired in 1998 so he and Judy could devote all of their time to community causes.
"Geoff and Judy were everywhere helping to make good things happen," says Jack David, a retired Seattle bank executive who is now UWAA president and was a friend of the Vernons for more than 30 years. "Their collective commitment to the well-being of our community is mind boggling.
"It was clear the Vernons had a gift for vision, wisdom and an upbeat attitude," David adds. "They were always there never critical but always helpful. They always gave more than they received, and they liked it that way."
- Jon Marmor
A memorial fund to honor the service of Geoff and Judy Vernon is being established. Donations may be sent to the UW Alumni Association, 1415 N.E. 45th Street, Seattle WA 98105.