UW is a Treasure-and We Need to keep It That Way
What an exciting and whirlwind year this has been serving as your president. I have shaken hands with hundreds of our alumni and have traveled thousands of miles for the association this year. It has been a tremendous honor for me to serve and to represent our 300,000 living alumni at regent's meetings, pre-game functions, in conversations with the President and in many other ways.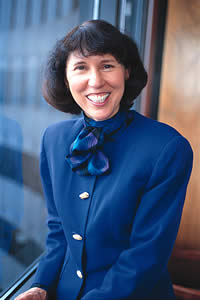 ---
UWAA Past President Patricia Bostrom, '72. Photo by John Marmor.
---
I have been fortunate to meet a wide variety of alumni. Our alumni are participating in fascinating ventures and businesses throughout our county and the world-from biotechnology to rocket science. There is a great network of alumni for all of us to use. If you ever go to Hong Kong, Beijing, New York or Dallas there is a network for you to connect through your alumni association. Of course there is a vast network of alumni here in Seattle and Washington state.
Everyone I met in my travels was interested in the UW and interested in reconnecting with the University. The vast majority of our alumni did not, however, understand the academic statue of the University of Washington. They did not realize that we have been ranked Number 1 in nursing for eight straight years, that we have the Number 1 medical school for primary care in the nation and that we are the Number 1 recipient of federal grants among public universities. Yes, the UW is a great school for athletics. but it is also a great academic university. The fact that Genetics Professor Lee Hartwell recently won the 200l Nobel Prize in medicine just confirms this.
What I understand now, better than before, is that the UW is a treasure for Seattle, for our state and for our county. All alumni are vital for the continual growth and excellence of the University. We all need to help the University in some way, whether it is with our time as a volunteer, drafting a letter to our legislator or through a donation.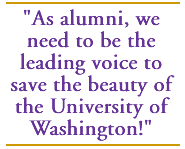 As alumni, we need to help the University but we also need to ask the tough questions. The University has listened-and needs to continue to listen-when we speak out. For example, alumni are taking the lead in replacing the cherry trees in the Quad, which are slowly dying of old age. We have one of the most beautiful campuses in the nation. There is great pressure to build more classrooms, which I understand. After all, we have the largest freshman class in the history of the UW, about 5,300 new Huskies. However, we need to save the grass. As alumni, we need to be the leading voice to save the beauty of the University of Washington! It would be a tragedy to see our campus become one of massive buildings everywhere.
During my presidential term there were two tragedies that affected our University community-the injury to football player Curtis Williams and the loss of Geoff and Judy Vernon and other alumni in the Sept. 12 plane crash in Mexico. I urge all alumni to pray for a miracle for Curtis Williams. I believe, along with Rick Neuheisel, that with all of our prayers one day Curtis will walk into Husky Stadium. I also urge you to pray for the family of Geoff and Judy Vernon and the families of other alumni who perished on the plane in Mexico. Geoff and his wife were major supporters of this institution and are greatly missed.
This year had so many thrilling moments, including the Rose Bowl. However, the most lasting impression I have is meeting all of the different alumni from the University of Washington and witnessing all of the incredible things that you are doing. Thank you for allowing me to serve your interests.

Patricia "Trish" Bostrom, '72,
2000-01 President, UW Alumni Association