New Ways to Stay Connected-and Make a Difference
When alumni ask me why they should join the UW Alumni Association, I automatically reply, "Staying connected makes a difference." Sure, it's our tagline, but it's also something I really believe. By staying connected to the University-and other alumni-you can make a difference in the life of a student, the health of a great institution, and even your own social life, educational goals or career path.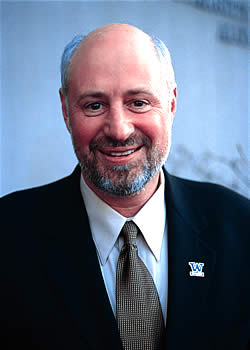 ---
UWAA Executive Director John Buller, '69, '71. Photo by John Marmor.
---
When I became the executive director of the UW Alumni Association nine months ago, I found an organization offering many ways to stay connected, but I am determined to make it even better. I've asked alumni leaders and our staff to look over our mission and goals. I've told them that all our activities must help alumni and friends connect to the University of Washington in a meaningful way. Since we are an alumni association, we have the duty to keep the traditions of the University and our alumni alive and healthy. To accomplish all of this, we have to be visionary-and have lots of fun doing it. As the new year begins, we are launching new initiatives for you, the 300,000 alumni of the University of Washington.

Scholarships

Last year we raised more than $150,000 for undergraduate scholarships. One alumni group, the Alumnae Board, provided 28 full-tuition scholarships, second only to Intercollegiate Athletics in the number of scholarships awarded to UW students. Building on this base, I'd like to see us double or triple these numbers. Many academic and geographic alumni groups are beginning to start scholarship programs. Watch for them in information from your local/academic groups. For any alumnus living in Washington, there is an easy way to show your pride and help our undergraduates: Buy UW license plates. The annual registration is only $30, of which $28 goes to the UW general scholarship fund and is tax deductible. It is time to show your Husky pride. For more information, go to UWalum.com on the Web or call 1-800-AUW-ALUM.

Lifelong Learning

You already know that the UW is ranked in the top 15 public universities in the nation for its undergraduate programs. But just because you graduated, that doesn't mean you can't take advantage of our excellence. One of the best ways to keep connected is to keep learning. Puget Sound area alumni can attend our prestigious lecture series, such as this winter's "National Tragedy, National Recovery" series by History Professor Emeritus Jon Bridgman. We also have a new member benefit, a 10-percent discount on selected UW Educational Outreach courses. In addition, UWAA members continue to receive free borrowing privileges in the UW Libraries system-the largest collection of knowledge north of San Francisco or west of Minneapolis. For alumni living outside of the region, we are bringing distinguished UW professors to you, such as "Dawg Days in the Desert" in California this March. To learn more about discounted courses available through UW Educational Outreach, visit the Educational Outreach Web site at www.outreach.washington.edu or call 1-800-543-2320.

Career Solutions

With a tightening economy and more uncertainty ahead, it's comforting to know that the Husky family has a place to get help with career paths. Husky Career Advantage includes online job listings, a career connections program that can link you to other Huskies in your field, and periodic job workshops. We also need more mentors to fully serve our alumni. There is no reason why you can't stay connected-and make a difference-to fellow alumni and graduating seniors. For more information, go to our UWalum.com Web site or call 1-800-AUW-ALUM.

More Connections

We've launched a new, members-only newsletter, The Fountain, which keeps members informed about the what and the why of this organization. Members will also be receiving more direct communication from me on UWAA initiatives. Look for new e-mail initiatives coming next year that will connect you in new ways.

Having Fun

We love having fun while we serve our alumni. Yes, we do pre-game rallies before football contests and we'll be at the bowl game for the Huskies later this month. We also like to hold Homecoming breakfasts that honor outstanding alumni from diverse ethnic groups; ice cream socials for thousands of entering freshmen, fun runs for 1,200 people; pizza during finals week for harried students and lots more. If you'd like to help out, we can always use more volunteers. Go to the UWalum.com Web site or call 1-800-AUW-ALUM.

I just can't help but say it again-staying connected makes a difference. If you are already a member, thanks. If you are not, please join us. It's great to be a Husky.

John K. Buller, '69, '71,
Executive Director, UW Alumni Association