Alumni Can Help in Making Career Connections
Darlene Allison has what she calls her dream job, having been recently appointed to the U.S. State Department. But landing it didn't happen overnight. In fact, Allison, '95, '97, spent several years laying the groundwork.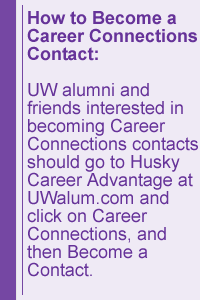 Now, she wants to help fellow UW alumni find their career paths. She is one of the more than 500 UW alumni and friends who volunteer as a contact for the UW Alumni Association's Career Connections program. Career Connections is a searchable, online database available to UWAA members and UW students for career networking.
"Tell all the soon-to-be grads that even if it takes a while, [landing a dream job] can still happen if you stay at it," she says. "The education is just the primer. The real work starts on graduation day." Career Connections contacts-like Allison-are not themselves offering jobs or internships. What they do offer is information about their field and current position, experience about their own career paths and referrals to others in the field-along with a sincere interest in supporting the career development of their fellow Huskies.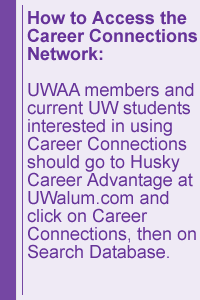 Along with many other UWAA members and students using Career Connections, Steve Masterson, '88, of San Francisco, understands how valuable Career Connections can be in the early stages of a job search. Masterson reported, "I have had a screening interview with one recruiter and am having lunch with another one on Friday. Career Connections did your part and the rest is up to me."
As a recent grad when she used Career Connections, Orelia Sowter, '00, of San Diego, was also very pleased with the resource. According to Sowter, "I had a 100 percent response using Career Connections versus the 1 percent response via Web and newspaper search."
Career Connections is just one of the many programs offered through the UWAA's comprehensive Husky Career Advantage program. To get the low down on Husky Career Advantage, go to UWalum.com or contact Don Gallagher at dongal@u.washington.edu or (206) 685-9274 or 1-800-AUW-ALUM.