Bridgman's Final Lectures Consider National Tragedy, National Recovery
History Professor Emeritus Jon Bridgman will focus his final lectures on America's darkest hours and strongest moments in the UWAA Winter Lecture Series, "National Tragedy, National Recovery," beginning Jan. 9 in Kane Hall.
The people of the United States have faced-and overcome-many national tragedies over the past 100 years: the Great Stock Market Crash of 1929, the attack on Pearl Harbor, the assassination of President John F. Kennedy, and the Sept. 11 terrorist attacks on New York and Washington, D.C., to name a few.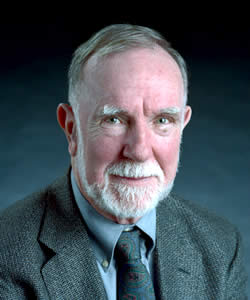 ---
History Professor Emeritus Jon Bridgman. Photo by Kathy Sauber.
---
How have we as a people rallied through the pain from these disasters? Bridgman will try to answer these questions in lectures more special than usual-it is the 15th and final winter lecture series the legendary UW history scholar will give.
For the past 40 years, Jon Bridgman has electrified alumni, friends and students through his classes and winter lecture series. A recipient of the UW's Distinguished Teaching Award in 1973, Bridgman has regularly packed Kane 130 with his ability to make history come alive. By his own estimation, he has given more than 20,000 lectures since he started teaching at the UW in 1961. But now he says he is retiring from the lecture circuit. Alumni officials say this series will sell out as have his last five UWAA series.
Bridgman will examine the effects on the economy, political structure and national morale, with particular attention to our country's determined recovery from unexpected catastrophes.
The Wednesday evening lectures start at 7 in 130 Kane. The schedule is: Jan. 9-The San Francisco Earthquake, 1906; Jan. 16-The Sinking of the Lusitania, 1915; Jan. 23-The Great Crash of 1929; Jan. 30-The Fall of France and the Call for Rearmament, 1940; Feb. 6-The Attack on Pearl Harbor, 1941; Feb. 13-The Assassination of President Kennedy, 1963.
Series tickets are $55 for UWAA members, $65 for non-members and $20 for students. Limited single-lecture tickets are available for $10 for UWAA members and students and $12 for non-members. For reservations, call the UWAA reservation line at (206) 543-3839.