Chapter Leaders Are a Special Breed of Husky

Stephanie Wright Hoff, Atlanta
When TV producer-writer Stephanie Wright Hoff, '87, moved cross country to Atlanta in 1991 to take a job with Turner Broadcasting, she was very excited about her career opportunity. However, she didn't know anyone in Atlanta. So she picked up the telephone and called the UW Alumni Association to see if there was a local club of UW alumni.
---
Stephanie Wright Hoff, '87. Photo by Jon Marmor.
---
The answer was no. But another Atlanta alum, Steve Pottle, '84, had made the same inquiry, and soon they were put in touch with each other. Hoff obtained a list of UW graduates who lived in the area, and they started calling every name on the list.
From that humble beginning, the Atlanta Husky Chapter has developed into one of the largest and most active groups of alumni in the nation. Their first event 10 years ago was a Husky football viewing party, but now the chapter has a list of events that appeals to a wide range of interests. In addition to regular football viewing parties, the chapter holds annual salmon barbecues and Pacific Northwest wine tastings, as well as cultural, social and educational events such as a private tour of the new Nordstrom store in Atlanta, garden tours, and viewings of Elton John's photography collection and the Picasso show at Atlanta's High Art Museum.
"People were very excited to know there were so many Huskies in the area," Hoff explains. "They were so excited to get together."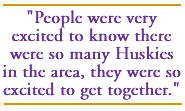 In the beginning, Hoff and Pottle sent a survey to the nearly 1,000 UW grads in the greater Atlanta area to find out what activities they wanted. They even wrote event invitations themselves and mailed as many as a thousand pieces at a time. (Today, the chapter, like all geographic chapters, benefits from the expertise of the UWAA's alumni relations department for assistance in communication and event planning.)
"We have a club of very diverse alumni, and that includes our interests," Hoff continues. "We don't just do football parties. We have different interests, but we all share the University, and our memories of living in Seattle." That has inspired UW alumni from as far away as the Carolinas to make it to Atlanta-area events. "People really look forward to our events and the chance to connect with each other," Hoff says.
"It can be hard to fit into a new area," says Hoff, who felt that way when she moved to the South after working for NBC in San Francisco. "A place like the South is very tightly knit, and many people come here for work and might not know anyone. "We can offer people a place and way to connect and share the things they have in common. And there is nothing better than that."
Today, Hoff (whose husband, Michael, is a financial adviser), is busy at home with her young son, Spencer, while working part-time developing cable TV shows for her own production company. But the Atlanta Husky Chapter keeps a big part of her heart. "It's still my full-time job," she says. "And it's one I love." For more information about the Atlanta chapter, contact Stephanie Hoff at (404) 377-7090, e-mail .
Lee Gibbon, Spokane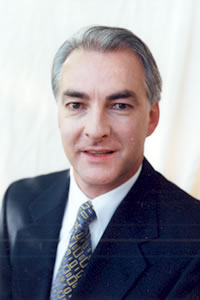 ---
Lee Gibbon, '77. Photo by Jon Marmor.
---
Not long after he graduated from the UW, Lee Gibbon, '77, moved back to his hometown of Spokane to enter the restaurant business. Although he moved 300 miles away from his alma mater and back into the heart of Cougar country, he was intent on maintaining a connection with the UW.
"The University meant a lot to me," Gibbon explains. So he started volunteering at Spokane Husky Alumni Chapter events, and when the chapter's leader stepped down, Gibbon jumped at the chance to take the helm.
The Spokane chapter has long been a thriving geographic group, with events that regularly draw big crowds of UW graduates who are eager to keep their connection to the University. "We are fortunate to have alumni here who are passionate about the UW," Gibbon says. "People here really want to participate."
The chapter puts on the most popular Coaches Tour event in the state of Washington, helps stage the newly reconstituted Welcome to Washington event in Spokane, has held popular faculty lecture series and runs the always-sold-out pregame rally the night before the Apple Cup when the game is played in Pullman.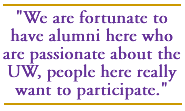 Home to more than 4,500 UW alumni and friends, the greater Spokane area has a high concentration of UW graduates outside of the Puget Sound area. One reason the chapter is so successful is the network of active volunteers who plan and conduct its events.
For instance, Coaches Tour-the summer event of golf and dinner with Husky coaches and administrators-sells out, drawing 180 golfers and 200 for dinner. Welcome to Washington has been combined with the Faculty Field Tour, giving new students and alumni from eastern Washington an opportunity to meet with faculty, administrators and friends in one big event. Faculty who have come out to Spokane to give public lectures have always drawn big crowds. And the group has started a fall football kickoff luncheon that already is a hit. Bob Rondeau, the Huskies' play-by-play broadcaster, was the keynote speaker.
"Although we live far from Seattle, the pride we feel for the University of Washington is very deep," Gibbon says. "Many of us who went to the UW from eastern Washington shared a great experience as students. I had very positive feelings for the UW when I moved back, and I realized that I wanted a connection to the UW. And a lot of people out here feel that way."
Gibbon and his fellow volunteers are always looking for ways to improve the chapter's offerings. "Sports is not our only focus," he explains. "We want to appeal to wide range of interests, and show that our connection to the University is important. We feel passionate about that." For more information about the Spokane chapter, contact Lee Gibbon at (509) 747-3048.