Letters to the Editor
December 2001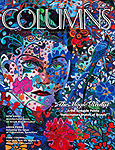 ---

Cover of September 2001 Columns

---
Showplace or Garbage Dump?
The article on Greek Row houses ["Row Show," Sept. 2001] was right on the mark. While the names and locations of various fraternities and sororities have changed, the marvelous house architectures remain. As a former fraternity member at the UW and past president of the local chapter, I believe the camaraderie, learned responsibilities and life experiences were instrumental in furthering my career.
Upon return to Seattle and the University Park area to live, after 30 years of absence, I could see that the spectacular Greek houses still stand tall. Unfortunately though, the Greek area (front yards, sidewalks and beyond) routinely looks like a garbage dump! Plastic, glass and paper containers, and other trash make the walk along Greek Row (17th Avenue N.E.) and all Greek streets a disturbing reality of life.
Community attempts to get UW fraternity and sorority councils involved have resulted in unsatisfactory results. Even UW representatives (who took a requested "walk on the wild side" through Greek housing) found that the "level of trash" is "no worse than where we live." Our only thought is where could they possibly live? A recent ASUW vice president, while purporting a goal to dispel the fraternity animal house image, is a member of a fraternity on 17th Avenue N.E. which routinely sets the worst example of the many Greek organizations on 17th.
While two generations in time have not changed the architectural beauty of UW Greek housing, an essential image building block has fallen by the way side. The course of action is clear—the resolve to correct these problems is uncertain!
Douglas K. Wills Jr., '64
Seattle
Pointing Fingers
After reading Doug Luetjen and Charles Cross ("Why I'm Proud I'm a Greek" and "Why I'm Proud I'm Not a Greek," Sept. 2001), debate the merits of the Greek community I found myself shocked and saddened. Not about the ills of the fraternity world, but at the hypocrisy of Cross.
As a fraternity member and now alumni advisor, I know what goes on in our Greek houses. And, as a former McMahon Hall resident, I also know what goes on in our residence halls. Maybe Cross should stop by his old stomping ground for a visit some Friday night. My guess is he'll see that location doesn't really matter when it comes to underage students consuming alcohol. A saloon can just as easily be made up of a cluster of dorm rooms as a group of fraternity house rooms.
Cross's comments make me worry about the future of his young son. What if instead of debunking established theorems, he learns first-hand the benefits of fraternities and then works to debunk the established "Animal House" myth? What if instead of testing the patience of his professors, he works hard and pleasantly surprises them by being both a fraternity member and a top student? Will his father find his achievements and contributions to be less important because he knows a secret handshake and password?
I don't mean to be rude, but it's obvious Cross has very little knowledge of fraternities except for what he's seen in the theaters. So did I when I first came to college. Coming out of high school, I was anti-Greek. But after meeting a group of solid guys—among them valedictorians, Eagle Scouts and state champion athletes—I opened my eyes and my mind and learned that my perceptions were wrong.
I educated myself and made a conscious choice to join my fraternity, Pi Kappa Alpha, and I'm glad I did. Without it, I wouldn't be who I am today. I likely wouldn't have met my wife. I likely wouldn't have had the vast support network to deal with the death of my father. I likely wouldn't have learned the social and interpersonal skills that made the business world less intimidating when I first graduated.
Fraternities gave me all that and they teach much more than most people realize. They supplement the educational experience and help young men grow into better men, and it shows.
For instance, last year, the average GPA for fraternity men at UW was higher than for non-fraternity men. At campuses across the nation, the graduation rates for Greeks are higher than for non-Greeks. On average, Greeks are involved in more civic organizations and participate in campus activities more than their non-Greek counterparts. And, when Greeks become alumni, we tend to give more gifts of financial support back to our schools and in greater amounts. If all we do, as Cross basically suggests, is drink and haze, how could any of this be true?
I'm not saying that the Greek community is perfect. It's not. We readily acknowledge our problems. And we're dealing with them, just as we did with the hazing situation at Delta Kappa Epsilon mentioned in both articles. The question I have for Cross, though, is what are he and other non-Greek alumni doing to address the problems that plague undergraduates living in the dorms?
Before we start pointing fingers, perhaps it'd be wise to take a good look in the mirror. That's a lesson I learned in my fraternity and one I believe applies to everyone, Greek or not.
Dan Miller, '95
Shoreline
Academies for a Class Society
The Luetjen-Cross debate in the Sept. 2001 issue came refreshingly near the heart of the matter, which is, why do we have a university anyhow? You need more talks on such things as, say, the comparative salaries of coaches and professors of classics or ethics.
In my circle of high school friends there never was a thought given to fraternities. We came to the University either as busy ants seeking to work in the next Great Depression as surveyors rather than pushing a wheelbarrow, as had our fathers, or as feckless grasshoppers singing, "I'm working my way through college, to get a lot of knowledge, which I'll probably never use again."
I was aware that Greeks had the organizational apparatus to get plenty of sex and booze, which was tough for barbarian freelancers, but more sporting.
The frat men who sought to recruit me (good chaps) stressed (in addition, of course, to the Basics) "contacts." As for me and my brothers, our relationships were based on human qualities, not economic. The frats were the academies for a class society. Though never more than pinko myself, I liked classless better.
My direct experience of frats was limited to a very brief job as morning fry cook at Sigma Chi and writing papers for men too busy with the Basics. I had lunch with clients at their houses and was impressed at how much they found to shout about while eating.
I knew sororities better, serving three as houseboy. I never saw any booze there, nor much sex, and got none myself, though I socialized with a number of very nice girls—nice people, that is. I'm confident that learning how to eat dinner in a formal gown, a dozen assorted knives, forks, spoons, and accessory tools around the plate, was good basic training for marrying a frat man (that being for most of them, the Basic.)
Harvey Manning, '46
Issaquah
Nothing Greek About Them
The only thing "Greek" about college fraternities and sororities is the use of the alphabet to designate the house to which one belongs. No other practice, habit or activity of these drunken cliques reflects the intellect, honor, integrity and courage of the Greek people. Using "Greek" to describe these groups is an insult.
Phil Scordelis, '79
Concord, Calif.
Urban Horticulture Fire
Reading President McCormick's "Scientific Inquiry: A Risky Business" in the September issue [which addressed an arson attack on the Center for Urban Horticulture], brought to mind a quote from the past. My late wife, Ann Kuhlmann, '68, had a habit of noting quotes and thoughts on 3x5 cards. Going through her writings, I found this quote by Goethe: "Nothing is so terrifying as ignorance in action." This quote seemed to fit the President's article about the devastating fire.
One of the proudest moments of Annie's life was when this little gray haired lady, at age 48, received a virtual standing ovation at her initiation into Phi Beta Kappa. To her, that acknowledgment was the cap of a five-year scholastic effort.
Herman M. Kuhlmann
Seattle
WSU and Intellectualism
I particularly appreciated in this issue of Columns the "Why I Am Not A Frat Rat" article, which I saw was written by a former Pullmanite. Thank you for sending over Columns. It helps me to keep up on the UW and UW people. I have degrees from UC Berkeley, but the UW is the school at which I got my intellectual orientation and the school with which I identify. I have been impressed more and more lately with the fact that Pullman/WSU isn't intellectual at all. Two friends here have even called Pullman anti-intellectual. WSU, for a supposed major university, is an utter disgrace. And so by June I hope to be living again in Eugene, site of the University of Oregon.
Paul John Green, Ph.D.
Pullman
Correction
Columns was in error when we stated in "Why I'm Proud I'm a Greek," Sept. 2001, that, since 1825, all but two American presidents have been members of fraternities. According to the North American Interfraternity Conference, since 1856 all but eight U.S. presidents have been either regular or honorary members of fraternities.