Extras
Betty Wagner

For more than 50 years, Betty Wagner, '51, has stayed a remarkable professional course-librarian and head of the UW's Architecture-Urban Planning Library. As far as UW personnel officers can tell, she is the longest serving UW employee.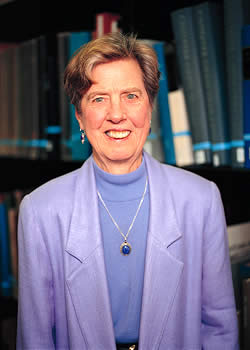 ---

Betty Wagner, '51. Photo by Jon Marmor.

---
While her career has been a model of enduring service, it's change that has marked Wagner's amazing route at the UW. "Today's library has very little in common with the one I started out in," she says, citing a library collection that has exploded in size from 3,000 to 43,000 volumes during her tenure. During her span of service, she has outlasted five University presidents, six library directors, and seven College of Architecture and Urban Planning deans.
Technology has also made enormous leaps since Wagner, a Montana native, began her library career on June 11, 1951, a mere two days after she graduated with a bachelor's degree from what was then called the UW School of Librarianship.
Wagner remembers when card catalogs and content-specific libraries ruled the field. Today, thanks to computers, "We have this huge window to the information realm that not only reaches throughout the campus but throughout the nation and the world," she says. Students often feel overwhelmed by this ever-changing, ever-growing information realm. But that's where Wagner's favorite part of the job comes in-helping students.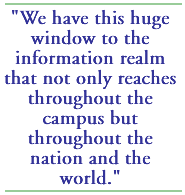 One of the most remarkable changes has been the influx of female students into the field of architecture. Once a rarity, women now comprise about half of the architecture and urban planning student population.
"I think it's added a dimension to the field," she says. "I think both (male and female) perspectives are very good to have."
While Wagner admits she won't work at the UW forever, she says she has no immediate plans to retire. Regardless, her impact will live on.
In 1997, the College of Architecture and Urban Planning sponsored the Betty L. Wagner Endowed Library Fund, something Wagner, a widow with no children, is very proud of.
"I feel very good about it-it will benefit this library long into to the future," she says of the fund, which will provide monetary support for the Architecture-Urban Planning Library.
"It makes me feel like my presence will be felt long after I'm gone, but in a different way."
- Mike Cane