On and Off the Ave
A collection of newsworthy items from the pages of Columns.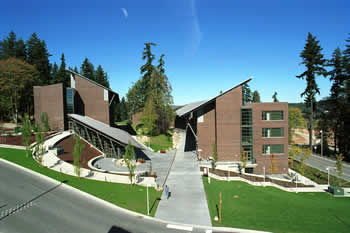 ---

Built In Bothell
A new classroom building (left) for UW Bothell, called UWB2, opened Oct. 1, providing a tiered lecture hall, traditional classrooms, writing and math labs, science research labs and faculty offices. Elsewhere on the campus UWB shares with Cascadia Community College, new space opened for the campus Media Center and a branch of the University Book Store.
---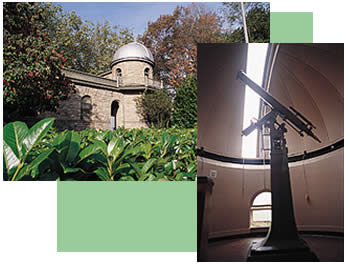 ---

A Star is Reborn
The loveable but largely ignored UW Observatory (see "falling Stars," December 2000) has been brought back to life, thanks to a group of inspired undergraduate astronomy students. They cleaned up the musty old building (the second oldest on campus), had its shrubs pruned back ("Yes, one can actually see the observatory now," says Astronomy Lecturer Ana Larson), got help from the Seattle Astronomical Society's Peter Hirtle to repair the telescope, developed programs and started giving public showings on the first and third Wednesday of every month. Nearly 50 people turn out on public viewing nights to see everything from the Moon to the Andromeda Galaxy. The next viewings will be held at 8 p.m. Dec. 5, and 19. Photos by John Marmor.
---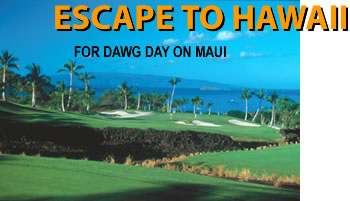 ---

Escape To Hawaii
If you hear the beckoning of sunny, warm days and tropical, sandy beaches, you are not dreaming: it's the Dawg Day on Maui Island Golf Classic and Husky Dinner Celebration, set for Feb. 21. The event includes a golf tournament, social hour and dinner. Husky Football Coach Rick Neuheisel will be the guest speaker. The golf tournament will be held at the Wailea Golf Club's Gold Course, site of the 2001 Senior Skins Game and one of the top courses in the nation. The tournament registration fee-which includes tournament costs, cart and gift - is $45 for UWAA members and $50 for non-members. (Greens fees are not included.) The Husky Dinner Celebration will be held at the Maui Tropical Plantationn in Waliku. It begins with a 5:30 p.m. social hour, followed by the dinner and program at 6:30 p.m. Tickets to the dinner are $50 for UWAA members and $55 for non-members. For more information, call Asia Rau at the UWAA at 1-800-ALUW-ALUM or go to UWalum.com on the Web.
---