ALUMNOTES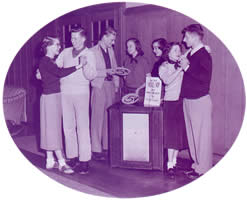 ---

UW students gather in what appears to be the HUB for merry making a Nickel Hop to benefit Women's Living Groups in this 1940s vintage photo. Photo courtesy Special collections, UW Libraries.

---
Eldon Reiley, '31
Olympia, and his wife, Helen, '30, celebrated their 70th wedding anniversary Aug. 12. They have two children and six grandchildren.

Corson Williams, '37
Bellevue, fought in World War II and then spent 30 years with the U.S. Forest Service. He retired in 1970.

Robert Alan Felthous, '42
Friday Harbor, celebrated the June graduation of his granddaughter, Alisa, '01. She is the first child in the third generation of the Felthous family to graduate from the UW, and she was the seventh Felthous to receive a bachelor's degree from the UW. Robert was the first. The others are David, '61; Susan, '61; Alan, '67; Linda, '72; and Dean, '72.

Carlton Goudge, '42
Redwood City, Calif., celebrated his 60th wedding anniversary with his wife, Claire. After graduating from the UW, he served in World War II, then went on to a career in sales and consulting until his retirement in 1983.

Phyllis Levin, '44
Bellingham, is the co-chair of the new Dawg Day on Maui, Island Golf Classic and Husky Dinner Celebration, set for Feb. 21 in Maui, Hawaii.

John H. Peterson, '48
Seattle, has earned 60 credits from the UW office of postgraduate medical education. He is now studying neurological science and believes that "neuroscience has advanced far enough to save the human race from itself."

Leroy Christenson, '51
Olympia, is the winner of the June 2001 Courtyard by Marriott/Columns sweepstakes. By filling out the reader card in the magazine, he won two weekend nights at the Seattle hotel and a dinner for two. Christenson worked for Weyerhaeuser before retiring 13 years ago.

Morteza Fadavi, '52
Walnut Creek, Calif., has spent the past three years working on the ergonomics of speech patterns. He has also volunteered as a mentor for second- and third-grade students, motivating them to read, write and practice good study habits.

John Fitzgerald, '55
Seattle, and fellow Phi Delta Theta Class of 1955 fraternity members have raised $4,655 for the Class of 1959 Cherry Tree Project, a project to replant the dying cherry trees on the Quad. Thanks to Fitzgerald and this group for their support. More information can be found at ,www.washington.edu/alumni/activities/cherrytree/.

Robert J. Bryan, '56, '58
Tacoma, has been elected president of the Ninth Circuit Dist. Judges Assoc., which represents 140 federal district court judges in nine Western states, Guam and the Northern Mariana Islands. He has served on the federal bench for the Western Dist. of Washington since 1986.

Ted Houk, '57
Seattle, is in Sweden tracing the path of the 1,094-mile Sverige-Loppet, the longest bicycle race in the history of Sweden.

Kay C. Coulthard, '58
New York, is a retired New York City teacher. She enjoys traveling, and recently visited China, Kenya and the Mediterranean.

Judy Scalley Gropp, '59
Seattle, is a real estate agent for John L. Scott in the Lakeside-Madison Park district of Seattle.

You must be a member of the UW Alumni Association to be listed in the Alumnotes section. To join, call (206) 543-0540 or 1-800-AUW-ALUM, or visit UWalum.com on the Web.

Hamilton Cravens, '60
Ames, Iowa, is professor of history at Iowa State Univ., where he teaches and publishes scholarly books and articles in the general area of the tensions between science and public policy in 20th century American culture.

Suzanne Gunderson Sedlewicz, '60
Menlo Park, Calif., is retired from teaching and the restaurant business. Recently widowed, she is "working on getting on with my life," she writes. She is active in the Menlo Park Presbyterian Church, leading and attending Bible studies.

George Dennis Shine, '60
Springfield, Ore., was elected in March to a four-year term on the Lane Community College Board of Education.

Auria E. Rosenberg, '61
North Brook, Ill., is chair of the World Languages Dept. at Phillips Academy in Chicago. Her daughter, Deena Robyn, '93, is also a UW graduate.

Shirley Ruble, '61
Seattle, received the 2001 Alumna Award of Merit from Whitman College. Ruble, who earned a master's degree at the UW, is an award-winning, non-fiction author. Her books include China's Legal System, The Soviet Legal System, and Welcome to Israel. As a community volunteer, Ruble was recognized in 1992 for her outstanding service to Seattle's children and youth.

Merlina Tate, '61
Almira, and the other members of the UW's physical therapy program's class of 1961 met in June to celebrate their 40th graduation anniversary. Also meeting at the Colorado home of Judy Alden, '61, were Ingri Stang Johnson, '61; Judy Adams Corcoran, '61; Karen Romstad Martin, '61, '64; Arlene Schmidt Harris, '61; and Bonnie Weimer Tisler, '61.

David B. Offer, '65

Arlington, Va., was honored with the National Payne Award for Ethics in Journalism in recognition of his resignation as executive editor of the military newspaper Stars & Stripes in response to censorship of the newspaper by the Pentagon.

Joseph E. Fulding, '67
Mercer Island, is an environmental engineer for the City of Kent, where he works on culvert replacement and wetland restoration projects. He has worked as a design engineer for the City of Kent's Public Works Engineering Dept. since 1990.

Thomas J. McPartland, '69, '76
Frankfort, Ky., had his book Lonergan and the Philosophy of Historical Existence published by the Univ. of Missouri Press. He is a professor of liberal studies at Kentucky State Univ.

Roger Cole, '72
Vancouver, Wash., is a retired cartographer. He recently completed a three-year stint as district commissioner for the Boy Scouts. In June, he received the Silver Beaver, the highest award a council can bestow on a volunteer. In July, he served on staff at the national scout jamboree near Washington, D.C.

James K. Mann, '72
Boston, has retired as director of perioperative nursing at Beth Israel Hospital in Boston. He is currently working part-time as a nurse in ambulatory surgery.

Michael L. Olver, '72
Seattle, was named president-elect of the Natl. Academy of Elderlaw Attorneys' Washington Chapter. He hopes to establish a statewide repository for wills and a database on persons who financially abuse senior citizens.

Rick Nash, '72, '76
Bow, celebrated his dental class's 25-year reunion in July. His wife, Ann, '73, is busy appraising quilts and fly fishing. Their two daughters, Brooke and Laura, are in college while their son, Stuart, is a junior at Burlington Edison High School.

Elizabeth J. May, '73
Seattle, and her father, M. Alan May, '68, co-authored a travel guide, Longstreet Highroad Guide to the Northwest Coast, published by Longstreet Press. It was released in the fall of 2000.

Larry Phillips, '73
Seattle, was named Public Official of the Year by the Municipal League of King County. He has been a King County Council member since 1991. He serves as chair of the council's Natural Resources, Parks and Open Space Committee.

Lawrence Watters, '73, '88
Ashland, Ore., is a Fulbright Scholar and currently a visiting professor in environmental law in Norway, where he is focusing on indigenous people and dispute resolution. His wife, Joanne Krippaehne, '76, '81, is a principal at Madrona and Assoc., an Ashland architecture and consulting firm.

Michael J. Nutt, '74
Cordova, Tenn., is director of materials research and quality assurance for Spinal Innovations, a spinal implant manufacturer.

Dorothy Meehan, '75
Davis, Calif., works for Deloitte Haskins & Seels' office in Sacramento. She previously spent three years as a health educator with the King County Chapter of the American Cancer Society before moving to Cincinnati to get her M.B.A. in accounting from the Univ. of Cincinnati.

Kevin G. Beder, '76
Auburn, has been serving as an adjunct chaplain with the Auburn police and fire departments, and is founder of Share God's Gifts Ministries. He edits the Big "W" Alumni Club newsletter and is the originator of the Husky Spirit monument that stands outside Husky Stadium.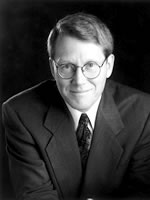 Kent R. Hill, '76, '80
Fairfax, Va., was confirmed as the assistant administrator for Europe and Eurasia by the U.S. Senate. He will be in charge of foreign aid programs to the former Soviet Union, the Balkans and other countries within Europe. Hill has a Ph.D. in history from the UW and a master's in Russian and East European Studies from the Jackson School of Intl. Studies. Prior to his appointment, Hill spent nearly nine years as president of Eastern Nazarene College in Quincy, Mass.
David D. Bigelow, '77
Yokosuka, Japan, is assigned as the Commodore at Afloat Training Group, Western Pacific, in Japan. His wife, Tina, is a lieutenant commander who serves as the executive officer of the communications station in Yokosuka. On July 17, they welcomed their second daughter, Erica Simone. She joins big sister Sara, age 2.
C. Winston Mullen, '77
Olympia, is moving closer to SeaTac Intl. Airport to facilitate travel as a research geographer. His daughter, Sophia, is off to college in New York.
John McKay Jr., '78
Seattle, received the Washington State Bar Assoc. Award of Merit, the association's highest honor given in recognition of long-term service to the bar. He recently returned to Seattle after serving as president of Legal Services Corp., the non-profit Washington, D.C., agency established by Congress that distributes federal funds to low-income legal service providers nationwide.
Janet Tjarnberg, '78
Yakima, is president of the Washington State Pharmacists Assoc. A professional pharmacist since 1978, she has worked in retail, hospital and military pharmacies.
You must be a member of the UW Alumni Association to be listed in the Alumnotes section. To join, call (206) 543-0540 or 1-800-AUW-ALUM, or visit UWalum.com on the Web.
Jeff Carter, '82
Bothell, is business development manager of the western region for Transamerica Distribution Finance's Manufactured Housing and Recreational Vehicles Division.
Linda A. Lee, '82
Seattle, has spent two years as corporate communications manager for Boeing Flight Safety. She previously worked in Asia for 16 years.
Paul J. Hoffman, '83
Melbourne, Fla., assumed command of the Fleet Ballistic Missile Operational Test Support Unit Two at Cape Canaveral, Fla. The unit tests the Navy's newest submarine navigation systems and serves as the Launch Area Support Shop for submarine-launched ballistic missile tests.
John Stierwalt, '84
Seoul, South Korea, is wrapping up a two-year tour as a combined plans officer stationed in Korea. He began as the U.S. aide-de-camp to Gen. Thomas Schwartz, commander in chief of the United Nations Command and Combined Forces Command. He and his family are looking forward to returning to the U.S. by the end of the year.
Christine Sumption, '85
Seattle, is associate artistic director of dramaturgy and publications at the Seattle Repertory Theatre.
Kathleen A. Hunt, '89
Seattle, and her husband, James, '81, have two boys, ages 3 and 6. She owns KNJ Enterprises, which provides administrative support to the non-profit community.
Michael J. Kennedy, '89
St. Louis, joined Northwest Infectious Disease Services, a private group practice of infectious disease physicians, in September 1999.
Leslee Paquette, '89
Renton, was invited to speak at the national conference for the University and College Designers Assoc. in Victoria, B.C., in September. She teaches graphic design at Renton Technical College.
You must be a member of the UW Alumni Association to be listed in the Alumnotes section. To join, call (206) 543-0540 or 1-800-AUW-ALUM, or visit UWalum.com on the Web.
Cindy C. Gideon, '91
Spokane, graduated from law school in 1998 and now works for a law practice.
Heather L. Sullivan, '91, '95
San Antonio, has been promoted to associate professor in modern languages and granted tenure at Trinity Univ. Sullivan, who teaches German, received her master's and doctorate degrees in comparative literature from the UW. Her publications include The Intercontextuality of Self and Nature in Ludwig Tieck's Early Works.
Irene Landry Kelso, '92
Seattle, wrote a novel titled A Passion in Winter. Set in Quebec in 1759-1760, the novel "mourns loss of country, political and private loves in life's brevity but it also celebrates determination of a people to survive." Kelso earned her degree in Canadian studies from the Jackson School of Intl. Studies.
Christopher G. Hakola, '96
Corpus Christi, Texas, a second lieutenant in the Marines, and Kimberly Lynn Minch, '00, were married in Seattle on July 22. They moved to Corpus Christi, where Chris attends flight school.
Shannon E. Cabilao, '97
Mililani, Hawaii, is completing his certification in special education. He is in his third year as a secondary special education teacher for the Hawaii State Dept. of Education.
Christine Niebling Martin, '97
Phoenix, was married to Brett Martin, '98, on April 7. Christine works at the Fiesta Bowl and Brett plays golf and works at Terravista Golf & Country Club.
Heidi Piper Schultz, '97
Vancouver, Wash., works for her family's Pepsi-Cola business in SW Washington. She married Jeff Schultz of Portland, Ore., on Jan. 20.
Robert L. Gagnon II, '98
Seoul, South Korea, was married to Nicole Paik in July 2000. He works for a consulting firm specializing in financial and customer relationship management.
Kellyann Hussey, '98
Tacoma, teaches seventh grade language arts and social studies in Lakewood's Cloverpark School Dist.
Heidi Rose Watters, '98, '01
Seattle, received the Interchange Fellowship and the Martin McLaren Scholarship, which allow her to study in England and Scotland until June 2002. Her goal is to become a certified landscape architect and arborist.
Paula Wiech, '98
Enumclaw, completed a planning internship at the City of Enumclaw's Community Development Dept. and now works as a contract planner for the city. A photographer, she has begun selling her work locally.
Mary M. Dessein, '00
Snohomish, works as a therapist in a chemical dependency program for the Drug Treatment Court of Snohomish County. She also hosts a Sunday morning radio show for public radio KSER 90.7 FM. Entitled "Global Griot", the three-hour show covers stories and music from around the world.
Tony Luna, '00
Fresno, Calif., has returned to his alma mater, Roosevelt School of the Arts, as band director. He and his wife, Stephanie, '98, have an 18-month-old daughter, Mia.
Stacey Wood, '00
Shoreline, is a sales and marketing coordinator at Wizard Intl. in Mukilteo. She coordinates marketing materials and tradeshows for three different products.
You must be a member of the UW Alumni Association to be listed in the Alumnotes section. To join, call (206) 543-0540 or 1-800-AUW-ALUM, or visit UWalum.com on the Web.
---
Submit a Class Note
Tell us what major events have happened in your life: a new job, marriage, children, retirement, advanced degrees, you name it.

Submit an Obituary
Please let us know if a UW alumnus has died. Be sure to include date of death, place of death and age along with the UW class year (if known).

Update Your Records
Moving soon or know someone else who has? Let us know so that we can keep Columns coming to you.

Contact Information
Columns Magazine
1415 N.E. 45th Street
Seattle, WA 98105
Phone: (206) 543-0540
Fax: (206) 685-0611.
E-Mail: columns@u.washington.edu