University Of Washington
Featured Story Slideshow
Elementary Engineers
With the help of Professor Brian Fabien and his mechanical engineering students, a group of Washington fifth-graders are learning to use — and love — science and math.
Clearing the air
Move over, air purifiers — civil and environmental engineers at the UW have modified a common houseplant to remove hazardous compounds from the air around it.
No needles required
Dr. Sheena Hembrador, Res. '17, combined UW Medicine and College of Engineering expertise to design a tiny device that can help find a patient's artery without the help of needles.
Reaching across generations
Building on a lifetime of connections with older adults, Melissa Krook, '18, left a thriving fashion career to conduct research in geropsychology at the UW.
News & Events
Honors and Awards
UW is a top producer of Fulbright recipients
Fifteen graduate and undergraduate students from the University were awarded Fulbright grants for 2018-2019 — among the leading research schools in the country and more than any other institution in the state.
Health and Medicine
UW study: Exposure to chemical in Roundup increases cancer risk
Exposure to glyphosate — the world's most widely used, broad-spectrum herbicide and the primary ingredient in the weedkiller Roundup — increases the risk of some cancers by more than 40 percent.
Diversity
Introducing Equity Focus
Advancing the values of diversity, equity and inclusion is core to our mission at the University of Washington. Explore stories, news and events that highlight the great work happening across the UW.
Fast Facts
Did you know?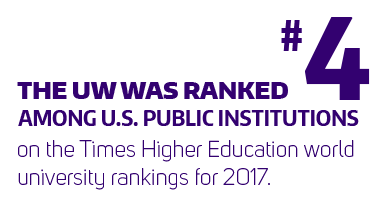 #UWdiscovers