UW News
Stroum Center for Jewish Studies
---
April 25, 2018
This week in the arts, visit a graduation exhibit featuring the works of Interdisciplinary Visual Arts students, see Tony Kushner's epic tale of AIDS in the 1980s, attend a lecture by award-winning author and frequent New Yorker contributor Gary Shteyngart, learn about themes related to Seattle Art Museum's exhibition 'Figuring History' with Catharina Manchanda, and…
---
September 26, 2017
Faculty members in the UW's Jackson School of International Studies will explore the ongoing impact of the Trump presidency in weekly lectures each Monday through fall quarter.
---
November 2, 2016
Prof. Devin Naar of the Jackson School and the Department of History discusses his new book, "Jewish Salonica: Between the Ottoman Empire and Modern Greece,"
---
October 25, 2016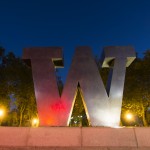 A UW panel discussion Oct. 27 will look at immigration-related questions from philosophical, sociological and historical perspectives. It's part of a two-day international conference on immigration.
---
October 5, 2016
Prof. Devin Naar of the Jackson School's Stroum Center for Jewish Studies discusses the book "A Hug from Afar: One Family's Dramatic Journey Through Three Continents to Escape the Holocaust," by Claire Barkey Flash, for which Naar wrote the foreword.
---
September 20, 2016
"Denial," a new movie about an American historian's lengthy court battle with a British Holocaust denier, has a UW connection — Deborah Lipstadt, the film's protagonist, taught at the UW early in her career.
---
April 29, 2016
The upcoming season finale of TLC's popular program "Who Do You Think You Are," airing May 1, will feature UW professor Devin Naar helping television star Lea Michele learn about her Sephardic Jewish ancestry.
---