UW News
School of Public Health
---
October 11, 2018
Kristie Ebi, a UW professor of global health, was a lead author on the Intergovernmental Panel on Climate Change's "Special Report on Global Warming of 1.5 C" that compares the effects of 1.5 versus 2 degrees Celsius of global warming.
---
May 2, 2018
Hilary Godwin has been named the next dean of the University of Washington's School of Public Health, President Ana Mari Cauce and Provost Jerry Baldasty announced today. Her appointment, set to begin July 15, 2018, is subject to approval by the UW Board of Regents.
---
April 25, 2018
A crowd of dignitaries gathered Wednesday for the official groundbreaking of the university's new 290,000-square-foot Population Health Building, a facility that will house the Population Health Initiative launched by the UW in 2016.
---
About twice each decade, the United Nations' Intergovernmental Panel on Climate Change, or IPCC, looks at what is known about the science of climate change, the extent to which human activities are changing the Earth's climate, and what risks these changes pose to human and natural systems. Organized into three working groups, each assessment is…
---
March 19, 2018
Nearly 50 different graduate and professional programs and specialties at the University of Washington are among the top 10 in the nation, according to U.S. News & World Report's 2019 Best Graduate School rankings released March 20.
---
December 13, 2017
A new NSF-funded project will use findings in the Mekong River basin as an example of how three critical issues — feeding people, generating energy and maintaining functioning ecosystems — can be addressed thoughtfully and progressively in the developing world.
---
July 14, 2017
The University of Washington's School of Dentistry and School of Public Health are ranked No. 3 in the world on the Global Ranking of Academic Subjects list for 2017. The ranking, released in June, was conducted by researchers at the Center for World-Class Universities of Shanghai Jiao Tong University.
---
May 3, 2017
The UW's Livable City Year program has selected the City of Tacoma as the program's community partner for the 2017-2018 academic year.
---
January 10, 2017
Two University of Washington professors have received the 2017 Presidential Early Career Award for Scientists and Engineers, the highest honor given by the U.S. government to early career scientists and engineers.
---
October 12, 2016
Automobiles — and the planning and infrastructure to support them — are making our cities sick, says an international group of researchers now publishing a three-part series in the British medical journal The Lancet.
---
October 4, 2016
The Livable City Year program will formally celebrate the start of its first year at 10 a.m. Oct. 6 at wǝɫǝbʔaltxʷ – Intellectual House on the UW's campus in a kickoff event open to all. Professors leading Livable City Year courses this fall will talk about their projects, followed by time for Q&A.
---
August 30, 2016
The University of Washington has begun a yearlong partnership with the City of Auburn, under the new Livable City Year program. UW students and professors will work with the City of Auburn to advance the city's goals for livability and sustainability throughout the upcoming academic year.
---
July 25, 2016
The lot of Seattle's lowest-paid workers improved following the city's minimum wage increase to $11 in 2015, but that was more due to the robust regional economy than the wage hike itself, according to a research team headed by the UW Evans School.
---
April 18, 2016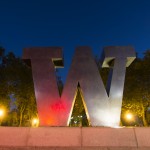 Most Seattle employers in a UW-led study said in 2015 they expected to raise prices on goods and services to compensate for the city's new $15 per hour minimum wage law — but a year after implementation such increases are not in evidence.
---
March 30, 2015
What will be the effects of the city of Seattle's minimum wage ordinance? Faculty from the UW's schools of public affairs, public health and social work are teaming up for The Seattle Minimum Wage Study, a five-year research project to learn that and more.
---
April 23, 2014
As we step into spring it's a busy week for the arts on campus and we encourage you to take advantage of the many performances, exhibitions and lectures now happening.
---
April 22, 2014
Health Digest is UW Today's round-up of news stories from UW Health Sciences.
---
April 15, 2014
Health Digest is UW Today's round-up of news stories from UW Health Sciences, compiled by News and Information.
---
March 14, 2014
A new UW study conducted in Seattle shows that people bypass supermarkets and ethnic stores near their homes to shop at their preferred grocery.
---
December 3, 2013
The overall purpose of the project, called UW-SHARE, is to obtain a benchmark, pre-ACA picture of health-care use, health, health-related attitudes, and access to health insurance.
---
February 4, 2013
Grade school, junior high students sought for study of computerized lessons || Public Health co-hosts "Gun Violence: A Public-Health Crisis" tonight
---