UW News
School of Nursing
---
March 19, 2018
Nearly 50 different graduate and professional programs and specialties at the University of Washington are among the top 10 in the nation, according to U.S. News & World Report's 2019 Best Graduate School rankings released March 20.
---
November 27, 2017
Seattle's homeless crisis isn't confined to one part of town – nor does it hinge on one solution. The University District community includes as much as one-third of King County's homeless youth over any given year. It's a neighborhood where a food bank and youth shelter are available, and where young people on the…
---
March 22, 2017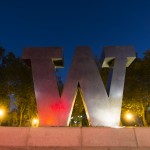 The interdisciplinary 2017 Benjamin Rabinowitz Symposium in Medical Ethics on March 31, titled "Race, Health & Justice," will explore inequities in health and health care and place them in political, economic and historical context.
---
June 5, 2013
Older adults are assessing their neighborhoods to make them more amenable to a favorite physical activity: walking.
---
February 8, 2013
The initiative builds on the school's national distinction in preparing students for careers in community health; critical care; psychiatric/mental health; pediatric, adult, geriatric and family nursing, and nurse-midwifery.
---
January 7, 2013
Azita Emami, dean of the College of Nursing at Seattle University, will be the new dean of the UW School of Nursing.
---