UW News
Maya Cakmak
---
February 15, 2018
Five faculty members at the University of Washington have been awarded early-career fellowships from the Alfred P. Sloan Foundation. The new Sloan Fellows, announced Feb. 15, include Maya Cakmak, assistant professor of computer science and engineering; Jiun-Haw Chu, assistant professor of clean energy and physics; Arka Majumdar, assistant professor of electrical engineering and physics; Jessica Werk, assistant professor of astronomy; and Chelsea Wood, assistant professor of aquatic and fishery sciences.
---
May 10, 2017
University of Washington researchers have conducted a new study that explores the attitudes and concerns of both parents and children who play with internet-connected toys. Through a series of in-depth interviews and observations, the researchers found that kids didn't know their toys were recording their conversations, and parents generally worried about their children's privacy when they played with the toys.
---
June 26, 2014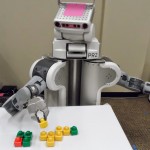 University of Washington computer scientists have shown that crowdsourcing can be a quick and effective way to teach a robot how to complete tasks.
---