UW News
Department of Earth and Space Sciences
---
July 17, 2019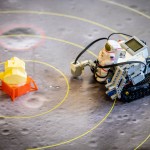 This Friday, teams of 5th- through 12th-grade students from across Washington state will complete a challenge in Kane Hall to mimic the 1969 Apollo moon landing, using drones and Lego robots.
---
May 30, 2019
A series of seismic experiments will take place this summer in the Seattle area. The researchers are looking for volunteer sites throughout the region.
---
April 15, 2019
Over many years, a University of Washington team has shown how logging on the Teanaway River in central Washington caused dramatic changes to the river channel.
---
March 29, 2019
A new excavation site in North Dakota shows evidence from the day a giant meteor struck Earth, marking the beginning of the end for the dinosaurs and 75 percent of animal life.
---
January 30, 2019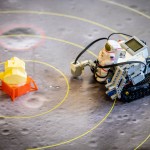 A UW-based group is launching a national student challenge to mark the 50th anniversary of the historic Apollo moon landing.
---
December 14, 2018
UW glaciologist Ben Smith shared a first look at the NASA ICESat-2 satellite's view of Greenland and Antarctic glaciers at the American Geophysical Union's annual meeting in Washington, D.C.
---
December 10, 2018
A new species of whale discovered in 33-million-year-old Oregon rock has been named for Elizabeth Nesbitt, a curator at the Burke Museum and faculty member in the UW's Department of Earth and Space Sciences.
---
October 25, 2018
Provost Mark Richards answers questions surrounding the topic of his welcome lecture, Tuesday afternoon in the HUB Lyceum.
---
October 4, 2018
Harold Tobin, who joins the UW this fall as a faculty member in Earth and space sciences and director of the regional seismic sensing network, discusses earthquake early warning, seismic risks and the Pacific Northwest's "big one."
---
September 10, 2018
Two UW polar scientists were among a dozen experts who advised NASA on its upcoming ICESat-2 mission to monitor the 3D surface of the Earth. The mission is scheduled to launch Sept. 15 from California.
---
September 6, 2018
Evidence left by a volcano under the ice sheet suggests that the observed bulging of ice in West Antarctica is a short-term feature that may not affect the glacier's motion over the long term.
---
May 23, 2018
The oldest ice core so far provides 800,000 years of our planet's climate history. A UW field survey in Antarctica has pinpointed a location where an entire million years of undisturbed ice might be preserved intact.
---
May 8, 2018
UW glaciologist Knut Christianson is part of a massive collaboration that will collect on-the-ground data about a key Antarctic glacier that shows signs it could be collapsing into the sea.
---
April 3, 2018
Three University of Washington undergraduates are among 211 students nationwide named as 2018 Goldwater Scholars. One UW student received honorable mention.
---
April 2, 2018
Earth has had moderate temperatures throughout its early history, and neutral seawater acidity. This means other rocky planets could likely also maintain this equilibrium and allow life to evolve.
---
March 19, 2018
Nearly 50 different graduate and professional programs and specialties at the University of Washington are among the top 10 in the nation, according to U.S. News & World Report's 2019 Best Graduate School rankings released March 20.
---
March 6, 2018
High in Mongolia's Gobi Desert, the climate is so dry and cold that glaciers shrank during the last ice age. Dating of rock deposits shows how glaciers in this less-studied region can behave very differently as the climate shifts.
---
February 7, 2018
A study from the University of Colorado Boulder and the University of Washington finds that the retreat of the ice sheet covering North America made Antarctic weather more similar from one year to the next.
---
January 24, 2018
A University of Washington study has found a simple approach to look for life that might be more promising than just looking for oxygen.
---
December 18, 2017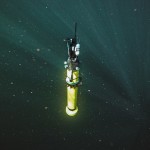 A new partnership between the UW and Paul G. Allen Philanthropies will use a network of robots to observe conditions beneath a floating Antarctic ice shelf.
---
December 1, 2017
Three University of Washington astrobiologists will discuss their research and introduce the new 3-D IMAX movie "The Search for Life in Space" at 7 p.m. Wednesday, Dec. 6, in the PACCAR Theater of the Pacific Science Center.
---
November 27, 2017
The amount of biomass – life – in Earth's ancient oceans may have been limited due to low recycling of the key nutrient phosphorus, according to new research by the University of Washington and the University of St. Andrews in Scotland.
---
November 15, 2017
One of the saltiest bodies on Earth, an analog to how water might exist on Mars, shows signs of being one piece of a larger aquifer.
---
October 23, 2017
The largest number yet of detailed simulations for how a Cascadia Subduction Zone earthquake might play out provides a clearer picture of what the region can expect when the fault unleashes a 9.0 earthquake.
---
October 20, 2017
A satellite technique provides a new way to monitor the status of more than 1,200 mountain glaciers in the lower 48 states.
---
October 9, 2017
Paul Bodin, a UW seismologist and manager of the Pacific Northwest Seismic Network, has been named interim director of the network that monitors earthquakes and volcanoes in Washington and Oregon.
---
August 21, 2017
While many people across the country donned viewing glasses and prepared to watch Monday's solar eclipse, a group of 100 teenagers from tribes across the Pacific Northwest launched balloons thousands of feet into the air, gaining a novel perspective of the eclipse — and the chance to send meaningful artifacts to the edge of space during a memorable moment in history.
---
May 22, 2017
Evidence from the age of the dinosaurs to today shows that chemical weathering of rocks is less sensitive to global temperature, and may depend on the steepness of the surface. The results call into question the role of rocks in setting our planet's temperature over millions of years.
---
May 4, 2017
John E. Vidale, a UW professor of seismology and director of the Pacific Northwest Seismic Network, has been elected to the National Academy of Sciences.
---
May 2, 2017
"Growing a Revolution: Bringing Our Soil Back to Life," is a good-news environment story about how shifts in farming practices can restore health and fertility to soils.
---
April 10, 2017
Events Monday celebrated the launch of a West Coast-wide earthquake early warning prototype system, and initial test users in Washington and Oregon.
---
March 28, 2017
An algorithm for stock prices can be used with GPS data to automatically detect slow-slip earthquakes at a single station, offering a new way to monitor seismic activity.
---
February 8, 2017
Drainage of four interconnected lakes below Thwaites Glacier in late 2013 caused only a 10 percent increase in the glacier's speed. The glacier's recent speedup is therefore not due to changes in meltwater flow along its underside.
---
January 17, 2017
Conditions suitable to support complex life may have developed in Earth's oceans — and then faded — more than a billion years before life truly took hold, a new University of Washington-led study has found.
---
January 10, 2017
Ice core records from the two poles show that during the last ice age, sharp spikes in Arctic temperatures triggered shifts in the winds around Antarctica.
---
December 12, 2016
A University of Washington study addresses controversies over the cause of mountain glacier retreat, and finds that for most glaciers the observed retreat is more than 99 percent likely due to climate change.
---
November 2, 2016
Research that peers below Mount St. Helens finds that the material below the western and eastern half of the mountain is different material and temperatures, and suggests that the source of explosive magma is coming from the east.
---
September 13, 2016
The winds that gust across the Tibetan Plateau have done so for far longer than previously believed, showing they are resilient to the formation of mountains and changes in carbon dioxide and temperature.
---
August 15, 2016
University of Washington biologist Peter Ward's body of research has helped policymakers recognize the impact nautiluses have on ocean ecosystems, as well as how they can — and cannot — replenish their numbers in the face of unrestricted, unregulated fishing. At a CITES meeting in September, Ward and his team hope nautiluses will get much-needed protections from trade and harvesting.
---
August 9, 2016
Charles Eriksen, Deborah Kelley and Stephen Warren are among 60 newly elected fellows from U.S. and international institutions.
---
Next page