UW News
College of Arts & Sciences
---
October 12, 2016
Estella Leopold, a University of Washington professor emeritus of biology, has written a new memoir of her formative years, "Stories from the Leopold Shack: Sand County Revisited." She describes life on the land where her father, Aldo Leopold, practiced the revolutionary conservation philosophy described in his famous book of essays "A Sand County Almanac."
---
October 4, 2016
The Royal Swedish Academy of Sciences announced Tuesday that David James Thouless, professor emeritus at the University of Washington, will share the 2016 Nobel Prize in physics with two of his colleagues. Thouless splits the prize with Professor F. Duncan M. Haldane of Princeton University and Professor J. Michael Kosterlitz of Brown University "for theoretical discoveries of topological phase transitions and topological phases of matter," according to the prize announcement from the Academy. Half the prize goes to Thouless while Haldane and Kosterlitz divide the remaining half. Thouless is the UW's seventh Nobel laureate, and second in physics after Hans Dehmelt in 1989.
---
September 27, 2016
Researchers at the University of Washington have developed a novel toolkit based on modified yeast cells to tease out how plant genes and proteins respond to auxin, the most ubiquitous plant hormone. Their system, described in a paper published Sept. 19 in the Proceedings of the National Academy of Sciences, allowed them to decode auxin's basic effects on the diverse family of genes that plants utilize to detect and interpret auxin-driven messages.
---
September 23, 2016
University of Washington biologist Dee Boersma and her colleagues combed through 28 years' worth of data on Magellanic penguins to search for signs that natural selection — one of the main drivers of evolution — may be acting on certain penguin traits. As they report in a paper published Sept. 21 in The Auk: Ornithological Advances, selection is indeed at work on the penguins at the Punta Tombo breeding site in Argentina.
---
September 22, 2016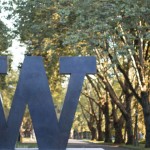 Amid a decline in funding for scientific research, the Howard Hughes Medical Institute is partnering with the Bill & Melinda Gates Foundation and the Simons Foundation to launch a new Faculty Scholars program. Announced Sept. 22 by HHMI, the inaugural crop of early-career scientists includes 5 faculty members from the University of Washington.
---
September 19, 2016
A team of conservationists at the University of Washington is among the Grand Prize Winners of the Wildlife Crime Tech Challenge for a proposal to identify poaching hotspots for pangolins, one of the most trafficked group of mammals in the world.
---
September 12, 2016
Jim Pfaendtner, University of Washington associate professor of chemical engineering, is leading a new endeavor funded by the National Science Foundation to bring big data to graduate education in clean energy research at the UW.
---
August 29, 2016
Many popular long-term drought estimates ignore the fact that plants will be less thirsty as carbon dioxide goes up. Plants' lower water use could roughly halve some current estimates for the extent of future drought, especially in central Africa and temperate Asia.
---
August 18, 2016
Visitors to Seattle's Volunteer Park Conservatory are in for a stinking treat, courtesy of the Department of Biology at the University of Washington. The conservatory has taken in a young corpse lily, affectionately known as Dougsley, which is set to blossom this week or next.
---
Paleontologists with the Burke Museum of Natural History and Culture and the UW have discovered a Tyrannosaurus rex, including a very complete skull. The find, which paleontologists estimate to be about 20 percent of the animal, includes vertebrae, ribs, hips and lower jaw bones.
---
August 15, 2016
University of Washington biologist Peter Ward's body of research has helped policymakers recognize the impact nautiluses have on ocean ecosystems, as well as how they can — and cannot — replenish their numbers in the face of unrestricted, unregulated fishing. At a CITES meeting in September, Ward and his team hope nautiluses will get much-needed protections from trade and harvesting.
---
July 21, 2016
A team of researchers from the University of Washington and the University of Trento in Italy unveiled an engineered protein that they designed to repress a specific cancer-promoting message within cells.
---
July 11, 2016
Scientists from the University of Washington recently reported a relatively simple method swell the tiny, complex structures within cells, bringing them within range of a common microscope's resolving range.
---
July 6, 2016
Scientists from the University of Washington have found evidence that ocean acidification caused by carbon emissions can prevent mussels attaching themselves to rocks and other substrates, making them easy targets for predators and threatening the mussel farming industry.
---
June 3, 2016
University of Washington professor Peter Kahn recently co-authored an opinion piece in the journal Science about the importance of interacting with nature in urban areas. UW Today asked Kahn a few more questions about the broader implications of his work.
---
The authors of a Science perspective piece discuss the growing tension between an arguably necessary role urban areas play in society and the numbing, even debilitating, aspects of cities that disconnect humans from the natural world.
---
May 27, 2016
Electrical energy fuels our modern lives, from the computer screen that keeps us up after sunset to the coffee maker that greets us at sunrise. But the electricity underlying our 21st century world, by and large, is generated at a cost — through the unsustainable expenditure of fossil fuels. For decades this demand for cheap,…
---
May 16, 2016
The malaria parasite can cause unusually severe cases of the eponymous disease in patients, leading to higher mortality and poorer health outcomes among survivors. But scientists have long struggled to understand why some patients develop severe malaria. The University of Washington's International Center of Excellence for Malaria Research in South Asia — along with partners…
---
May 13, 2016
In traditional light-harvesting methods, energy from one photon only excites one electron or none depending on the absorber's energy gap, transferring just a small portion of light energy into electricity. The remaining energy is lost as heat. But in a paper released May 13 in Science Advances, Wu, UW associate professor Xiaodong Xu and colleagues at four other institutions describe one promising approach to coax photons into stimulating multiple electrons. Their method exploits some surprising quantum-level interactions to give one photon multiple potential electron partners.
---
May 11, 2016
Over their 52-million-year history, a few bats have evolved a taste for their fellow vertebrates. Now biologists at the University of Washington and the Burke Museum of History and Culture are shedding light on how these so-called "carnivorous bats" adapted to the daunting task of chowing down their backboned prey.
---
April 20, 2016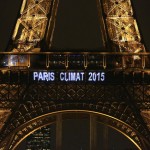 As the U.S., China and other countries sign the Paris Agreement to reduce emissions and limit climate change, UW experts talk about the possibilities and risks in what could be a turning point for global economies.
---
April 14, 2016
Each fall, monarch butterflies across Canada and the United States turn their orange, black and white-mottled wings toward the Rio Grande and migrate over 2,000 miles to the relative warmth of central Mexico. This journey, repeated instinctively by generations of monarchs, continues even as monarch numbers have plummeted due to loss of their sole larval food…
---
April 6, 2016
New regulations by the government of Ecuador to protect the waters around the Galapagos Islands as a marine preserve, including main feeding areas for Galapagos penguins.
---
April 4, 2016
In the maelstrom of information, opinion and conjecture that is Twitter, the voice of truth and reason does occasionally prevail, according to a new study from UW researchers. Tweets from "official accounts" — the government agencies, emergency responders, media or companies at the center of a fast-moving story — can slow the spread of rumors on Twitter and correct misinformation that's taken on a life of its own.
---
February 23, 2016
Four faculty members at the University of Washington have been awarded early-career fellowships from the Alfred P. Sloan Foundation. The new Sloan Fellows, announced Feb. 23, include Bingni Brunton, assistant professor of biology; Christopher Laumann, assistant professor of physics; Matthew McQuinn, assistant professor of astronomy; and Emina Torlak, assistant professor of computer science and engineering….
---
February 18, 2016
Three members of the UW faculty have received the 2016 Presidential Early Career Award for Scientists and Engineers, the highest honor given by the U.S. government to early-career scientists and engineers.
---
February 12, 2016
UW astronomers Breanna Binder and Ben Williams have identified a rare type of 'supernova impostor' in a nearby galaxy, with implications for how scientists look at the short, complex lives of massive stars.
---
University of Washington scientists have successfully combined two different ultrathin semiconductors — each just one layer of atoms thick and roughly 100,000 times thinner than a human hair — to make a new two-dimensional heterostructure with potential uses in clean energy and optically-active electronics.
---
February 11, 2016
For the first time, scientists have observed ripples in the fabric of spacetime called gravitational waves, arriving at the Earth from a cataclysmic event in the distant universe. This confirms a major prediction of Albert Einstein's 1915 general theory of relativity and opens an unprecedented new window onto the cosmos.
---
February 8, 2016
P. Dee Boersma, a University of Washington professor of biology and Wadsworth Endowed Chair in Conservation Science, is one of six finalists for the prestigious Indianapolis Prize for conservation. Boersma is the first UW faculty member nominated for this prize — the highest honor for animal conservationists — which has been awarded every other year since 2006.
---
January 15, 2016
The University of Washington is home to 26 researchers included on Thomson Reuters' list of "The World's Most Influential Scientific Minds" for 2015, which was released Jan. 14. The distinction, based on an analysis of over a decade of research paper citations among 21 general scientific fields, is meant to recognize scientists who are most cited by their peers.
---
January 8, 2016
Astronomers with the Sloan Digital Sky Survey (SDSS) announced that a distant quasar ran out of gas. Their conclusions, reported Jan. 8 at the American Astronomical Society meeting in Kissimmee, Florida, clarify why quasar SDSS J1011+5442 changed so dramatically in the handful of years between observations.
---
December 15, 2015
On Dec. 3, the legislature for Argentina's Chubut province established a new marine protected area off Punta Tombo, which would help preserve the feeding grounds for about 500,000 Magellanic penguins that make their home along this rocky stretch of Argentine coast. This is welcome news for the UW scientists who have studied these penguins for decades and advocated for their conservation.
---
December 10, 2015
Two University of Washington researchers have uncovered details of the radically divergent strategies that two common tree species employ to cope with drought in southwestern Colorado. As they report in a new paper in the journal Global Change Biology, one tree species shuts down production and conserves water, while the other alters its physiology to continue growing and using water.
---
November 23, 2015
Four University of Washington researchers are among 347 new fellows of the American Association for the Advancement of Science for 2015.
---
November 19, 2015
Neutrinos may be small, but when it comes to prizes, they pack quite a punch. In October, it was announced that two scientists who headed international projects to study these miniscule, seemingly ephemeral subatomic particles will share the Nobel Prize in Physics. On Nov. 8, these same scientists joined five of their colleagues from other…
---
University of Washington scientists have sequenced the complete genetic makeup of a species of ecologically important algae, which may aid in biofuel production.
---
November 6, 2015
Two University of Washington faculty members have been awarded a grant from The Swartz Foundation to support research in theoretical neuroscience. The award establishes the UW as the latest of the Swartz Foundation-supported centers for innovation in this growing field, which spans mathematics, statistics, physics and biology. "This award is a recognition of what is…
---
November 2, 2015
By age 5 children have a sense of self-esteem comparable in strength to that of adults, according to a new study by University of Washington researchers.
---
October 29, 2015
In science, decades can pass between a proposed theory and its real-world application. That is precisely what University of Washington mathematics professor Gunther Uhlmann was expecting when he and three colleagues proposed a means to develop an electromagnetic wormhole in a 2007 paper in Physical Review Letters. Their theoretical wormhole — an invisible tube for…
---
Previous page
Next page