UW News
College of Arts & Sciences
---
November 14, 2018
This week in the arts, shop for hand-printed gifts, attend a sonic-theatrical performance, dive into lectures about Indian Painting in Mewar and Marwar, and more! Print Sale November 14 to 15, 8:00 AM–7:00 PM | Art Building Hand-printed artwork, cards, soft goods, and more! UW student members of the UW Printmaking Association and UW printmaking alums…
---
November 13, 2018
In a paper published Oct. 8 in the journal Nano Letters, a team from the University of Washington and the National Tsing Hua University in Taiwan announced that it has constructed functional metalenses that are one-tenth to one-half the thickness of the wavelengths of light that they focus. Their metalenses, which were constructed out of layered 2D materials, were as thin as 190 nanometers — less than 1/100,000ths of an inch thick.
---
November 7, 2018
This week in the arts, attend "Unbelievable: Reflections on Caravaggio's Religious Art" lecture, go to a Print Sale, see Brooklyn Rider perform, and more! Faculty Lecture: Estelle Lingo on Caravaggio November 8, 5:30–6:30 PM | Art Building Estelle Lingo, Associate Professor of Art History and Donald E. Peterson Professor in the Arts,  will give the…
---
Researchers from the University of Washington have shown how Magellanic penguins fare during the winter months when they spend months at sea feeding. They have discovered that oceanographic features are more likely to negatively impact the body conditions of Magellanic penguin females, but not males, when the penguins return to their nesting grounds in spring.
---
October 24, 2018
Jiun-Haw Chu, a University of Washington assistant professor of physics and faculty member at the UW's Clean Energy Institute, has been named a 2018 fellow by the David and Lucile Packard Foundation for his research on quantum materials — substances that exhibit novel combinations of quantum-mechanical properties that could one day transform information technology.
---
October 16, 2018
This week in the arts, UW faculty take us into the community, from the Seattle Art Museum to the Royal Room. There will be music, art history lectures, drama, and more! SAM Talks: Peacock in the Desert Discussion October 18, 7:00 pm | Seattle Art Museum, 1300 First Avenue, Seattle Dr. Karni Singh Jasol, Director…
---
October 9, 2018
This week in the arts, attend the 2018 Chamber Dance Concert, see the works by ten second year MFA students, attend Cello faculty artist-in-residence Sæunn Thorsteinsdóttir's recital, and more. Chamber Dance Company October 11 to 14 | Katharyn Alvord Gerlich Theater For its 28th season, the Chamber Dance Company received a National Endowment for the Arts:…
---
October 8, 2018
Pablo García Borboroglu, president of the Global Penguin Society and a UW affiliate associate professor of biology, has won the Whitley Gold Award and the National Geographic/Buffett Award for Leadership in Conservation, as well as accolades from the Argentine National Congress, for his research and advocacy for penguin conservation.
---
October 1, 2018
When levels of carbon dioxide in the atmosphere rise, most plants do something unusual: They thicken their leaves. Now two University of Washington scientists have shown that this reaction by plants will actually worsen climate change by making the global "carbon sink" contributed by plants was less productive.
---
September 25, 2018
This week in the arts, celebrate Dawg Daze with the Meany Center and ArtsUW, visit the Henry Art Gallery to see Muse, and more. LAST WEEK | Muse: Mickalene Thomas Photographs tête-à-tête Last day is September 30 | Henry Art Gallery "As the exhibition title suggests, MUSE is a visual love letter to the people…
---
September 24, 2018
For angiosperms — or flowering plants — one of the most important decisions facing them each year is when to flower. It is no trivial undertaking. To flower, they must cease vegetative growth and commit to making those energetically expensive reproductive structures that will bring about the next generation. Knowledge of this process at the…
---
September 19, 2018
The international trade in elephant ivory has been illegal since 1989, yet African elephant numbers continue to decline. In 2016, the International Union for Conservation of Nature cited ivory poaching as a primary reason for a staggering loss of about 111,000 elephants between 2005 and 2015 — leaving their total numbers at an estimated 415,000….
---
September 12, 2018
The National Science Foundation announced on Sept. 11 that it is awarding grants totaling $8.5 million to 19 collaborative projects at 23 universities for the study of complex and entrenched problems in data science. Three of these projects will be based at the University of Washington and led by researchers in the College of Engineering and the College of Arts & Sciences.
---
September 7, 2018
The University of Washington today opened the doors to a new Life Sciences Building that will transform learning, teaching and research for generations.
The $171 million Life Sciences complex includes seven floors and 207,000 square feet that encourages and makes possible team-oriented science. Designed by Perkins+Will and built by Skanska, the building encompasses a 187,000-square-foot research and teaching facility and a 20,000-square-foot research greenhouse with UW plant collections.
---
September 4, 2018
On Sept. 4 the National Science Foundation announced the creation of the Institute for Research and Innovation in Software for High Energy Physics, or IRIS-HEP. The institute is a coalition of 17 research institutions, including the University of Washington, and will receive $25 million from the NSF over five years.
---
August 9, 2018
In a paper published online July 23 in the journal Nature, a UW-led research team reports that the 2-D form of tungsten ditelluride can undergo "ferroelectric switching." Materials with ferroelectric properties can have applications in memory storage, capacitors, RFID card technologies and even medical sensors — and tungsten ditelluride is the first exfoliated 2-D material known to undergo ferroelectric switching.
---
August 3, 2018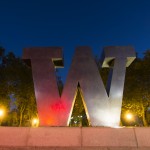 The U.S. Department of Energy has awarded an expected $10.75 million, four-year grant to the University of Washington, the Pacific Northwest National Laboratory and other partner institutions for a new interdisciplinary research center to define the enigmatic rules that govern how molecular-scale building blocks assemble into ordered structures and give rise to complex hierarchical materials.
---
July 25, 2018
In a paper published online this spring in the journal Nature Photonics, scientists at the University of Washington report that a prototype semiconductor thin-film has performed even better than today's best solar cell materials at emitting light.
---
July 18, 2018
New research suggests the Atlantic Ocean is transitioning back to its slower phase, which means average global air temperatures will go back to rising more quickly.
---
June 27, 2018
In a paper published April 5 in the journal Endangered Species Research, scientists at the University of Washington announced that, for a Galápagos penguin, beak size is nearly a perfect indicator of whether a bird is male or female.
---
June 15, 2018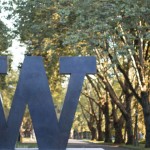 A new analysis suggests the value of structured research programs for undergraduates extends to society as a whole by encouraging participants to seek advanced degrees in scientific and technological fields.
---
May 23, 2018
This week in the arts, attend a hilarious and surprising play, celebrate the start of summer with an evening of Shakespeare, visit the Burke for free at First Thursday, and go to a graduation design show. Goldie, Max and Milk May 22 – June 3 | Glen Hughes Penthouse Theater Max, a single lesbian, just…
---
May 16, 2018
This week in the arts, attend a hilarious and surprising play, join in on the Percussion Studio's and Choir's end of year performances, and attend a Seattle-based ensemble's innovative chamber music concert. Goldie, Max and Milk May 22 – May 27 | Glen Hughes Penthouse Theater Max, a single lesbian, just gave birth. She's unemployed,…
---
May 15, 2018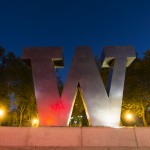 Karen Goldberg, an affiliate professor of chemistry at the University of Washington, has been elected to the National Academy of Sciences.
---
May 9, 2018
This week in the arts, six MFA candidates in dance invite you to see the premiere of their work, attend a conversation with contemporary Iranian visual artist Shirin Neshat, listen to a 100-voice gospel choir, and more. MFA Dance Concert May 16 – 20 | Meany Studio Theater Six MFA candidates in dance invite you…
---
May 7, 2018
New research in plants shows that a gene called MUTE is required for the formation of stomata — the tiny pores that are critical for gas exchange, including releasing the oxygen gas that we breathe.
---
May 3, 2018
In a study published online May 3 in the journal Science, a University of Washington-led team announced that it has discovered a method to encode information using magnets that are just a few layers of atoms in thickness. This breakthrough may revolutionize both cloud computing technologies and consumer electronics by enabling data storage at a greater density and improved energy efficiency.
---
May 1, 2018
This week in the arts, experience a rock-opera-style ballet that pays homage to David Bowie's iconic and chameleonic spirit, attend a lecture with American artist Sharon Lockhart, see the premiere of six conceptually diverse dance pieces, and more. Harry Partch Festival 7:30 p.m., May 11 – 13 | Meany Theater Twentieth century American composer Harry…
---
April 25, 2018
This week in the arts, visit a graduation exhibit featuring the works of Interdisciplinary Visual Arts students, see Tony Kushner's epic tale of AIDS in the 1980s, attend a lecture by award-winning author and frequent New Yorker contributor Gary Shteyngart, learn about themes related to Seattle Art Museum's exhibition 'Figuring History' with Catharina Manchanda, and…
---
April 18, 2018
This week in the arts, attend a master class taught by Seattle Symphony artist, see Tony Kushner's epic tale of AIDS in the 1980s, explore music throughout the past four centuries, hear 13-year-old violinist perform in UW Keyboard Program's quarterly series, and listen to a special blend of Flamenco music with a guest artist.
---
April 9, 2018
This week, the Axion Dark Matter Experiment (ADMX) announced that it has achieved the necessary sensitivity to "hear" the telltale signs of dark matter axions. This technological breakthrough is the result of more than 30 years of research and development, with the latest piece of the puzzle coming in the form of a quantum-enabled device that allows ADMX to listen for axions more closely than any experiment ever built.
---
April 3, 2018
Three University of Washington undergraduates are among 211 students nationwide named as 2018 Goldwater Scholars. One UW student received honorable mention.
---
March 29, 2018
During a recent survey of supermassive stars, an international team of astronomers discovered a star that is in quite a hurry. As they report in a new paper, the team tracked one yellow supergiant star cruising along at about 300,000 miles per hour, a velocity that would get you from the Earth to the Moon in about 48 minutes.
---
March 28, 2018
A University of Washington-led project spanning countries, years and institutions has attempted to reconstruct what the southern end of the world looked like during the Triassic period, 252 to 199 million years ago.
---
March 26, 2018
In a study published March 26 in Physical Review Letters, collaborators of the MAJORANA DEMONSTRATOR have shown they can shield a sensitive, scalable 44-kilogram germanium detector array from background radioactivity. This accomplishment is critical to developing a much larger future experiment to study the nature of neutrinos.
---
March 19, 2018
Nearly 50 different graduate and professional programs and specialties at the University of Washington are among the top 10 in the nation, according to U.S. News & World Report's 2019 Best Graduate School rankings released March 20.
---
March 15, 2018
Researchers at the University of Washington have developed a set of tools to make MRI studies of our central nervous system easier to share.
---
February 20, 2018
Engineers at the University of Washington have for the first time developed a method to safely charge a smartphone wirelessly using a laser.
---
February 12, 2018
In a paper published Feb. 9 in Science Advances, scientists at the University of Washington announced that they have successfully combined two different imaging methods — a type of lens designed for nanoscale interaction with lightwaves, along with robust computational processing — to create full-color images.
---
February 7, 2018
This week in the arts, experience modern dance from a fresh and youthful perspective, hear UW's modern music ensemble and top auditioned choirs, listen to a pre-show lecture by UW Germanics professor, see British pianist Imogen Cooper perform her classical repertoire, and aboard the S.S. American with the Musical Theater program's performance of "Anything Goes!"
---
Next page