UW News
College of Arts & Sciences
---
July 18, 2018
New research suggests the Atlantic Ocean is transitioning back to its slower phase, which means average global air temperatures will go back to rising more quickly.
---
June 27, 2018
In a paper published April 5 in the journal Endangered Species Research, scientists at the University of Washington announced that, for a Galápagos penguin, beak size is nearly a perfect indicator of whether a bird is male or female.
---
June 15, 2018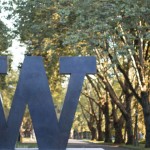 A new analysis suggests the value of structured research programs for undergraduates extends to society as a whole by encouraging participants to seek advanced degrees in scientific and technological fields.
---
May 23, 2018
This week in the arts, attend a hilarious and surprising play, celebrate the start of summer with an evening of Shakespeare, visit the Burke for free at First Thursday, and go to a graduation design show. Goldie, Max and Milk May 22 – June 3 | Glen Hughes Penthouse Theater Max, a single lesbian, just…
---
May 16, 2018
This week in the arts, attend a hilarious and surprising play, join in on the Percussion Studio's and Choir's end of year performances, and attend a Seattle-based ensemble's innovative chamber music concert. Goldie, Max and Milk May 22 – May 27 | Glen Hughes Penthouse Theater Max, a single lesbian, just gave birth. She's unemployed,…
---
May 15, 2018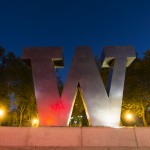 Karen Goldberg, an affiliate professor of chemistry at the University of Washington, has been elected to the National Academy of Sciences.
---
May 9, 2018
This week in the arts, six MFA candidates in dance invite you to see the premiere of their work, attend a conversation with contemporary Iranian visual artist Shirin Neshat, listen to a 100-voice gospel choir, and more. MFA Dance Concert May 16 – 20 | Meany Studio Theater Six MFA candidates in dance invite you…
---
May 7, 2018
New research in plants shows that a gene called MUTE is required for the formation of stomata — the tiny pores that are critical for gas exchange, including releasing the oxygen gas that we breathe.
---
May 3, 2018
In a study published online May 3 in the journal Science, a University of Washington-led team announced that it has discovered a method to encode information using magnets that are just a few layers of atoms in thickness. This breakthrough may revolutionize both cloud computing technologies and consumer electronics by enabling data storage at a greater density and improved energy efficiency.
---
May 1, 2018
This week in the arts, experience a rock-opera-style ballet that pays homage to David Bowie's iconic and chameleonic spirit, attend a lecture with American artist Sharon Lockhart, see the premiere of six conceptually diverse dance pieces, and more. Harry Partch Festival 7:30 p.m., May 11 – 13 | Meany Theater Twentieth century American composer Harry…
---
April 25, 2018
This week in the arts, visit a graduation exhibit featuring the works of Interdisciplinary Visual Arts students, see Tony Kushner's epic tale of AIDS in the 1980s, attend a lecture by award-winning author and frequent New Yorker contributor Gary Shteyngart, learn about themes related to Seattle Art Museum's exhibition 'Figuring History' with Catharina Manchanda, and…
---
April 18, 2018
This week in the arts, attend a master class taught by Seattle Symphony artist, see Tony Kushner's epic tale of AIDS in the 1980s, explore music throughout the past four centuries, hear 13-year-old violinist perform in UW Keyboard Program's quarterly series, and listen to a special blend of Flamenco music with a guest artist.
---
April 9, 2018
This week, the Axion Dark Matter Experiment (ADMX) announced that it has achieved the necessary sensitivity to "hear" the telltale signs of dark matter axions. This technological breakthrough is the result of more than 30 years of research and development, with the latest piece of the puzzle coming in the form of a quantum-enabled device that allows ADMX to listen for axions more closely than any experiment ever built.
---
April 3, 2018
Three University of Washington undergraduates are among 211 students nationwide named as 2018 Goldwater Scholars. One UW student received honorable mention.
---
March 29, 2018
During a recent survey of supermassive stars, an international team of astronomers discovered a star that is in quite a hurry. As they report in a new paper, the team tracked one yellow supergiant star cruising along at about 300,000 miles per hour, a velocity that would get you from the Earth to the Moon in about 48 minutes.
---
March 28, 2018
A University of Washington-led project spanning countries, years and institutions has attempted to reconstruct what the southern end of the world looked like during the Triassic period, 252 to 199 million years ago.
---
March 26, 2018
In a study published March 26 in Physical Review Letters, collaborators of the MAJORANA DEMONSTRATOR have shown they can shield a sensitive, scalable 44-kilogram germanium detector array from background radioactivity. This accomplishment is critical to developing a much larger future experiment to study the nature of neutrinos.
---
March 19, 2018
Nearly 50 different graduate and professional programs and specialties at the University of Washington are among the top 10 in the nation, according to U.S. News & World Report's 2019 Best Graduate School rankings released March 20.
---
March 15, 2018
Researchers at the University of Washington have developed a set of tools to make MRI studies of our central nervous system easier to share.
---
February 20, 2018
Engineers at the University of Washington have for the first time developed a method to safely charge a smartphone wirelessly using a laser.
---
February 12, 2018
In a paper published Feb. 9 in Science Advances, scientists at the University of Washington announced that they have successfully combined two different imaging methods — a type of lens designed for nanoscale interaction with lightwaves, along with robust computational processing — to create full-color images.
---
February 7, 2018
This week in the arts, experience modern dance from a fresh and youthful perspective, hear UW's modern music ensemble and top auditioned choirs, listen to a pre-show lecture by UW Germanics professor, see British pianist Imogen Cooper perform her classical repertoire, and aboard the S.S. American with the Musical Theater program's performance of "Anything Goes!"
---
High-speed recordings of Egyptian fruit bats in flight show that instead of using a primitive form of echolocation, these animals actually use a technique recently developed by humans for surveillance and navigation.
---
January 31, 2018
The Department of Energy's Pacific Northwest National Laboratory and the University of Washington announced the creation of the Northwest Institute for Materials Physics, Chemistry and Technology — or NW IMPACT — a joint research endeavor to power discoveries and advancements in materials that transform energy, telecommunications, medicine, information technology and other fields.
---
January 25, 2018
In a published Jan. 25 in Current Biology, University of Washington researchers report that mosquitoes can learn to associate a particular odor with an unpleasant mechanical shock akin to being swatted. As a result, they'll avoid that scent the next time.
---
January 22, 2018
By developing a synthetic version of the plant hormone auxin and an engineered receptor to recognize it, University of Washington biology professor Keiko Torii and her colleagues are poised to uncover plants' inner workings, raising the possibility of a new way to ripen fruits such as strawberries and tomatoes.
---
January 19, 2018
For this year's University Faculty Lecture, University of Washington chemistry professor Michael Gelb will discuss the science behind screening newborns for treatable — but rare — genetic diseases.
---
January 10, 2018
This week in the arts, experience a modern portrayal of a classic Greek Tragedy, see the annual Faculty Dance Concert featuring new collaborations with students and guest artists, hear an internationally renowned classical vocalist showcase her work with UW students, and watch dancers tell a story of resilience in the first performance of an exciting trilogy.
---
January 3, 2018
This week in the arts, listen to a duo performance of piano professors, hear the internationally acclaimed Takács String Quartet, promising young pianist Scott Cuellar, immerse yourself in the post-apocalyptic world of Trojan Women: A Love Story, and attend a performance by Grammy and Emmy Award Winning violinist Itzhak Perlman.
---
December 5, 2017
Scientists at the University of Washington show for the first time that the complex distribution of molecules within a membrane of a living yeast cell arises through demixing.
---
December 3, 2017
Kim Nasmyth, a professor of biochemistry at the University of Oxford and former postdoctoral researcher at the University of Washington, is one of five recipients of the 2018 Breakthrough Prize in Life Sciences. Nasmyth and other prize recipients were honored by the Breakthrough Prize Foundation at a ceremony December 3 at NASA's Ames Research Center in Mountain View, California.
---
November 30, 2017
A cosmic photobomb found as a background object in images of the nearby Andromeda galaxy has revealed what could be the most tightly coupled pair of supermassive black holes ever seen.
---
November 16, 2017
The CleanTech Alliance has presented the University of Washington with the organization's 2017 CleanTech Achievement Award. The honor recognizes the UW's dedication to research and development of transformative clean energy technologies, facilities, pipelines for startups and industry partnerships. The award was announced on Nov. 8 at the annual meeting and 10th anniversary of the CleanTech…
---
November 14, 2017
The first astronomers had a limited toolkit: their eyes. They could only observe those stars, planets and celestial events bright enough to pick up unassisted. But today's astronomers use increasingly sensitive and sophisticated instruments to view and track a bevy of cosmic wonders, including objects and events that were too dim or distant for their…
---
November 7, 2017
An unseasonably warm, dry summer on Mount Rainier in 2015 caused subalpine wildflowers to change their bloom times and form 'reassembled' communities, with unknown consequences for species interactions among wildflowers, pollinators and other animals.
---
October 16, 2017
For the first time, scientists have detected gravitational waves from the merger of two neutron stars.
---
October 2, 2017
The Nobel Assembly at the Karolinska Institute has awarded the 2017 Nobel Prize in Physiology or Medicine jointly to Jeffrey C. Hall — an alumnus of the University of Washington — along with Michael Rosbash and Michael W. Young "for their discoveries of molecular mechanisms controlling the circadian rhythm," according to an announcement Monday morning.
---
September 25, 2017
The University of Washington is home to a new national center of excellence for research, education and training in materials science. The Molecular Engineering Materials Center is funded by a $15.6 million, six-year grant from the National Science Foundation as part of its highly competitive Materials Research Science and Engineering Center (MRSEC) program.
---
August 24, 2017
A $2.5 million National Science Foundation grant will daylight thousands of specimens from their museum shelves by CT scanning 20,000 vertebrates and making these data-rich, 3-D images available online to researchers, educators, students and the public. The University of Washington is a partner institution contributing most of the fish and bat scans.
---
August 10, 2017
Starting Aug. 12, the public can watch fossil preparation of the University of Washington Burke Museum's Tyrannosaurus rex skull "live."
---
Next page