UW News
UW and the community
---
November 29, 2017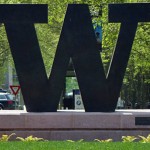 The University of Washington welcomed the most diverse class of new students across all three campuses, and the largest number of Washington residents in UW history, according to the finalized Fall 2017 census of enrolled students released by all three campuses.
---
November 27, 2017
The amount of biomass – life – in Earth's ancient oceans may have been limited due to low recycling of the key nutrient phosphorus, according to new research by the University of Washington and the University of St. Andrews in Scotland.
---
Seattle's homeless crisis isn't confined to one part of town – nor does it hinge on one solution. The University District community includes as much as one-third of King County's homeless youth over any given year. It's a neighborhood where a food bank and youth shelter are available, and where young people on the…
---
November 2, 2017
Frances McCue, a senior lecturer in the UW Department of English, has a new book of poetry out, "Timber Curtain," published by Seattle's Chin Music Press.
---
October 26, 2017
Comics and graphic can be serious business. Scholars, critics, historians, teachers, curators of comic art and graphic publications will gather at the UW and locations in Seattle Nov. 2-4 for the 2017 International Comic Arts Forum.
---
October 25, 2017
The University of Washington climbed to the No. 10 spot on the U.S. News & World Report's Best Global Universities rankings, tied with Johns Hopkins University and Yale University. The UW is now second among American public institutions — an improvement from last year's No. 3 slot. "I am proud to see the University of…
---
October 24, 2017
UW Libraries Special Collections' new exhibit, "All Over the Map: From Cartographs to (C)artifacts" — organized by UW Book Arts and Rare Book Curator Sandra Kroupa — is on display in Allen Library until Jan. 31, 2018.
---
October 16, 2017
The University of Washington is No. 25 in the world — No. XX among U.S. public institutions — according to a new list released Monday by the Center for World University Rankings.
---
October 11, 2017
A Seattle family of four must bring in $75,000 annually to pay for basic housing, food, transportation and health and child care – an increase of 62 percent since 2006, based on a new report from the University of Washington. The city's escalating cost of living may not be a surprise. But across the state,…
---
October 9, 2017
Eight dance pieces on the themes of inequity and injustice comprise the UW Chamber Dance Company's concert "The Body Politic," Oct. 12-15 at Meany Theater.
---
October 5, 2017
The eighth annual Northwest Climate Conference will take place in Tacoma, and begins with a free public discussion featuring UW experts on Monday evening.
---
September 26, 2017
Researchers from the University of Washington and seven other institutions are working together to restore a Puerto Rican research station and its nearby community following the damage wrought last week by Hurricane Maria. The research station known as Monkey Island is located on Cayo Santiago, off the southeast coast of mainland Puerto Rico,…
---
Faculty members in the UW's Jackson School of International Studies will explore the ongoing impact of the Trump presidency in weekly lectures each Monday through fall quarter.
---
September 21, 2017
University of Washington chemistry professor Sarah Keller, whose work and teaching have been recognized internationally, will be the featured speaker at the university's 34th annual Freshman Convocation, which begins at 10:30 a.m. Sunday, Sept. 24, in the Alaska Airlines Arena at Hec Edmundson Pavilion.
---
September 6, 2017
For the second consecutive year, the University of Washington has been ranked No. 25 on the Times Higher Education world rankings for 2018, released Tuesday. It is tied with the London School of Economics and Political Science.
---
A team of researchers including the UW's Marina Alberti has devised a new classification scheme for the evolutionary stages of worlds based on "non-equilibrium thermodynamics" — a planet's energy flow being out of synch, as the presence of life could cause.
---
September 5, 2017
The University of Washington and the Seattle Housing Authority have signed a memorandum of understanding for the two organizations to develop affordable housing in the University District.
---
With 80 percent of firearms deaths in Washington related to suicide, the scenario isn't hard to imagine: A person thinking of ending their life enters a gun store to buy the means to do it. Unfortunately, other scenarios play out, as well: A person filling a lethal dose of a prescription medication at a…
---
The biggest risk to public-private partnerships in governing is not financial or technical, but political, says UW Evans School professor Justin Marlowe in his fourth guide to financial literacy, published by Governing magazine.
---
August 28, 2017
Washington state's housing market showed the continuing effects of high demand in the second quarter of 2017, according to the Washington Center for Real Estate Research at the University of Washington The statewide median sales price rose to $337,700 in the second quarter, 6.6 percent higher than the same time period last year. This represents…
---
August 24, 2017
Information School Dean Harry Bruce talks about his job and life as he prepares to step down.
---
August 23, 2017
Forty years ago this month, Planet Earth said hello to the cosmos with the launch of the two Voyager probes that used gravity to swing from world to world on a grand tour of the solar system. Each bore a two-sided, 12-inch, gold-plated copper "Golden Record" of sights and sounds from Earth and its…
---
August 21, 2017
While many people across the country donned viewing glasses and prepared to watch Monday's solar eclipse, a group of 100 teenagers from tribes across the Pacific Northwest launched balloons thousands of feet into the air, gaining a novel perspective of the eclipse — and the chance to send meaningful artifacts to the edge of space during a memorable moment in history.
---
August 18, 2017
With many in Seattle are wondering what the Aug. 21 solar eclipse will be like in our city, Bruce Balick, UW professor emeritus of astronomy, shared a few thoughts.
---
August 15, 2017
The number of poor people living in America's suburbs has more than doubled over the last 25 years, with little attention from academics or policymakers, says Scott W. Allard, a professor in the Evans School of Public Policy & Governance, in his new 2017 book "Places in Need: The Changing Geography of Poverty,"
---
August 10, 2017
Starting Aug. 12, the public can watch fossil preparation of the University of Washington Burke Museum's Tyrannosaurus rex skull "live."
---
August 3, 2017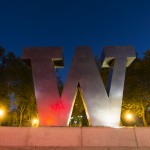 Researchers at the UW's Evans School of Public Policy & Governance have released a public finance analysis of two competing proposals to develop an NBA/NHL arena in Seattle.
---
July 31, 2017
University of Washington students have been working with city of Auburn staff and community members throughout the past year on a wide range of projects tackling challenges around livability and sustainability in the city. Livable City Year is continuing in the 2017-2018 year in partnership with the city of Tacoma. These projects were part of the UW…
---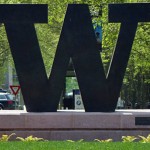 The University of Washington has been recognized by three separate publications in rankings focused on access for low-income students, affordability and value.
The New York Times' College Access Index ranked the UW 18th in the nation – ninth among public institutions – in its assessment of "which top universities are doing the most to promote the American Dream."
---
July 27, 2017
Six scientists and engineers from the University of Washington have been elected to the Washington State Academy of Sciences.
---
July 24, 2017
Eleven UW students and alumni were awarded Fulbright U.S. Student Program scholarships for the 2017-18 academic year, and four have been named as alternates, joining about 1,900 students and recent graduates from around the country to study and teach abroad this coming year.
---
Most schools offer parents specific ways to help out: Join the PTA, chaperone a field trip, grade papers for a teacher or assist on a classroom art project. Those volunteer opportunities, however, not only reinforce the top-down power structure of schools, but also cater to mostly white, privileged families, maintaining the institutionalized racism that…
---
July 20, 2017
In a commentary published in the journal Science, Carole Lee, associate professor of philosophy and co-author David Moher identify incentives that could encourage journals to "open the black box of peer review" for the sake of improving transparency.
---
July 19, 2017
Donors contributed a record $562.7 million to the University of Washington in the 2017 fiscal year, breaking the previous record of $542.4 million set last year. The funds, secured through the University's most ambitious philanthropic campaign in history, came in the form of private gifts and grants for student scholarships, faculty support, research projects and interdisciplinary programs.
---
July 17, 2017
The University of Washington has been recognized as a "Great College to Work For" by the Chronicle of Higher Education for the fourth consecutive year. The UW received accolades in seven categories – the most categories to date – in addition to making the Honor Roll, a special distinction for institutions that were cited for recognition most often in their size group.
---
July 14, 2017
The University of Washington's School of Dentistry and School of Public Health are ranked No. 3 in the world on the Global Ranking of Academic Subjects list for 2017. The ranking, released in June, was conducted by researchers at the Center for World-Class Universities of Shanghai Jiao Tong University.
---
July 11, 2017
The University of Washington issued its 2018 Seattle Campus Master Plan and Final Environmental Impact Statement on July 5. The final document responds to comments received on both the draft master plan and the environmental impact statement during the comment period held last fall.
---
July 6, 2017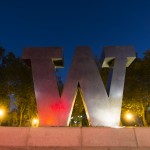 Graduate student fellows with the International Policy Institute in the UW Jackson School of International Studies have begun publishing a 13-part series of blogs exploring aspects of the intergovernmental Arctic Council as a 21st-century institution.
---
July 5, 2017
The Final 2018 Seattle Campus Master Plan and Final EIS are available online at http://cpd.uw.edu/cmp/about and at the following libraries: Seattle Public Libraries Central, University, and Montlake branches; UW Libraries Suzzallo (Reference Division) and Health Sciences branches.
---
July 3, 2017
Dementia affects millions of people around the world; the World Health Organization estimates 9.9 million new cases each year, and the total number of people with dementia is expected to nearly triple by 2050. And for every person with dementia, there are family members and friends who also experience their loved one's decline. University of…
---
Previous page
Next page