UW News
UW and the community
---
November 26, 2018
A new, free tool with temperature and precipitation records across Washington, Oregon, Idaho and western Montana as far back as 1881 lets users play around to discover significant trends. It also includes historical snow records for Washington state.
---
November 20, 2018
Not all stars are like the sun, so not all planetary systems can be studied with the same expectations. New research from a University of Washington-led team of astronomers gives updated climate models for the seven planets around the star TRAPPIST-1.
---
November 19, 2018
Here in what is called the Anthropocene era, humans and our urban environments appear to be driving accelerated evolutionary change in plants, animals, fungi, viruses and more — changes that could affect key ecosystem functions and thus human well-being. These interactions between evolution and ecology are called "eco-evolutionary feedback." The National Science Foundation has awarded…
---
November 18, 2018
Public higher education is not just possible, it is easily within reach for Washington residents. That's the message behind a new joint public-awareness campaign of the University of Washington and Washington State University to promote the affordability of higher education in the state of Washington.
---
November 14, 2018
This week in the arts, shop for hand-printed gifts, attend a sonic-theatrical performance, dive into lectures about Indian Painting in Mewar and Marwar, and more! Print Sale November 14 to 15, 8:00 AM–7:00 PM | Art Building Hand-printed artwork, cards, soft goods, and more! UW student members of the UW Printmaking Association and UW printmaking alums…
---
The University of Washington Climate Impacts Group and regional tribal partners have developed a collection of resources that may be useful to tribes at any stage in the process of evaluating their vulnerability to climate change. The project is a partnership among tribes, tribal associations, universities and the federal government.
---
November 13, 2018
Ralina Joseph, associate professor of communication, discusses here new book "Postracial Resistance: Black Women, Media, and the Uses of Strategic Ambiguity," published this October by New York University Press.
---
November 9, 2018
Pursuant to the provisions of WAC 197-11-455, 197-11-510 and WAC 478-324-140, the University of Washington hereby provides public notice of the availability of a final Environmental Impact Statement. Project name: Husky Stadium Transportation Management Plan Proponent/lead agency: University of Washington – Seattle Campus Description of proposal: The university is updating the Husky Stadium Transportation Management…
---
November 7, 2018
This week in the arts, attend "Unbelievable: Reflections on Caravaggio's Religious Art" lecture, go to a Print Sale, see Brooklyn Rider perform, and more! Faculty Lecture: Estelle Lingo on Caravaggio November 8, 5:30–6:30 PM | Art Building Estelle Lingo, Associate Professor of Art History and Donald E. Peterson Professor in the Arts,  will give the…
---
November 2, 2018
The University of Washington has distributed news to the campus community — in one form or another — since 1975. Such communication began as a way to streamline how faculty, staff and students received important administrative news and was initially published as a pamphlet of memos. In 1983, it evolved into University Week, a weekly…
---
October 31, 2018
This week in the arts, celebrate the vibrancy, resiliency, and legacies of community members from across the Pacific, see Incident at Vichy before it closes, attend a performance by the Taiwan Philharmonic, and more! 20 Years of Pacific Voices: A Community Celebration November 1, 4–7:30 PM | Pacific Voices Exhibit Gallery at the Burke Museum…
---
October 29, 2018
Recent notable books by UW faculty members study politics and culture in post-World War II Japan, explore regime change, nonprofit management, documents from the ancient world and more.
---
October 25, 2018
Provost Mark Richards answers questions surrounding the topic of his welcome lecture, Tuesday afternoon in the HUB Lyceum.
---
In her new book, Kathryn Rogers Merlino, UW associate professor of architecture, argues for the environmental benefit of reusing buildings rather than tearing them down and building anew.
---
October 24, 2018
A new University of Washington initiative seeks to advance research on the health benefits of time spent in nature, connecting academic researchers with pediatricians, childcare providers, mental health practitioners and others who work with various populations on critical health issues.
---
As the discipline of American Indian Studies approaches its 50th year at the University of Washington, a new research center is in the works: the Center for American Indian and Indigenous Studies, which is supported by multiple colleges and schools.
---
October 23, 2018
This week in the arts, attend UW School of Drama's season opener, see several musical performances, and attend a exhibition opening. Incident at Vichy October 24 to November 4  | Floyd and Delores Jones Playhouse UW School of Drama's season opener is a production that the New York Times considered "one of the most important…
---
October 16, 2018
This week in the arts, UW faculty take us into the community, from the Seattle Art Museum to the Royal Room. There will be music, art history lectures, drama, and more! SAM Talks: Peacock in the Desert Discussion October 18, 7:00 pm | Seattle Art Museum, 1300 First Avenue, Seattle Dr. Karni Singh Jasol, Director…
---
October 9, 2018
This week in the arts, attend the 2018 Chamber Dance Concert, see the works by ten second year MFA students, attend Cello faculty artist-in-residence Sæunn Thorsteinsdóttir's recital, and more. Chamber Dance Company October 11 to 14 | Katharyn Alvord Gerlich Theater For its 28th season, the Chamber Dance Company received a National Endowment for the Arts:…
---
October 4, 2018
Harold Tobin, who joins the UW this fall as a faculty member in Earth and space sciences and director of the regional seismic sensing network, discusses earthquake early warning, seismic risks and the Pacific Northwest's "big one."
---
Kristina Olson, University of Washington associate professor of psychology, has been named one of the 2018 MacArthur Fellows. The Fellowship from the John D. and Catherine T. MacArthur Foundation comes with a $625,000 stipend, commonly known as the "genius grant," for recipients to use as they see fit.
---
October 3, 2018
This week in the arts, see a performance by an all-female Indian Classical dance ensemble, go to an exhibition opening at 4Culture Gallery, attend a lecture with a renowned graphic designer, and more! Nrityagram Dance Ensemble October 4 to 6, 8 pm | Katharyn Alvord Gerlich Theater The all-female Indian Classical dance ensemble's daily life…
---
October 2, 2018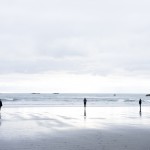 Former Interior Secretary Sally Jewell brings a lifetime of experience in business, nonprofits, government and the outdoors to the University of Washington, where one of her tasks is to help shape the future of EarthLab, a new university-wide institute that seeks to connect scholars with community partners to solve our most difficult environmental problems.
---
September 28, 2018
For more than 2 million years, the native forests on the Pacific islands of Guam and Rota were home to several thousand crows, members of a species found nowhere else on Earth. But over the last 60 years, the Mariana crow — called the Aga in the Chamorro language — has completely disappeared from…
---
September 25, 2018
This week in the arts, celebrate Dawg Daze with the Meany Center and ArtsUW, visit the Henry Art Gallery to see Muse, and more. LAST WEEK | Muse: Mickalene Thomas Photographs tête-à-tête Last day is September 30 | Henry Art Gallery "As the exhibition title suggests, MUSE is a visual love letter to the people…
---
A UW study found that mindfulness lessons, offered to parents at two early childhood centers, helped adults learn how to manage their emotions and behaviors while supporting their child's development.
---
September 24, 2018
David Shields, UW professor of English, discusses his latest book, "Nobody Hates Trump More than Trump: An Intervention."
---
September 19, 2018
Nurses and nurse-scientists interested in advanced multi-disciplinary training for population and global health practice can now apply for a new University of Washington degree program.
---
September 18, 2018
Patrick Dobel, professor emeritus of the UW Evans School of Public Policy & Governance, discusses his new book, "Public Leadership Ethics: A Management Approach."
---
September 10, 2018
Justin Marlowe, a professor in the UW's Evans School of Public Policy & Governance, has been named a member of Washington Governor Jay Inslee's Council of Economic Advisors. He will be among those advising the governor on local and state economic conditions and national developments that affect state policies.
---
August 28, 2018
An exploration of UW Libraries' Labor Archives of Washington with labor archivist Conor Casey.
---
August 23, 2018
A team from the University of Washington, New York University and the University of California, Berkeley has developed an interactive workshop in data science for researchers at multiple stages of their careers. The course format, called "hack week," blends elements from both traditional lecture-style pedagogy with participant-driven projects.
---
August 21, 2018
University of Washington researchers have found policies are shifting toward restoration projects that include input from more groups and offer a range of benefits to Puget Sound, including flood control, salmon recovery, recreation and habitat protection.
---
August 20, 2018
The University of Washington's Doorway Project has offered a cafe for homeless young adults each quarter, while students have helped add services, from preventive health care, to establishing a fundraising organization to designing a permanent café home. Its summer pop-up cafe event is Aug. 24.
---
August 13, 2018
Hans Scholl, professor in the UW Information School, discusses the challenges and opportunities of digital government. The website Apolitical has named him among the "Top 100 Most Influential People in digital government."
---
August 7, 2018
Hilary Wething, a doctoral student in the University of Washington's Evans School of Public Policy & Governance, has received a grant to study the effects of Seattle's law requiring paid sick leave.
---
August 2, 2018
Recent notable books by University of Washington authors tell of the struggle to break free of racism in higher education, taking an "urban diary" approach to documenting city life and more.
---
July 30, 2018
A University of Washington report provides the best projections yet for sea-level rise due to climate change at 171 sites along Washington's coasts.
---
June 27, 2018
UW Libraries Special Collections has a new exhibit called "Captured in Ink: Historical Cartoons and Caricatures." The exhibit features the editorial cartoons of Howard Fisher, who worked and drew for decades for the Oregon Journal, a Portland newspaper that folded in 1982. Many other historical caricatures are included as well in the display, which stays up until October 19.
---
June 25, 2018
Researchers with the UW-led Virtual Planetary Laboratory are central to a group of papers published by NASA researchers today in the journal Astrobiology outlining the history — and suggesting the future — of the search for life on exoplanets, or those orbiting stars other than the sun.
---
Previous page
Next page