UW News
Technology
---
February 15, 2017
Recently published research from the UW's Virtual Planetary Laboratory (VPL) using ancient Earth as a stand-in for hypothetically habitable exoplanets has been highlighted by NASA in a feature article. Leading the research was Giada Arney, who was a UW astronomy doctoral student when doing the work and is now with NASA's Goddard Spaceflight Center.
---
February 10, 2017
A unique application of a medical camera developed by a University of Washington mechanical engineer could one day help physicians know who is at risk for stroke or heart attack by providing a better view of potential problem areas.
---
February 6, 2017
It's almost unheard-of for a university class to spark global press attention — and offers of book deals — before instruction even begins. But such is the case with the UW Information School's new course, "Calling Bullshit in the Age of Big Data."
---
February 1, 2017
AccessMap – a University of Washington project spearheaded by the Taskar Center for Accessible Technology — launched a new online travel planner offering customizable suggestions for people who need accessible or pedestrian-friendly routes when getting from point A to B in Seattle.
---
January 17, 2017
Conditions suitable to support complex life may have developed in Earth's oceans — and then faded — more than a billion years before life truly took hold, a new University of Washington-led study has found.
---
January 12, 2017
Using big data to address human services ― including health, foster care and the challenges of homelessness ― will be the focus of a workshop next week at Seattle City Hall hosted by the University of Washington and City of Seattle along with MetroLab Network, a recent White House initiative to improve cities through university-city partnerships.
---
A new national program at the UW — LATTICE — aims to diversify the national engineering faculty population by building supportive communities during the critical transition from graduate studies to permanent tenure-track positions.
---
January 10, 2017
Two University of Washington professors have received the 2017 Presidential Early Career Award for Scientists and Engineers, the highest honor given by the U.S. government to early career scientists and engineers.
---
Zillow Group, the Seattle-based company that houses real estate and home-related brands on mobile and web, has committed $5 million toward the development of a second Computer Science & Engineering (CSE) building on the UW Seattle campus.
---
December 19, 2016
Technology developed at the University of Washington to improve service delivery in child welfare, foster care and homeless youth systems will soon be expanded to other states through $5 million in new funding. The grant will allow Oliver — a social service management solution developed by Partners for Our Children, an organization in the UW…
---
December 7, 2016
At the Hack for Access: Holiday Toy event on Dec. 11 and the UW, community volunteers will disassemble and rewire toys to make them more accessible for children with disabilities.
---
December 6, 2016
The U.S. Department of Transportation has awarded approximately $14 million over five years to a multi-university, regional transportation center led by the University of Washington to fund research aimed at improving the mobility of people and goods across the Pacific Northwest.
---
December 5, 2016
UW researchers have published the first demonstration of humans playing a simple, two-dimensional computer game using only input from direct brain stimulation — without relying on any usual sensory cues from sight, hearing or touch.
---
November 30, 2016
MusicNet is the first publicly available large-scale classical music dataset designed to allow machine learning algorithms to tackle everything from automated music transcription to listening recommendations based on the structure of music itself.
---
November 22, 2016
UW engineers have developed the first transgenic grass species that can take up and destroy RDX — a toxic compound that has been widely used in explosives since World War II and contaminates military bases, battlegrounds and some drinking water wells.
---
November 3, 2016
The Department of Electrical Engineering's 2016 Lytle Lecture series will explore bridging theory and practice in compressed sensing, which has enabled speedups in medical imaging and scientific signal processing.
---
October 26, 2016
For the first time in humans, UW Center for Sensorimotor Neural Engineering (CSNE) researchers have used direct stimulation of the human brain surface to provide basic sensory feedback through artificial electrical signals, enabling patients to control movement while opening and closing their hand.
---
October 24, 2016
Your wait time for an Uber ride in Seattle is shorter if you are in a lower income neighborhood. Alternatively, wait times are longer for an Uber in wealthier neighborhoods, according to a new University of Washington study that measures one dimension of whether TNCs are providing equitable access.
---
An IV drip technology developed by Shift Labs, founded by University of Washington Human Centered Design and Engineering Professor Beth Kolko, has been recognized by Popular Science with a 2016 "Best of What's New" Award.
---
A flat-screen panel that resembles a TV on your living room wall could one day remotely charge any device within its line of sight, according to new research from UW and Duke University engineers.
---
October 19, 2016
A technique to store and retrieve digital data in DNA developed by University of Washington and Microsoft researchers is one of the most innovative and game-changing technologies of the year, according to Popular Science's 2016 "Best of What's New" Awards.
---
October 12, 2016
Women's relative lack of participation in science, technology, engineering and math is well documented, but why women are more represented in some STEM areas than others is less clear. A new University of Washington study is among the first to address that question by comparing gender disparities across STEM fields. Published Oct. 12 in the…
---
Ryan Calo, an assistant professor in the University of Washington School of Law, will be among national experts at a White House event tomorrow on innovations in science and technology. A nationally known expert on robotics and privacy law, Calo will speak at the White House Frontiers Conference at the University of Pittsburgh and Carnegie Mellon…
---
As online retailing booms, the new UW Urban Freight Lab will partner with UPS, Costco, Nordstrom and SDOT to research solutions for businesses delivering goods in urban settings and cities trying to manage limited street space.
---
October 6, 2016
Amazon is giving a major push to the campaign to build a second Computer Science & Engineering building on the University of Washington campus with a $10 million gift, the university announced Thursday. "Our state's economy — and the world's economy — depends on innovation and on innovators. UW graduates with skills in computer science…
---
October 5, 2016
A new UW disaster investigation center funded by a $4 million National Science Foundation grant will collect and analyze critical data that's often lost in the immediate aftermath of hurricanes and earthquakes but that can help create more resilient communities.
---
October 4, 2016
Accelerating growth in effectively delivering new oral and transdermal drug delivery techniques will be the focus of the University of Washington Department of Bioengineering's 2016 Allan S. Hoffman Lecture on Oct. 10.
---
October 3, 2016
In a paper published Sept. 22 in Scientific Reports, engineers at the University of Washington unveiled peptides that could help bridge the gap where artificial meets biological — harnessing biological rules to exchange information between the biochemistry of our bodies and the chemistry of our devices.
---
As the fourth-fastest growing city in the United States, Seattle faces important questions in its quest to remain a resilient and sustainable community. Can we build to withstand natural disasters, reduce environmental toxins as consumption rises, meet urban transportation challenges so food, supplies and consumer products can get where they need to go? Over the…
---
September 28, 2016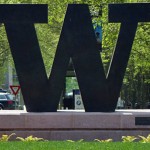 The University of Washington landed at No. 5 on The Reuters 100: The World's Most Innovative Universities. Now in its second year, the list ranks the educational institutions doing the most to advance science, invent new technologies and help drive the global economy.
---
September 7, 2016
UW engineers have developed HemaApp, which uses a smartphone camera to estimate hemoglobin concentrations and screen for anemia without sticking patients with needles.
---
August 29, 2016
The world's attention is now on Proxima Centauri b, a possibly Earth-like planet about 4.22 light-years away. It's in its star's habitable zone — but could it in fact be habitable? If so, the planet evolved very different than Earth, say researchers at the University of Washington-based Virtual Planetary Laboratory.
---
August 20, 2016
Death and mourning were largely considered private matters in the 20th century, with the public remembrances common in previous eras replaced by intimate gatherings behind closed doors in funeral parlors and family homes. But social media is redefining how people grieve, and Twitter in particular — with its ephemeral mix of rapid-fire broadcast and personal…
---
August 17, 2016
"Interscatter" communication developed by UW engineers allows power-limited devices such as brain implants, contact lenses, credit cards and smaller wearable electronics to talk to everyday devices such as smartphones and watches.
---
August 9, 2016
What does it mean for a city to "think like a planet"? Marina Alberti of the UW College of Built Environments discusses her new book, "Cities that Think Like Planets," published by UW Press.
---
July 27, 2016
A study of the the first clean cookstove intervention in India financed through the Kyoto Protocol's Clean Development Mechanism found expected benefits from newer, more "efficient" stoves — based on their performance in lab tests — did not materialize in the field.
---
Middle school students tried their hands at designing and building underwater robots this week during a National Oceanic and Atmospheric Administration science summer camp in Seattle. The ROV workshop was a joint project by UW-based Washington Sea Grant, NOAA and Atlantis STEAM.
---
July 21, 2016
A personalized image search engine developed by a University of Washington researcher lets a person imagine how they would look a with different a hairstyle, if they lived in a different time period or any other appearance change that can be synthesized with internet photos.
---
July 8, 2016
A UW computer science and engineering doctoral student has helped develop a system that can forecast the outbreak of dengue fever by simply analyzing the calling behavior of citizens to a public-health hotline.
---
July 7, 2016
University of Washington and Microsoft researchers have broken what they believe is the world record for the amount of digital data successfully stored — and retrieved — in DNA molecules by encoding, among other things, an OK Go video.
---
Previous page
Next page