UW News
Technology
---
September 21, 2017
Scott L. Montgomery of the UW Jackson School of International Studies discusses his new book, "Seeing the Light: The Case for Nuclear power in the 21st Century."
---
September 14, 2017
A new nationwide study finds that the U.S. made little progress from 2000 to 2010 in reducing relative disparities between people of color and whites in exposure to harmful air pollution emitted by cars, trucks and other combustion sources.
---
September 13, 2017
UW researchers have demonstrated for the first time that devices that run on almost zero power can transmit data across distances of up to 2.8 kilometers — breaking a long-held barrier and potentially enabling a vast array of interconnected devices.
---
September 6, 2017
University of Washington researchers are developing a smartphone app that is capable of objectively detecting concussion and other traumatic brain injuries in the field, which could provide a new level of screening for athletes and accident victims.
---
A team of researchers including the UW's Marina Alberti has devised a new classification scheme for the evolutionary stages of worlds based on "non-equilibrium thermodynamics" — a planet's energy flow being out of synch, as the presence of life could cause.
---
August 28, 2017
A new app could lead to earlier detection of pancreatic cancer simply by snapping a smartphone selfie. The disease kills 90 percent of patients within five years, in part because there are no telltale symptoms or non-invasive screening tools to catch a tumor before it spreads.
---
August 24, 2017
A $2.5 million National Science Foundation grant will daylight thousands of specimens from their museum shelves by CT scanning 20,000 vertebrates and making these data-rich, 3-D images available online to researchers, educators, students and the public. The University of Washington is a partner institution contributing most of the fish and bat scans.
---
August 14, 2017
Many exoplanets to be found by coming high-powered telescopes will probably be tidally locked — with one side permanently facing their host star — according to new research by UW astronomer Rory Barnes.
---
August 10, 2017
A new UW study finds DNA sequencing tools lack robust cybersecurity protections. In a scientific first, the team also infected a computer with synthesized DNA molecules.
---
July 27, 2017
Oceanographers are building swimming robots to carry out an ambitious mission gathering climate data from one of Earth's most challenging locations: the icy water that surrounds Antarctica.
---
July 11, 2017
A new machine learning tool developed by UW computer vision researchers can create realistic videos from audio files alone – including speeches by President Barack Obama.
---
July 5, 2017
UW engineers have designed the first battery-free cellphone that can send and receive calls using only a few microwatts of power, which it harvests from ambient radio signals or light. It's a major step forward in moving beyond chargers, cords and dying phones.
---
June 27, 2017
For the first time, University of Washington researchers have delivered targeted treatment for essential tremor – the world's most common neurological movement disorder – by decoding brain signals to sense when patients' limbs are shaking.
---
June 26, 2017
A new UW microscope could provide real-time results during cancer-removal surgeries, potentially eliminating the 20 to 40 percent of women who have to undergo multiple lumpectomy surgeries because cancerous breast tissue is missed the first time around.
---
June 8, 2017
WideOpen is a new open-source tool developed at the UW to help advance open science by automatically detecting datasets that are overdue for publication. Already, more than 400 datasets have been made public as a result.
---
June 5, 2017
A popular podcast by Joe Janes of the UW Information School is now a book. "Documents that Changed the Way We Live" is being published this month by Rowman & Littlefield.
---
June 2, 2017
The announcement that a third collision of black holes has been detected three billion light years away validates the work of hundreds of scientists, including teams at the University of Washington and UW Bothell.
---
University of Washington Continuum College is re-engineering education for working adults through a new program called Career Accelerator. The program boosts critical career knowledge for professionals, helping them achieve gains in data analytics, data science, machine learning, programming and project management.
---
University of Washington security researchers have developed a new system called SeaGlass to detect anomalies in the cellular landscape that can indicate where and when cell phone surveillance devices are being used.
---
June 1, 2017
Researchers from the University of Washington and Smithsonian Institution have reported the first observed case of lionfish preying upon a fish species that had not yet been named. Their results, published May 25 in PLOS ONE, may indicate an uncertain future for other fish found in the largely unexplored deep-ocean coral reefs.
---
May 30, 2017
A new study finds that drone deliveries emit less climate-warming carbon dioxide pollution than truck deliveries in some — but not all — scenarios.
---
May 25, 2017
UW synthetic biology researchers have demonstrated a new method for digital information processing in living cells, analogous to the logic gates used in electric circuits. The team built the largest circuits published to date in eukaryotic cells, using DNA instead of silicon and solder.
---
For years, scientists have discussed whether and how to share data from painstaking research and costly experiments. Some are further along in their efforts toward "open science" than others: Fields such as astronomy and oceanography, for example, involve such expensive and large-scale equipment and logistical challenges to data collection that collaboration among institutions has become…
---
May 22, 2017
A University of Washington-led international team of astronomers has used data gathered by the Kepler Space Telescope to observe and confirm details of the outermost of seven exoplanets orbiting the star TRAPPIST-1.
---
May 10, 2017
University of Washington researchers have conducted a new study that explores the attitudes and concerns of both parents and children who play with internet-connected toys. Through a series of in-depth interviews and observations, the researchers found that kids didn't know their toys were recording their conversations, and parents generally worried about their children's privacy when they played with the toys.
---
May 2, 2017
A new study finds that smartphone apps to track menstrual cycles often disappoint users with a lack of accuracy, assumptions about sexual identity or partners, and an emphasis on pink and flowery form over function and customization.
---
April 27, 2017
Girls start believing they aren't good at math, science and even computers at a young age — but providing fun STEM activities at school and home may spark interest and inspire confidence. A study from the University of Washington's Institute for Learning & Brain Sciences (I-LABS) finds that, when exposed to a computer-programming activity, 6-year-old…
---
April 26, 2017
A new study describes how some people turn to posting photos on Instagram to track food intake or to be held accountable by followers in meeting healthy eating or weight loss goals.
---
April 24, 2017
Mozak, a new scientific discovery game from the UW team that created Foldit, is allowing video gamers and citizen scientists to speed up a fundamental task in brain science: reconstructing the intricate architecture of brain neurons.
---
April 20, 2017
A UW-led research group has taken an important step toward measuring — and ultimately reducing — the global carbon footprint of building construction and long-term maintenance.
---
The University of Washington ranks seventh among national universities in a new Milken Institute report on technology transfer, "Concept to Commercialization: The Best Universities for Technology Transfer." The report highlights the vital role research universities play in spurring economic growth.
---
April 14, 2017
The University of Washington and Japan's Tohoku University have agreed to create an Academic Open Space to foster collaborations and academic exchanges between these two leading research institutions of the Pacific Rim. The agreement, signed April 14 by leaders of both institutions at the UW campus in Seattle, is expected to build upon current collaborations in aerospace design and materials, as well as launch new science and engineering partnerships.
---
April 11, 2017
University of Washington civil engineers have developed a new, automated technology to analyze the potential for rockfalls from cliffs onto roads and areas below.
---
April 3, 2017
University of Washington security researchers have shown that Google's new tool that uses machine learning to automatically analyze and label video content can be deceived by inserting a photograph periodically into videos. After they inserted an image of a car into a video about animals, for instance, the system thought the video was about an Audi.
---
March 31, 2017
The Disklavier is an electromagnetic piano that — like the UW-created encephalophone recently reported on by the Seattle Times — is played by brain waves alone, via an electroencephalogram. UW audiences can see and hear this new technology in "Music of Today: The DXARTS Spring Concert," April 6, in Meany Hall.
---
March 28, 2017
The very name of the class, when proposed, seemed to fire imaginations nationwide and beyond. Now with the beginning of spring quarter, the UW Information School's new course "Calling Bullshit in the Age of Big Data" is getting started.
---
In the first study to survey and interview parents who play Pokémon GO with their children, families report a number of side benefits, including increased exercise, more time spent outdoors and opportunities for family bonding.
---
March 27, 2017
In the 15 years since the ADVANCE Center for Institutional Change opened its doors, the UW has nearly doubled the number of female faculty across 19 science, technology, engineering and math departments.
---
March 22, 2017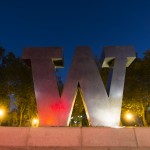 The interdisciplinary 2017 Benjamin Rabinowitz Symposium in Medical Ethics on March 31, titled "Race, Health & Justice," will explore inequities in health and health care and place them in political, economic and historical context.
---
March 9, 2017
A $50 million endowment for the newly established Paul G. Allen School of Computer Science & Engineering will propel the UW to the forefront of computer science education and innovation for generations to come.
---
Previous page
Next page