UW News
Science
---
February 9, 2018
New findings could help scientists understand a little more about the elusive narwhal and how these marine mammals might fare in a changing climate.
---
February 8, 2018
A team of ecologists and economists is the first to test whether real-life ecological interactions produce economic benefits for the fishing industry. The results were published online Jan. 29 in the Proceedings of the National Academy of Sciences.
---
February 7, 2018
A study from the University of Colorado Boulder and the University of Washington finds that the retreat of the ice sheet covering North America made Antarctic weather more similar from one year to the next.
---
High-speed recordings of Egyptian fruit bats in flight show that instead of using a primitive form of echolocation, these animals actually use a technique recently developed by humans for surveillance and navigation.
---
February 6, 2018
After six months of repair and restoration — assisted by UW astronomer and sundial expert Woody Sullivan — Olympia's iconic Territorial Sundial is back in place.
---
February 5, 2018
UW atmospheric sciences faculty and graduate students are in Tasmania studying how clouds form over Antarctica's Southern Ocean.
---
A team of astronomers including Eric Agol of the University of Washington has found that the seven Earth-sized planets orbiting the star TRAPPIST-1 are all made mostly of rock, and some could even have more water — which can give life a chance — than Earth itself. The research was led by Simon Grimm of…
---
February 1, 2018
After an "extreme makeover" that went from stem to stern on five decks of the ship, the R/V Thomas G. Thompson is ready to get back to work exploring the world's oceans. The University of Washington's School of Oceanography, part of the College of the Environment, operates the 274-foot ship, which arrived on campus in…
---
January 31, 2018
The Department of Energy's Pacific Northwest National Laboratory and the University of Washington announced the creation of the Northwest Institute for Materials Physics, Chemistry and Technology — or NW IMPACT — a joint research endeavor to power discoveries and advancements in materials that transform energy, telecommunications, medicine, information technology and other fields.
---
January 25, 2018
In a published Jan. 25 in Current Biology, University of Washington researchers report that mosquitoes can learn to associate a particular odor with an unpleasant mechanical shock akin to being swatted. As a result, they'll avoid that scent the next time.
---
January 24, 2018
A University of Washington study has found a simple approach to look for life that might be more promising than just looking for oxygen.
---
Researchers from the Molecular Information Systems Lab at the University of Washington and Microsoft are looking to collect 10,000 original images from around the world to preserve them indefinitely in synthetic DNA manufactured by Twist Bioscience. DNA holds promise as a revolutionary storage medium that lasts much longer and is many orders of magnitude denser than current technologies.
---
January 22, 2018
By developing a synthetic version of the plant hormone auxin and an engineered receptor to recognize it, University of Washington biology professor Keiko Torii and her colleagues are poised to uncover plants' inner workings, raising the possibility of a new way to ripen fruits such as strawberries and tomatoes.
---
University of Washington researchers have published the first major assessment of small hydropower dams around the world — including their potential for growth — and highlight the incredibly variability in how dams of varying sizes are categorized, regulated and studied.
---
January 19, 2018
For this year's University Faculty Lecture, University of Washington chemistry professor Michael Gelb will discuss the science behind screening newborns for treatable — but rare — genetic diseases.
---
January 18, 2018
An experiment using hundreds of plastic drifters in the Gulf of Mexico shows that rather than simply spread out, as current calculations would predict, many of them clumped together in a tight cluster.
---
More than three centuries ago, a French monk made thousands of drawings of plants and animals, traveling under the authority of King Louis XIV to the French Antilles to collect and document the natural history of the islands. These drawings were often the first ever recorded for each species and were completed in remarkable detail….
---
A new study in the Journal PLOS ONE details what removing the two dams on the Elwha River meant for the nearshore marine ecosystem.
---
A new grant will let a University of Washington-based project add a new fleet to its quest to learn more about past climate from the records of long-gone mariners. The UW is among the winners of the 2017 "Digitizing Hidden Special Collections and Archives" awards, announced Jan. 4 by the Washington, D.C.-based Council on Library…
---
January 17, 2018
A small group of fishes — possibly the world's cleverest carnivorous grazers — feeds on the scales of other fish in the tropics. A team led by biologists at the University of Washington's Friday Harbor Laboratories is trying to understand these scale-feeding fish and how this odd diet influences their body evolution and behavior.
---
January 16, 2018
Drug treatments can save lives, but sometimes they also carry unintended costs. After all, the same therapeutics that target pathogens and tumors can also harm healthy cells. To reduce this collateral damage, scientists have long sought specificity in drug delivery systems: A package that can encase a therapeutic and will not disgorge its toxic cargo…
---
January 8, 2018
The UW Reality Lab is launching with $6 million from Facebook, Google, and Huawei to accelerate innovation in augmented and virtual reality and educate the next generation of researchers and practitioners.
---
January 3, 2018
UW astronomers Brett Morris and James Davenport assisted in new research on "Tabby's Star," named for Louisiana State University astronomer Tabetha Boyajian.
---
December 21, 2017
Now serving its sixth cohort of students, the Washington State Opportunity Scholarship has helped more than 8,400 students attend the state's universities and colleges. The UW has the largest number of scholarship recipients — 1,679 across all three campuses — and has seen more than 1,300 scholars graduate.
---
December 18, 2017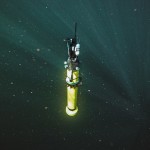 A new partnership between the UW and Paul G. Allen Philanthropies will use a network of robots to observe conditions beneath a floating Antarctic ice shelf.
---
Recognizing that many large dams are here to stay, a University of Washington team is investigating an emerging solution to help achieve freshwater conservation goals by re-envisioning the ways in which water is released by dams.
---
December 14, 2017
Researchers from the University of Washington, Chapman University and University of Guelph have published new research showing how hagfishes survive an initial attack from predators before they release large volumes of slime to defend themselves.
---
December 13, 2017
A new NSF-funded project will use findings in the Mekong River basin as an example of how three critical issues — feeding people, generating energy and maintaining functioning ecosystems — can be addressed thoughtfully and progressively in the developing world.
---
December 11, 2017
New faculty member Shuyi Chen answers some questions about hurricane science, hurricane forecasting and the 2017 storm season.
---
December 7, 2017
The Anthropocene epoch — the proposed name for this time of significant human effect on the planet and its systems — represents a new context in which to study literature. A new book of essays co-edited by Jesse Oak Taylor, UW associate professor of English, argues that literary studies, in turn, also can help us better understand the Anthropocene.
---
The University of Washington, Arizona State University and other collaborators have proposed a method in the Dec. 8 issue of Science that allows hydroelectric dam operators to generate power in ways that protect — and possibly improve — food supplies and businesses throughout the Mekong river basin in Southeast Asia.
---
December 5, 2017
Scientists at the University of Washington show for the first time that the complex distribution of molecules within a membrane of a living yeast cell arises through demixing.
---
The University of Washington has launched a new institute aimed at accelerating research at the nanoscale: the Institute for Nano-Engineered Systems, or NanoES. The institute will pursue impactful advancements in a variety of disciplines — including energy, materials science, computation and medicine. Yet these advancements will be at a technological scale a thousand times smaller than the width of a human hair.
---
An interdisciplinary team is using a covert sound-based approach, worthy of an avian CSI, to study the link between crows' calls and their behavior.
---
UW engineers have developed the first 3-D printed plastic objects that can connect to other devices via WiFi without using any electronics, including a laundry bottle that can detect when soap is running low and automatically order more.
---
December 3, 2017
Kim Nasmyth, a professor of biochemistry at the University of Oxford and former postdoctoral researcher at the University of Washington, is one of five recipients of the 2018 Breakthrough Prize in Life Sciences. Nasmyth and other prize recipients were honored by the Breakthrough Prize Foundation at a ceremony December 3 at NASA's Ames Research Center in Mountain View, California.
---
December 1, 2017
Three University of Washington astrobiologists will discuss their research and introduce the new 3-D IMAX movie "The Search for Life in Space" at 7 p.m. Wednesday, Dec. 6, in the PACCAR Theater of the Pacific Science Center.
---
November 30, 2017
A cosmic photobomb found as a background object in images of the nearby Andromeda galaxy has revealed what could be the most tightly coupled pair of supermassive black holes ever seen.
---
November 28, 2017
The ocean's deepest fish doesn't look like it could survive in harsh conditions thousands of feet below the surface. Instead of giant teeth and a menacing frame, the fishes that roam in the deepest parts of the ocean are small, translucent, bereft of scales — and highly adept at living where few other organisms can….
---
A team of University of Washington students and faculty has won Amazon's inaugural Alexa Prize, a university competition designed to produce an artificial intelligence agent capable of coherent and sustained conversation with humans.
---
Previous page
Next page