UW News
News releases
---
November 2, 2018
Massive wildfires, which may be getting more intense due to climate change and a long history of fire-suppression policies, have strikingly unequal effects on minority communities, a new study shows.
---
November 1, 2018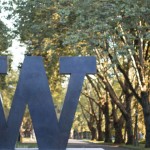 Studies suggest that as many as 25 percent of college students nationwide do not get enough food. That's one of the reasons why the University of Washington on Thursday opened a new, permanent food pantry.
---
October 30, 2018
An international team of researchers, including from the University of Washington, has completed a 3D virtual reconstruction of a Neandertal thorax a model that indicates an upright individual with greater lung capacity and a straighter spine than today's modern human.
---
October 24, 2018
As the discipline of American Indian Studies approaches its 50th year at the University of Washington, a new research center is in the works: the Center for American Indian and Indigenous Studies, which is supported by multiple colleges and schools.
---
October 23, 2018
In a 20-year study, UW researchers and colleagues have found that nearly 600,000 pounds of sockeye salmon carcasses tossed to the left side of a small, remote stream in southwest Alaska, helped trees on that side of the stream grow faster than their counterparts on the other side.
---
October 19, 2018
A study led by the University of Washington is the first large-scale trial of hundreds of PTSD patients, including veterans and survivors of sexual assault, to measure whether patient preference in the course of treatment impacts the effectiveness of both cognitive behavioral therapy and use of selective serotonin reuptake inhibitors, a type of antidepressant often prescribed for PTSD.
---
October 18, 2018
The incoming chair of the Faculty Senate sat down for a Q and A with UW News.
---
October 11, 2018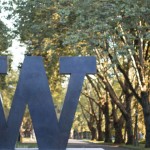 Thanks to the generosity of more than 380,000 donors, the University of Washington met its fundraising campaign goal two years ahead of schedule, and will now seek broad support to enhance the experiences of undergraduate and graduate students, as well as a range of identified college and school priorities.
---
October 10, 2018
Researchers at the University of Washington have developed a new machine-learning system, called Prescience, which uses input from patient charts and standard operating room sensors to predict the likelihood that a patient will develop hypoxemia — a condition when blood oxygen levels dip slightly below normal. Prescience also provides real-world explanations behind its predictions.
---
October 9, 2018
Engineers at the University of Washington have developed 3D printed devices that can track and store their use — without using batteries or electronics. Instead, this system uses a method called backscatter, through which a device can share information by reflecting signals that have been transmitted to it with an antenna.
---
A new study led by the University of Washington found that while dead whales are valuable sources of fat and protein for some polar bears, this resource will likely not be enough to sustain most bear populations in the future when the Arctic becomes ice-free in summers.
---
October 8, 2018
A new analysis that uses high-resolution data for 24 ocean regions in Africa, Europe, North and South America and Australasia shows that 14 percent of the overall seafloor shallower than 1,000 meters (3,280 feet) is trawled. The paper shows that the footprint of bottom-trawl fishing on continental shelves and slopes across the world's oceans often has been substantially overestimated.
---
A new book by University of Washington history professor George Behlmer seeks to improve understanding of the British colonial era by "reconsidering the conduct of islanders and the English-speaking strangers who encountered them."
---
October 4, 2018
Kristina Olson, University of Washington associate professor of psychology, has been named one of the 2018 MacArthur Fellows. The Fellowship from the John D. and Catherine T. MacArthur Foundation comes with a $625,000 stipend, commonly known as the "genius grant," for recipients to use as they see fit.
---
October 3, 2018
On a small island in Indonesia, University of Washington researchers found evidence of nutmeg as residue on ceramic potsherds and is estimated to be 3,500 years old — about 2,000 years older than the previously known use of the spice.
---
October 2, 2018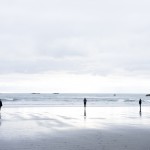 Former Interior Secretary Sally Jewell brings a lifetime of experience in business, nonprofits, government and the outdoors to the University of Washington, where one of her tasks is to help shape the future of EarthLab, a new university-wide institute that seeks to connect scholars with community partners to solve our most difficult environmental problems.
---
October 1, 2018
When levels of carbon dioxide in the atmosphere rise, most plants do something unusual: They thicken their leaves. Now two University of Washington scientists have shown that this reaction by plants will actually worsen climate change by making the global "carbon sink" contributed by plants was less productive.
---
September 28, 2018
For more than 2 million years, the native forests on the Pacific islands of Guam and Rota were home to several thousand crows, members of a species found nowhere else on Earth. But over the last 60 years, the Mariana crow — called the Aga in the Chamorro language — has completely disappeared from…
---
September 26, 2018
A substantial gift from Lynn and Howard Behar will expand the University of Washington School of Social Work's support for the next generation of oncology social work scholars by providing funds to launch a new Center for Integrative Oncology and Palliative Care Social Work.
The Center will take a social justice approach to oncology and palliative care services, with a commitment to addressing documented health disparities in cancer and end-of-life care based on race and ethnicity, disability, gender and sexual identity, geographic location, income or education.
---
September 24, 2018
David Shields, UW professor of English, discusses his latest book, "Nobody Hates Trump More than Trump: An Intervention."
---
For angiosperms — or flowering plants — one of the most important decisions facing them each year is when to flower. It is no trivial undertaking. To flower, they must cease vegetative growth and commit to making those energetically expensive reproductive structures that will bring about the next generation. Knowledge of this process at the…
---
September 20, 2018
A University of Washington study finds that 18-month-old toddlers conduct a form of cost-benefit analysis, making choices based on how much effort they want to expend, or on whether they like the people involved.
---
September 19, 2018
The international trade in elephant ivory has been illegal since 1989, yet African elephant numbers continue to decline. In 2016, the International Union for Conservation of Nature cited ivory poaching as a primary reason for a staggering loss of about 111,000 elephants between 2005 and 2015 — leaving their total numbers at an estimated 415,000….
---
The National Science Foundation will support a state-of-the-art marine facility that continues delivering data and new insight to the ocean science community, policymakers and the public worldwide.
---
September 18, 2018
Margaret O'Mara, UW professor of history, explores the impact of a December 1968 computer presentation that came to be called "the mother of all demos" in an essay and podcast from the news website The Conversation.
---
Patrick Dobel, professor emeritus of the UW Evans School of Public Policy & Governance, discusses his new book, "Public Leadership Ethics: A Management Approach."
---
September 17, 2018
Rapid deoxygenation in the Gulf of St. Lawrence is caused by shifts in two of the ocean's most powerful currents: the Gulf Stream and the Labrador Current. A detailed model shows that large-scale climate change is causing oxygen to drop in the deeper parts of this biologically rich waterway.
---
September 13, 2018
The share of Washingtonians living below the federal poverty threshold declined slightly from 11.3 percent to 11 percent between 2016 and 2017, according to new Census data released Thursday. While this change was not statistically significant, the 2017 poverty rate remains below the post-recession high of 14.1 percent in 2013. Washington was one of 28…
---
When Tony Greenwald and his colleagues developed the online Implicit Association Test two decades ago, it enjoyed quick success in the pre-laptop, pre-smartphone, nascent Internet world, with some 45,000 participants in the first month. The test, which requires classifying words and images rapidly according to their meanings, captures unconscious biases toward — depending on the…
---
September 10, 2018
Justin Marlowe, a professor in the UW's Evans School of Public Policy & Governance, has been named a member of Washington Governor Jay Inslee's Council of Economic Advisors. He will be among those advising the governor on local and state economic conditions and national developments that affect state policies.
---
An innovative gift from Honolulu-based real estate investor Jay H. Shilder to the Universities of Washington and Hawaii is being celebrated this week in Seattle. The gift includes cash, potential future leasing income and a transformational real estate gift to be realized a century from now.
---
Two UW polar scientists were among a dozen experts who advised NASA on its upcoming ICESat-2 mission to monitor the 3D surface of the Earth. The mission is scheduled to launch Sept. 15 from California.
---
September 7, 2018
The University of Washington today opened the doors to a new Life Sciences Building that will transform learning, teaching and research for generations.
The $171 million Life Sciences complex includes seven floors and 207,000 square feet that encourages and makes possible team-oriented science. Designed by Perkins+Will and built by Skanska, the building encompasses a 187,000-square-foot research and teaching facility and a 20,000-square-foot research greenhouse with UW plant collections.
---
September 6, 2018
Evidence left by a volcano under the ice sheet suggests that the observed bulging of ice in West Antarctica is a short-term feature that may not affect the glacier's motion over the long term.
---
September 4, 2018
On Sept. 4 the National Science Foundation announced the creation of the Institute for Research and Innovation in Software for High Energy Physics, or IRIS-HEP. The institute is a coalition of 17 research institutions, including the University of Washington, and will receive $25 million from the NSF over five years.
---
August 30, 2018
In a paper published Aug. 31 in the journal Science, a team led by scientists at the University of Washington reports that insect activity in today's temperate, crop-growing regions will rise along with temperatures. Researchers project that this activity, in turn, will boost worldwide losses of rice, corn and wheat by 10-25 percent for each degree Celsius that global mean surface temperatures rise.
---
August 28, 2018
A study by the University of Washington and Cornell University shows that the risk of being killed by police, relative to white men, is 3.2 to 3.5 times higher for black men, and between 1.4 and 1.7 times higher for Latino men.
---
An exploration of UW Libraries' Labor Archives of Washington with labor archivist Conor Casey.
---
August 23, 2018
A team from the University of Washington, New York University and the University of California, Berkeley has developed an interactive workshop in data science for researchers at multiple stages of their careers. The course format, called "hack week," blends elements from both traditional lecture-style pedagogy with participant-driven projects.
---
August 21, 2018
University of Washington researchers have found policies are shifting toward restoration projects that include input from more groups and offer a range of benefits to Puget Sound, including flood control, salmon recovery, recreation and habitat protection.
---
Previous page
Next page