UW News
News releases
---
May 7, 2018
New research in plants shows that a gene called MUTE is required for the formation of stomata — the tiny pores that are critical for gas exchange, including releasing the oxygen gas that we breathe.
---
Charles Johnson, UW professor emeritus of English, has released his fourth book of short stories, "Night Hawks." He discusses his creative process for short story-writing.
---
May 3, 2018
In a study published online May 3 in the journal Science, a University of Washington-led team announced that it has discovered a method to encode information using magnets that are just a few layers of atoms in thickness. This breakthrough may revolutionize both cloud computing technologies and consumer electronics by enabling data storage at a greater density and improved energy efficiency.
---
May 2, 2018
Hilary Godwin has been named the next dean of the University of Washington's School of Public Health, President Ana Mari Cauce and Provost Jerry Baldasty announced today. Her appointment, set to begin July 15, 2018, is subject to approval by the UW Board of Regents.
---
The University of Washington announced today it has reached agreement with a group of three plaintiffs in an Americans with Disabilities Act (ADA) lawsuit alleging violations in the University's parking facilities on the Seattle campus.
---
Researchers at the University of Washington and Seattle University have created CrowdFit, a platform for exercise planning that relies on crowdsourcing from nonexperts to create workout regimens guided by national exercise recommendations and tailored around user schedules and interests.
---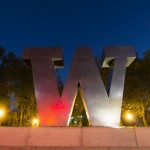 Issues of race and racism permeate American culture and media more than ever. The UW's Center for Communication, Difference and Equity will hold a three-day conference May 10-12 to explore these issues and foster engagement and support among academics.
---
May 1, 2018
Victoria Meadows, University of Washington astrobiologist, professor of astronomy and leader of NASA's UW-based Virtual Planetary Laboratory, has been named recipient of the 2018 Frank Drake Award from the SETI Institute. She is the first woman to receive the award.
---
Parents don't need to fear their children playing with iPads and other devices, researchers say. Mindful play with an adult, combined with thoughtful design features, can prove beneficial to young developing minds. New research shows that thoughtfully designed content that intentionally supports parent-child interactions facilitated the same kind of play and development as analog toys.
---
April 26, 2018
Want to prevent kids from using drugs and make it stick into young adulthood? Get the community involved and intervene before they're teens, say researchers from the University of Washington. A new, longitudinal study from the UW Social Development Research Group shows that young adults who grew up in communities that used a coordinated,…
---
April 25, 2018
A crowd of dignitaries gathered Wednesday for the official groundbreaking of the university's new 290,000-square-foot Population Health Building, a facility that will house the Population Health Initiative launched by the UW in 2016.
---
Researchers at the University of Washington, working with researchers from the ETH-Zurich, Purdue University and Virginia Commonwealth University, have achieved an optical communications breakthrough that could revolutionize information technology. They created a tiny device, smaller than a human hair, that translates electrical bits (0s and 1s of the digital language) into light, or photonic bits, at speeds 10s of times faster than current technologies.
---
April 19, 2018
Engineers at the University of Washington have developed a new HD video streaming method that doesn't need to be plugged in. Their prototype skips the power-hungry components and has something else, like a smartphone, process the video instead.
---
April 18, 2018
By using a keyboard to provide tactile feedback along with with a screen reader, blind and low-vision users were three times more successful at navigating complex modern webpages, similar to a typical Airbnb booking site.
---
April 16, 2018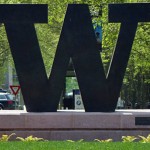 A statement from Victor Balta, UW spokesperson, on the financial deficit in the University of Washington School of Dentistry.
---
April 12, 2018
Researchers at the University of Washington have designed a convenient and natural product that uses proteins to rebuild tooth enamel and treat dental cavities.
---
The National Science Foundation today named Kristina Olson, University of Washington associate professor of psychology, winner of this year's Alan T. Waterman Award. The Waterman Award is the U.S. government's highest honor for an early career scientist or engineer, recognizing an outstanding scientist under the age of 40 or within 10 years of receiving…
---
Planets orbiting "short-period" binary stars, or stars locked in close orbital embrace, can be ejected off into space as a consequence of their host stars' evolution, according to new research from the University of Washington.
---
April 10, 2018
A University of Washington professor has been awarded the prestigious Albert Schweitzer Medal for his work for developing noninvasive tools for monitoring human impacts on wildlife. Samuel K. Wasser was honored in a ceremony in Washington, D.C., Tuesday evening. The award was presented by Washington Sen. Maria Cantwell.
---
April 9, 2018
This week, the Axion Dark Matter Experiment (ADMX) announced that it has achieved the necessary sensitivity to "hear" the telltale signs of dark matter axions. This technological breakthrough is the result of more than 30 years of research and development, with the latest piece of the puzzle coming in the form of a quantum-enabled device that allows ADMX to listen for axions more closely than any experiment ever built.
---
April 6, 2018
A University of Washington professor is among the 173 scholars, artists and scientists from the U.S. and Canada recognized this year by the Guggenheim Foundation. Christian Lee Novetzke, associate director, Henry M. Jackson School of International Studies, and director, Center for Global Studies, was among the winners chosen from more than 3,000 applicants.
---
April 4, 2018
A new carillon — the only such instrument in Western Washington — will ring in full concert at the University of Washington for the first time Thursday.
---
April 3, 2018
Bowhead whales are constantly changing their tune, unlike the only other whale species that sings, the humpback.
---
Three University of Washington undergraduates are among 211 students nationwide named as 2018 Goldwater Scholars. One UW student received honorable mention.
---
The College of Built Environments Department of Real Estate, formerly the Runstad Center for Real Estate Studies, has been named in honor of Jon and Judy Runstad.
---
April 2, 2018
Earth has had moderate temperatures throughout its early history, and neutral seawater acidity. This means other rocky planets could likely also maintain this equilibrium and allow life to evolve.
---
March 29, 2018
Mario L. Barnes has been named the next Toni Rembe dean of the University of Washington's School of Law, President Ana Mari Cauce and Provost Jerry Baldasty announced today. His appointment, set to begin July 5, 2018, is subject to approval by the UW Board of Regents.
---
March 28, 2018
As the 50th anniversary approaches of the murder of civil rights leader Dr. Martin Luther King, UW historian Michael Honey reminds us in a new book that economic justice and labor rights were always part of King's progressive message.
---
A University of Washington-led project spanning countries, years and institutions has attempted to reconstruct what the southern end of the world looked like during the Triassic period, 252 to 199 million years ago.
---
March 27, 2018
Dr. Benjamin Danielson, a 1992 graduate of the UW School of Medicine, a Children's Hospital pediatrician and director of the Odessa Brown Children's Clinic, will be the featured speaker at the University of Washington's Commencement exercises Saturday, June 9.
---
March 26, 2018
In a study published March 26 in Physical Review Letters, collaborators of the MAJORANA DEMONSTRATOR have shown they can shield a sensitive, scalable 44-kilogram germanium detector array from background radioactivity. This accomplishment is critical to developing a much larger future experiment to study the nature of neutrinos.
---
March 19, 2018
Nearly 50 different graduate and professional programs and specialties at the University of Washington are among the top 10 in the nation, according to U.S. News & World Report's 2019 Best Graduate School rankings released March 20.
---
March 15, 2018
Researchers at the University of Washington and the Allen Institute for Brain Science have developed a new method to classify and track the multitude of cells in a tissue sample. In a paper published March 15 in the journal Science, the team reports that this new approach — known as SPLiT-seq — reliably tracks gene activity in a tissue down to the level of single cells.
---
March 14, 2018
African-American voters who dislike and feel threatened by Donald Trump and his presidency are more likely to vote and to engage with politics, according to new research from the UW and California State University, Sacramento.
---
March 13, 2018
Renée Cheng has been named dean of the University of Washington's College of Built Environments, President Ana Mari Cauce and Provost Gerald J. "Jerry" Baldasty announced today. Her appointment, set to begin Jan. 1, 2019, is subject to approval by the UW Board of Regents.
---
March 8, 2018
The UW Jackson School of International Studies presents "Trump in the World: International Implications of the Trump presidency," a series of public lectures and discussions Tuesday afternoons through spring quarter.
---
Megan Ming Francis, UW associate professor of political science, has been named a fellow with the Thurgood Marshall Institute. The institute is a multidisciplinary research and advocacy policy center within the NAACP's Legal Defense and Educational Fund.
---
March 6, 2018
High in Mongolia's Gobi Desert, the climate is so dry and cold that glaciers shrank during the last ice age. Dating of rock deposits shows how glaciers in this less-studied region can behave very differently as the climate shifts.
---
March 5, 2018
Immigrant rights, environmental concerns and racial, class, gender and sexual justice will be the focus of a daylong conference hosted by the Harry Bridges Center for Labor Studies March 10 at the UW.
---
March 2, 2018
Charles Simic, one of America's most celebrated poets, will give the 2018 Theodore Roethke Memorial Poetry Reading on April 12. Simic will be the 54th poet to appear in the series since its inception in 1964.
---
Previous page
Next page