UW News
Honors and awards
---
July 18, 2016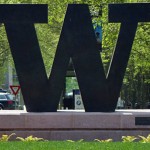 The University of Washington has been recognized as a "Great College to Work For" by the Chronicle of Higher Education for the third consecutive year.
---
July 15, 2016
The Geological Society of America has honored two UW professors and other authors of a 186-page report on the causes and consequences of the deadly March 2014 landslide in Oso, Washington.
---
June 23, 2016
The University of Washington published the most earth and environmental science research last year, outpacing all other universities worldwide, according to a new report from Nature Index.
---
June 21, 2016
An international team led by researchers at the Center for Sensorimotor Neural Engineering (CSNE) based at the University of Washington is one of three finalists in a race to produce an implantable wireless device that can assess, stimulate and block the activity of nerves that control organs.
---
June 9, 2016
The University of Washington recognized and honored faculty, staff, students and alumni for their passion and dedication to the UW, the local community, the state and the world. The 46th-annual Awards of Excellence ceremony took place at Meany Hall on Thursday, June 9, 2016.
---
The Ecological Society of America has named University of Washington professor Jerry Franklin its "Eminent Ecologist" of 2016. The award, considered the organization's most prestigious accolade, honors a senior ecologist who has made significant, long-standing contributions to the field of ecology.
---
May 26, 2016
Ray Hilborn, a UW professor of aquatic and fishery sciences, this week will receive the 2016 International Fisheries Science Prize at the World Fisheries Congress in Busan, South Korea.
---
May 24, 2016
UW President Ana Mari Cauce announced Tuesday that after a four-month national search, Jennifer Cohen, senior associate athletic director at the University of Washington, who has been serving as the interim athletic director since January, has been named the UW's new athletic director, effective June 1. "I am very pleased to announce Jen's appointment," said…
---
May 19, 2016
In a White House ceremony May 19, President Barack Obama presented the National Medal of Science to Mary-Claire King, University of Washington professor of genome sciences and medicine. The award, the nation's highest recognition for scientific achievement, honors King's more than 40 years dedicated to research in evolution and the genetics of human disease, as well as to teaching and outreach endeavors that have supported human rights efforts on six continents and reunited families.
---
May 3, 2016
Dennis Hartmann, a UW professor of atmospheric sciences, was elected as a member of the National Academy of Sciences.
---
May 2, 2016
To help address the nation's pressing need for better air quality, the U.S. Environmental Protection Agency has awarded a research team co-led by a University of Washington civil engineer a $10 million Air, Climate and Energy (ACE) grant.
---
April 28, 2016
Anthony Geist, professor of Spanish and Portuguese Studies, has been awarded one of Spain's highest civil honors — a knighthood.
---
April 21, 2016
Jerry Franklin, a professor of environmental and forest sciences, was honored by the Pinchot Institute for Conservation for his lifelong work in forest ecology, conservation and policy.
---
April 20, 2016
Four University of Washington professors join 172 other academics as newly elected fellows of the American Academy of Arts and Sciences, the group announced Wednesday.
---
April 12, 2016
Two University of Washington undergraduates have won a $10,000 Lemelson-MIT Student Prize for their "SignAloud" invention — gloves that can translate American Sign Language into text or speech.
---
April 8, 2016
A University of Washington-led research team has won a $7.5 million, five-year Multidisciplinary University Research Initiative (MURI) grant from the Department of Defense to better model and mount defenses against stealthy, continuous computer hacking attacks known as "advanced persistent threats."
---
April 6, 2016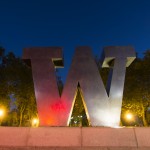 Three University of Washington professors are among the 178 scholars, artists, and scientists from the U.S. and Canada recognized this year by the Guggenheim Foundation.
---
April 1, 2016
The University of Washington is ranked No. 23 in the nation for best value by Forbes, according to a list released this week. The rankings are based on several factors including quality (based on the 2015 Forbes Top Colleges ranking), drop-out risk, average time to graduate, tuition and post-graduation salaries and skills. The magazine said the top colleges are "mostly…
---
March 15, 2016
For the 22nd time in the past 23 years, the University of Washington ranked as the No. 1 primary care medical school in the country, according to U.S. News & World Report's 2017 Best Graduate School rankings released Tuesday. The rural medicine and family medicine programs have also led the nation since those rankings began in 1992. In a…
---
March 4, 2016
A University of Washington team won first place in a science communication video contest that culminated during the recent Ocean Sciences Meeting.
---
March 3, 2016
The Andrew W. Mellon Foundation has awarded the University of Washington a three-year, $750,000 grant to support guest artists in developing new works, and to better integrate arts disciplines into the broader university curriculum.
The grant will support a Creative Fellowships Initiative, under which guest performing artist fellows will be recruited from around the world for one- to three-year residencies in dance, music and theater.
---
February 29, 2016
The University of Washington was ranked No. 7 by Business First, a Buffalo-based publication, for America's top 10 best public colleges and universities, the publication released Tuesday, Feb. 23. Business First, owned by American City Business Journals, used a 20-part formula based on academic excellence, prestige, affordability, diversity and economic strength to calculate each of the 477 participating…
---
February 23, 2016
Four faculty members at the University of Washington have been awarded early-career fellowships from the Alfred P. Sloan Foundation. The new Sloan Fellows, announced Feb. 23, include Bingni Brunton, assistant professor of biology; Christopher Laumann, assistant professor of physics; Matthew McQuinn, assistant professor of astronomy; and Emina Torlak, assistant professor of computer science and engineering….
---
February 22, 2016
The University of Washington is one of the top producers of Fulbright students for 2015-16, according to lists released Monday in the Chronicle of Higher Education.
---
February 18, 2016
Three members of the UW faculty have received the 2016 Presidential Early Career Award for Scientists and Engineers, the highest honor given by the U.S. government to early-career scientists and engineers.
---
For the second year in a row, the University of Washington produced the most Peace Corps volunteers among large universities with 72 Huskies currently serving around the world. The UW is also ranked No. 4 among graduate schools with 16 alumni currently volunteering. "Community engagement – here and across the globe – is part of what makes…
---
February 9, 2016
If you are a University of Washington supervisor, you have probably participated in the Strategic Leadership Program — a customized training program enhancing communication and managerial skill. Developed and taught by University of Washington Professional & Organizational Development, the program has graduated over 4000 supervisors since it launched almost 16 years ago. On Feb. 4,…
---
February 8, 2016
P. Dee Boersma, a University of Washington professor of biology and Wadsworth Endowed Chair in Conservation Science, is one of six finalists for the prestigious Indianapolis Prize for conservation. Boersma is the first UW faculty member nominated for this prize — the highest honor for animal conservationists — which has been awarded every other year since 2006.
---
Tom Anderson, a University of Washington professor of computer science and engineering and alumnus, has been elected to the National Academy of Engineering. Also elected are UW civil engineering alumnus Jon Magnusson and computer science alumnus Albert Greenberg.
---
January 15, 2016
The University of Washington is home to 26 researchers included on Thomson Reuters' list of "The World's Most Influential Scientific Minds" for 2015, which was released Jan. 14. The distinction, based on an analysis of over a decade of research paper citations among 21 general scientific fields, is meant to recognize scientists who are most cited by their peers.
---
January 12, 2016
UW computer scientists, with a grant from the Bill & Melinda Gates Foundation, are launching a new research group to develop technological solutions that will make financial products more available to the lowest-income people around the world.
---
November 23, 2015
Four University of Washington researchers are among 347 new fellows of the American Association for the Advancement of Science for 2015.
---
November 18, 2015
The Power Over Wi-Fi (PoWiFi) system developed by UW engineers is one of the most innovative and game-changing technologies of the year, according to Popular Science, which included it in the magazine's annual "Best of What's New" awards announced this week.
---
November 6, 2015
Two University of Washington faculty members have been awarded a grant from The Swartz Foundation to support research in theoretical neuroscience. The award establishes the UW as the latest of the Swartz Foundation-supported centers for innovation in this growing field, which spans mathematics, statistics, physics and biology. "This award is a recognition of what is…
---
November 2, 2015
The National Science Foundation has selected the University of Washington, along with the University of California, San Diego and the University of California, Berkeley, to co-lead one of four Big Data Regional Innovation Hubs around the country.
---
October 26, 2015
Celebrate the remarkable accomplishments of a colleague or team with a nomination for the Distinguished Staff Award, the University of Washington's highest staff honor, and celebrate outstanding leadership with a nomination for the David B. Thorud Award. Recipients of the Distinguished Staff Award are those who achieve excellence and exude a passionate commitment to the…
---
October 16, 2015
The David and Lucile Packard Foundation has named the University of Washington's Brandi Cossairt, an assistant professor in the Department of Chemistry, as one of 18 Packard Fellows for 2015.
---
October 12, 2015
Continuing a recent string of noteworthy accolades, the University of Washington held its place at No. 5 in the world on the National Taiwan University Ranking of Scientific Papers, which was released Friday. The ranking is based on performance of scientific papers in three major categories — research productivity, research impact and research excellence. "One…
---
October 11, 2015
At 2:45 a.m. on Oct. 6, bleary-eyed Nobel Prize enthusiasts on the West Coast were treated to an unexpected lesson about fundamental particles and forces in our universe. Across the globe in Stockholm, a panel of scientists announced that the 2015 Nobel Prize in Physics would honor two scientists who led international collaborations to understand…
---
October 6, 2015
The University of Washington moved up three spots to No. 11 overall in the second edition of U.S. News & World Report's Global University Rankings.
---
Previous page
Next page