UW News
Environment
---
August 13, 2018
Forest biologist and University of Washington professor David Peterson explains which natural materials burn hotter and faster during a wildfire, what homeowners can do to protect their properties and how climate change is impacting the fire season.
---
August 1, 2018
A team led by the University of Washington has created an environmentally friendly way to remove color from dyes in water in a matter of seconds.
---
July 30, 2018
A University of Washington report provides the best projections yet for sea-level rise due to climate change at 171 sites along Washington's coasts.
---
July 23, 2018
Observations over the eastern U.S. show why emissions reductions haven't achieved the same results in winter as they have in summer.
---
July 18, 2018
New research suggests the Atlantic Ocean is transitioning back to its slower phase, which means average global air temperatures will go back to rising more quickly.
---
July 2, 2018
Regions of Arctic water are becoming ice-free in late summer and early fall. A new study is the first to consider potential impacts on the marine mammals that use this region and identify which populations will be the most vulnerable to ships.
---
June 21, 2018
More than 100 scientists and crew from more than 20 U.S. research institutions, including the UW, will depart in August for a month-long expedition to study how the ocean absorbs carbon from the atmosphere.
---
June 18, 2018
Tracking of two great white sharks reveals for the first time that in the open ocean they spend more time deep inside warm-water eddies.
---
June 15, 2018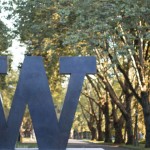 A new analysis suggests the value of structured research programs for undergraduates extends to society as a whole by encouraging participants to seek advanced degrees in scientific and technological fields.
---
June 14, 2018
Anchovies, herring, sardines and other forage fish play an essential role in the food web as prey for seabirds, marine mammals and larger fish like salmon. When ground into fishmeal and oil, they are also a key food source for farmed seafood and land-based livestock such as pigs and poultry. As seafood consumption outpaces the…
---
June 11, 2018
A study of global maize production in 2100 shows dramatic increases in the variability of corn yields from one year to the next under climate change, making simultaneous low yields across multiple high-producing regions more likely, which could lead to price hikes and global shortages.
---
A new study led by the University of Washington considers which food type is more environmentally costly to produce: livestock, farmed seafood or wild-caught fish.
---
June 5, 2018
A new University of Washington-led paper pinpoints starvation as the cause of death for hundreds of thousands of Cassin's auklet seabirds in late 2014 to early 2015.
---
June 4, 2018
Twenty-five polar bear hunters in East Greenland were interviewed before the first formal assessment of this subpopulation, one of 19 subpopulations of polar bears in a changing Arctic.
---
May 25, 2018
Astronauts at the International Space Station are spending more time away from Earth, but they still need their daily serving of vegetables. In the quest to find a viable way for crew to grow their own veggies while orbiting — and possibly one day on the moon or Mars — student researchers are sending broccoli…
---
May 23, 2018
The oldest ice core so far provides 800,000 years of our planet's climate history. A UW field survey in Antarctica has pinpointed a location where an entire million years of undisturbed ice might be preserved intact.
---
May 15, 2018
If an entire forest dies, new research shows, it has ricocheting effects in the atmosphere that can affect vegetation on the other side of the country.
---
May 10, 2018
The UW School of Oceanography has a new vessel, named after marine biologist, author and conservationist Rachel Carson. It will explore Puget Sound and nearby coasts.
---
May 8, 2018
UW glaciologist Knut Christianson is part of a massive collaboration that will collect on-the-ground data about a key Antarctic glacier that shows signs it could be collapsing into the sea.
---
April 30, 2018
A Q&A with retiring Washington Sea Grant director Penny Dalton on her drive to serve the public, and the ways in which she has helped young marine policy experts get started in the field.
---
April 27, 2018
Oceanographer Cecilia Peralta Ferriz is spending the academic year in Tromsø, Norway, to collaborate with colleagues who study flow out of the Arctic Ocean.
---
April 25, 2018
About twice each decade, the United Nations' Intergovernmental Panel on Climate Change, or IPCC, looks at what is known about the science of climate change, the extent to which human activities are changing the Earth's climate, and what risks these changes pose to human and natural systems. Organized into three working groups, each assessment is…
---
The World Register of Marine Species has named the Mariana snailfish one of its 10 "remarkable new species" discovered in 2017. The team that discovered and named the small fish includes Mackenzie Gerringer, a postdoctoral researcher at the UW's Friday Harbor Laboratories.
---
April 3, 2018
Bowhead whales are constantly changing their tune, unlike the only other whale species that sings, the humpback.
---
A new trail that winds through Washington Park Arboretum is bringing to focus plants previously hidden and a stream that used to be underground in pipes and culverts. The UW together with Seattle Parks and Recreation and the Arboretum Foundation on Sunday, April 8 will celebrate the trail opening with festivities along the path.
---
April 2, 2018
Earth has had moderate temperatures throughout its early history, and neutral seawater acidity. This means other rocky planets could likely also maintain this equilibrium and allow life to evolve.
---
March 22, 2018
A pair of anglerfish, a species never before seen alive by humans, was recorded recently on camera by researchers aboard the LULA1000, a submersible operated by the marine science-focused Rebikoff-Niggeler Foundation.
---
March 21, 2018
With a new $700,000 grant awarded from the NOAA Ocean Acidification Program, scientists from the University of Washington's Applied Physics Laboratory, Washington Sea Grant and the Joint Institute for the Study of the Atmosphere and Ocean have teamed with federal and tribal partners to study the social and ecological vulnerabilities of Olympic Coast ocean acidification.
---
March 6, 2018
High in Mongolia's Gobi Desert, the climate is so dry and cold that glaciers shrank during the last ice age. Dating of rock deposits shows how glaciers in this less-studied region can behave very differently as the climate shifts.
---
March 2, 2018
A new study almost 20 years in the making provides some of the strongest evidence yet of the "speciation reversal" phenomenon in two lineages of common ravens.
---
February 27, 2018
The largest and oldest Chinook salmon — fish also known as "kings" and prized for their exceptional size — have mostly disappeared along the West Coast, according to a new study led by the University of Washington.
---
February 23, 2018
With snow falling in the Puget Sound region this week, it's hard to imagine cherry trees in bloom. But assuming temperatures return to normal soon, this year's cherry blossoms are on track for a typical bloom season. Full bloom is expected the week of March 19.
---
February 20, 2018
Reductions in sea ice in the Arctic have a clear impact on animals such as polar bears that rely on frozen surfaces for feeding, mating and migrating. But sea ice loss is changing Arctic habitat and affecting other species in more indirect ways, new research finds. Beluga whales that spend summers feeding in the Arctic…
---
February 15, 2018
Five faculty members at the University of Washington have been awarded early-career fellowships from the Alfred P. Sloan Foundation. The new Sloan Fellows, announced Feb. 15, include Maya Cakmak, assistant professor of computer science and engineering; Jiun-Haw Chu, assistant professor of clean energy and physics; Arka Majumdar, assistant professor of electrical engineering and physics; Jessica Werk, assistant professor of astronomy; and Chelsea Wood, assistant professor of aquatic and fishery sciences.
---
February 9, 2018
New findings could help scientists understand a little more about the elusive narwhal and how these marine mammals might fare in a changing climate.
---
February 8, 2018
A team of ecologists and economists is the first to test whether real-life ecological interactions produce economic benefits for the fishing industry. The results were published online Jan. 29 in the Proceedings of the National Academy of Sciences.
---
February 7, 2018
A study from the University of Colorado Boulder and the University of Washington finds that the retreat of the ice sheet covering North America made Antarctic weather more similar from one year to the next.
---
February 6, 2018
The University of Washington joins 12 other leading North American research universities in the new University Climate Change Coalition, or UC3, a group committed to leveraging its research and resources to help communities accelerate climate action.
---
February 5, 2018
UW atmospheric sciences faculty and graduate students are in Tasmania studying how clouds form over Antarctica's Southern Ocean.
---
February 1, 2018
After an "extreme makeover" that went from stem to stern on five decks of the ship, the R/V Thomas G. Thompson is ready to get back to work exploring the world's oceans. The University of Washington's School of Oceanography, part of the College of the Environment, operates the 274-foot ship, which arrived on campus in…
---
Previous page
Next page